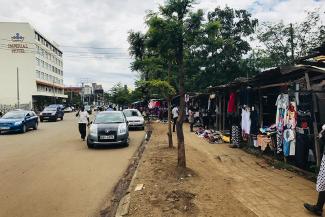 Understanding Urban Public Finance
"Urban public finance is a hidden force shaping cities and their development", Liza Rose Cirolia writes in her recently published doctoral thesis. She has looked at the nexus of the largely technical urban financing through taxes on the one hand and the political and social structures for urban development on the other.
Even though the fields of funding and planning have different frames, knowledge and priorities, they also have common interests, not least the necessity for change.
Using Kisumu in Kenya as case study, Liza Rose Cirolia explores the "configurations" of the socio-technical and the techno-political aspects of urban infrastructure. She even argues that urban public finance should be seen as an urban infrastructure in itself.
Kisumu, being an important smaller city in Kenya, with a population of less than 500,000, is similar to many other African cities. In Kenya alone, there are more than 20 cities with populations between 100,000 and 1,000,000 people. This makes Kisumu an interesting example, thus contributing to the debates in urban studies.
Liza Cirolia's thesis includes a historical analysis of the city government in Kenya; what led Kisumu to the institutional arrangements currently in place? And how do those fiscal configurations shape the city?
"There is a need", Liza Cirolia concludes, "for more engagement on what new ways of studying finance and money can offer us, without which the radical transformation of African cities will not proceed."
The thesis, "Accounting for the C/city: Analyzing Kisumu's Fiscal Configurations" can be downloaded. For further information, please contact the author, Liza Rose Cirolia at Mistra Urban Futures and African Centre for Cities in Cape Town.
Photo from Kisumu: Jan Riise