Anna Johansson 
Anna Johansson is a member of the Swedish Parliament and from 2014-2017 was Minister of Infrastructure, with responsibility for transportation and infrastructure issues.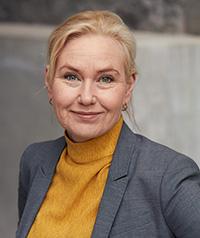 She has a background as Chair of the Board of the Gothenburg-based and municipal real-estate company Bostadsbolaget between 2007-2011 as well as for Got Event, the municipal-owned company responsible for arranging events. From 1997-2002 Anna Johansson worked as a project leader at The Swedish Trade Union Confederation, LO.
Her political career started in 1995 as a Member of the City District Committee in Bergsjön, Göteborg Shortly thereafter she was elected and took a seat in the Gothenburg City Council, where she stayed until appointed national Minister of Infrastructure in 2014. 
Since 2007 Anna Johansson has been the Chair of the Social Democrats in Gothenburg. Between 2003 and 2009 she was an Ombudsman at the Swedish Trade Union Confederation, LO in Gothenburg. During the same period Anna Johansson was Chair of the City District Committee of Bergsjön in Gothenburg. From 2009-2014 she was Alternate Member of the City Executive Board in Gothenburg with responsibility for the areas of preschool/school, children/youth and leisure issues. In addition, Anna Johansson has had a range of different political assignments in Gothenburg. 
She has also been a member of Chalmers University of Technology Board as well as the Board for Alfons Åbergs kulturhus, a culture house devoted to the children's book character, Alfons Åberg.