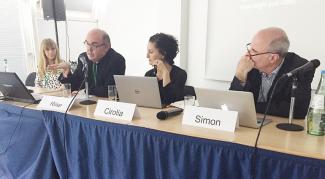 Co-Creation for Resilience at ICLEI
ICLEI, the global organisation for local governments arranged its 9th annual conference Resilient Cities in Bonn 26-28 April. For the second time, Mistra Urban Futures participated with a panel session, this time entitled 'Towards Realising Just Cities'.
The co-creation theme was underlying many of the talks and presentations in sessions as well as in plenaries. And not only that, as Rose Molokoane of Slum Dwellers International pointed out, it is about involving stakeholders early in transformation processes. Later on it is easily reduced to 'consultation'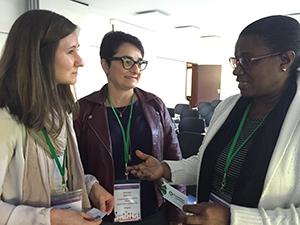 "We don't want consultations", she said, "we want to bring our issues to the table."
David Simon, Liza Cirolia and Warren Smit from Mistra Urban Futures together with Sara Pettersson from the City of Gothenburg formed the panel that discussed the implementation of the SDGs and the New Urban Agenda. Sara Pettersson gave an overview of the City of Gothenburg's work, and how well the City's own objectives align with the global goals. Gothenburg is also one of the cities taking part in the Mistra Urban Futures project about the implementation of the agendas, thus presenting 'Comparable Urban Perspectives' with the other platform cities as well as Buenos Aires and Shimla in India.
Insurance for sustainability and Talanoa dialogues
The insurance industry has come up as an interesting partner for many cities preparing for the future. This has also been reflected in an increasing interest in these issues at ICLEI with several sessions the past couple of years.
"It may seem as a non-traditional part of re-insurance, to build resilient and sustainable cities," Thomas Arnoldt, MunichRe, said in a session called 'Bringing the insurance industry and cities together'.
It is about reducing risks, and gathering the kind of data that are needed for such analyses is not a specialty of the public sector. This is something that the insurance industry is very good at and some of that knowledge is used for new insurance products such as index-based insurance and impact bonds. The latter is of interest to investors in resilience, counting on returns, impact and performance.
Talanoa was introduced by Fiji last year and it is a word that reflects an inclusive, transparent and participatory dialogue, with the purpose to make wise decisions for the collective good. The concept has been adopted by the UN, not least the COP and the United Nations Climate Change (previously known as UNFCCC). Several speakers and the actual ICLEI conference referred to the Talanoa dialogues, hence emphasizing much of the ethos of Mistra Urban Futures as well – just cities are based on participation, co-creation and social sustainability.
Text: Jan Riise, photo Ulrica Gustafsson
For more information, please contact Jan Riise