The need for transformation is urgent. World leading climate scientists at the IPCC Cities summit in Edmonton last week spoke with one voice, reaching out to city and political leaders around the globe.
'We've already passed two thirds of the 1.5 degrees we talked about in Paris [in December 2015]. And remember that it is not the temperature as such that is our worry, it is the droughts and flooding that goes with it', Aromar Revi, Director of the Indian Institute of Human Settlements said in an opening keynote talk.
Reports from cities around the world corroborated that fact: many of them have experienced extreme weather conditions; rain or storms that were expected once every hundred or even two hundred years have happened twice or more in a decade.  
Many speakers talked about the fact that these extreme weather conditions, in particular, affect people and places which are already vulnerable.
However, a strong and focused leadership in cities is needed to make the necessary transformation happen – 'they understand things on the ground', as Aromar Revi put it.
'We need the attitude of Oslo and the efficiency of Tokyo', someone said.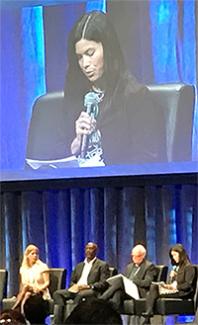 Dep Mayor Lan Marie Berg of Oslo presented her city's ambitious plans, in which tackling the climate challenges is of highest priority. The Norwegian capital has been chosen as European Green Capital 2019. The city aims to cut emissions to 50% by 2020. Waterways are being actively re-opened – after being enclosed for many years – to manage stormwater more efficiently and to make them accessible for the citizens.  Oslo is also the Electric Vehicle Capital of the World; 30 percent of new cars sales are electric.
The IPCC Cities conference was based on the work done and presented in previous assessment reports from the IPCC – but with the objective to identify the significant knowledge gaps that still exist. Improved relations between policy, practice and research were also a leading topic on the agenda, as well as the development of a global agenda for research on cities and climate change.
The immediate need for transformation was frequently brought up, not least referring to a contribution by David Simon and William Solecki in the 'Cities and Climate Change' book that is not yet published, but was presented at the conference.
Jan Riise
Photo: Acknowledging the fact that Edmonton is located on Treaty Six First Nations land, and at the same time also emphasising the value of indigenous knowledge, the IPPC Cities conference opened with welcome speeches by the Mayor of Edmonton, Don Iveson, and Cree Chief, Dr Wilton Littlechild and others.
Photo: Jan Riise