Food sustainability in public kitchens
- discussed at a conference in Rome, Italy
 
The Conference on Food Science and Nutrition in Rome, 25-26th of February, gathered researchers from academia and practice in food, medicine, public health, and waste management. Urban Rural Gothenburg and Mistra Urban Futures were represented.  
Mistra Urban Futures delegate Sara Eliasson was invited to hold a presentation entitled "Nutrition, health and climate: What have we learned so far?" (see abstract below). The presentation builds on the fundamental assumptions and methods involved in Gothenburg's work with food sustainability in public kitchens, with an emphasis on health and climate as cross-cutting issues. The presentation problematizes the need to think differently when it comes to our eating habits, food production and food waste management.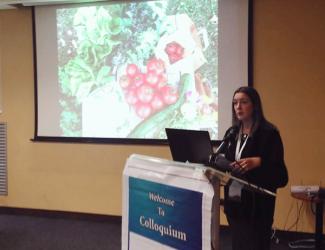 Public schools and pre-schools are seen to have unique opportunities to be agents of change in this process and thus raise environmental and climate awareness amongst children and youths by embedding food in a wider context. In that vein, Vallareleden pre-school in Gothenburg, was put forward as an example of preschools that is in the forefront when it comes to sustainability work.  The focus of the conference was primarily on the medicinal aspects of food and nutrition, which shows that the interest of food has a wide-reaching spectrum.
During the conference it also became evident that transdisciplinarity is key for the advancement of food science and knowledge on human nutrition. Listening to the different presentations, most of the research was done in a very interdisciplinary fashion and the interconnectedness between health and climate was underrepresented.To transform urban food systems, however, will require collaboration and exchange across science, policy, business and civil society. To achieve the Sustainable Development Goals and the Paris Climate Agreement will require knowledge and cooperation between different parts of the world. 
Files