Realising Just Cities – Lessons, Impacts and Outcomes
- Open Conference
15 October 2019, Sheffield
The rapidly growing number of people moving into cities all over the world presents a challenge of unprecedented size. It is crucial to find ways to make urbanisation a source for wealth, health and sustainability – which is shared. Mistra Urban Futures arranges Annual Conferences about Realising Just Cities, which are hosted at our research platforms.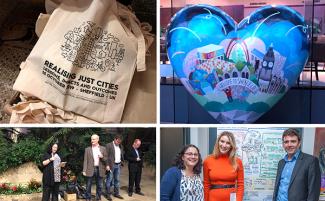 The 4th Annual Realising Just Cities Conference focuses on lessons, impacts and outcomes since the start of Mistra Urban Futures in 2010 but with particular emphasis on the current 2016-19 phase of closer international collaborative and comparative research now ending.  
The Centre has sought to co-produce knowledge and action to support sustainable urban development across cities in the Global North and South, working through Local Interaction Platforms and other forms of partnership that bring together researchers from different stakeholders in transdisciplinary teams. 
Each of our Annual Conferences has been hosted by a different city: Gothenburg (2016), Kisumu (2017) and Cape Town (2018). Our 2019 conference was held in Sheffield, hosted by the Sheffield-Manchester Local Interaction Platform and included representatives from partner cities in Buenos Aires, Cape Town, Gothenburg, Kisumu, Malmö, Shimla, and Stockholm.
The Centre's international comparative projects focus on issues such as city governance and participation, cultural heritage, migration, sustainable urban development, urban food systems, transport, waste management, public finance, and knowledge transfer. The conference also offered an opportunity to find out more about local work in our individual city contexts.
Venue: Cutlers' Hall, Sheffield, UK 
More information
Programme
Venue & Hotels
FAQ - Frequently Asked Questions 
Delegate pack  helpful information
Information for Mistra Urban Futures Delegates
If you were invited as a Mistra Urban Futures delegate visiting Sheffield from one of the platforms between Sunday 13th and Friday 18th October, you received an invite via email and followed the link in the email to sign up for the Open Conference AND for the additional programme of events. Please note, the additional programme of events is only available to Mistra Urban Futures delegates and not those joining us to attend the Open Conference.  
Social media
We used #JustCities2019 to share thoughts about the conference.
Also follow us on Twitter @MistraUrbanFut, Facebook and LinkedIn.