Failure Lunch with award winning Alejandro Aravena
"Success is not final, failure is not fatal: It is the courage to continue that counts"
On 22 November 2017 a Failure Lunch, a public forum where failures and lessons learned from failures are shared, was held with this years' winner of the Gothenburg Award for Sustainable Development Alejandro Aravena and the Do-Tank firm Elemental. The Gothenburg Award is an international prize that recognizes and supports work towards sustainable development. Previous winners include Kofi Annan, Al Gore and Paul Polman.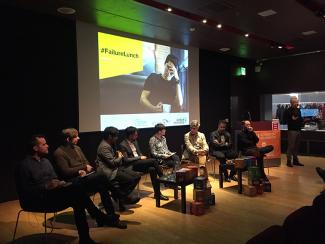 The team from Elemental together with Daniel Andersson from Social resource management at the City of Gothenburg and Joakim Forsemalm, Associate Professor in Ethnology at Radar arkitekter & planering, shared inspiring stories about when dialogues for urban development didn't go as expected and what they have learned.
"Both Success and failure is relative."
"If you want to achieve a quality built environment, everyone has to raise their quality."
Alejandro Aravena
"A promise that was never delivered – That is the key problem when working with dialogues in city development. And are we really listening?"
Joakim Forsemalm
"Dialogues don't have a start and an end. We always inherit what has happened before."
Daniel Andersson
Take part of the discussions on Twitter #FailureLunch
Watch a short interview with Joakim Forsemalm and Daniel Andersson.
The event was hosted together with SDSN Northern Europe and the GAME Network.  
Read more about the event Failure Lunch.