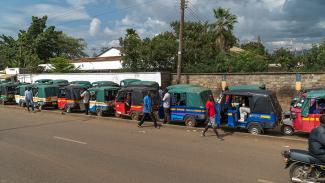 Best Article Award
An article based on Mistra Urban Futures' pilot project on the targets and indicators of the Sustainable Development Goal 11 was awarded 'Best Article of 2017' in African Geographical Review.
The article, focusing on the notions and challenges of informality in many places around the world, discusses how to relate to this and the risk for underestimates and thus the comparability of figures from different parts of the world.
The work was part of the pilot project carried out in 2014-2015, assessing the actual measurability of the then proposed targets and indicators for Goal 11 – the urban goal. The article was written by Helen Arfvidsson and David Simon at Mistra Urban Futures in Gothenburg, Michael Oloko at the Kisumu Local Interaction Platform and Nishendra Moodley in Cape Town.
The article is accessible as open access at and was also the most downloaded article during 2017.
Not long ago, Merritt Polk and Lotten Westberg's article 'The role of learning in transdisciplinary research: moving from a normative concept to an analytical tool through a practice-based approach' also received a 'Best article of the year' award. The article was published in Sustainability Science in 2016.
For further information, please contact David Simon, director of Mistra Urban Futures
Photo from Kisumu, Kenya, by David Jönsson, Mistra Urban Futures