Waste from Kenya turns into Nordic design 
An example of Frugal Innovation 
The Gothenburg-based design duo, Taste for Waste, takes used bicycle hoses from Kenya and turns them into accessories and different design products. With support from among others Mistra Urban Futures the duo aims to contribute to solving Kenya's increasing environmental problems and help reduce unemployment. 
The products were exhibited at the furniture fair FORMEX held in Stockholm January 18-21 2017.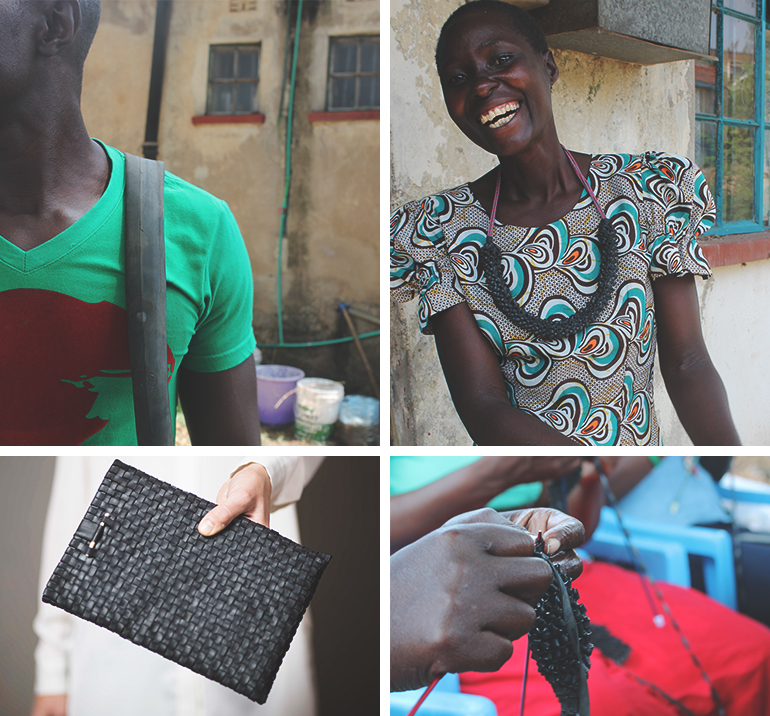 – A designer should not only develop smart products for the consumers, we also have a responsibility to contribute to a better environment. Bicycle hoses causes waste and littering in Kenya and harmful toxics are released if they are combusted. Consumers that buys our products will help create sustainable jobs for the citizens, which today faces difficult economic conditions, says Pernilla Person, designer Taste for Waste. 
The first collection from Taste for Waste consist of a necklace, bow ties and a case for tablets. The starting point was that the products have to be produced using recycled material using simple tools as scissors and knitting needles. Therefore the choice fell on used bicycle hoses that could be bought for as little as 10 cents (USD). It is also a simple material to work with. 
The idea is to invest the profit into a continued cooperation with the local craft organisation Zingira Community Craft which works in Kisumu, Kenya. The organization represents the local craftsman and with this support more local jobs will be created.  
The design duo has worked together with one of Mistra Urban Futures PhD student, Helena Hansson, University of Gothenburg, Academy of Design and Crafts. Helena's research is focuses on Frugal Innovation with connection to the Market Places project in Kisumu. 
– My research is about frugal innovation, the idea is "to do more with less for many - with many". Taste for Waste is both a part of the innovation process as such and a result, says Helena Hansson. 
About Taste for Waste 
Taste for Waste is a Gothenburg based design duo which has been created with support from Mistra Urban Futures, Sida The Swedish International Development Cooperation Agency and the Swedish Arts Grants Committee. www.tasteforwaste.se
Questions?
Pernilla Persson, designer Taste for Waste, +46 (0)733-12 17 46.
Jenny Fingal, designer Taste for Waste, +46 (0)705-15 05 11
e-mail: mail@tasteforwaste.se
Helena Hansson, University of Gothenburg, Academy of Design and Crafts, helena.hansson@hdk.gu.se
Read more
Press release (in Swedish) 
To Do More With Less for Many – om frugal innovation (in Swedish) 
Photo: Copyright Taste for Waste