Kachok dumpsite in Kisumu which was a quarry depression to be filled up with some waste materials in the 1970s has become a nightmare in Kisumu City. Its relocation to other sites outside the City as a landfill has not been possible due to economic, social as well as political implications. To the waste actors including; waste collectors and waste pickers it provides means of survival. In terms of research, Kisumu Local Interaction Platform (KLIP) works in collaboration with the City to promote sorting, reuse and recycling of waste materials as a long term waste management strategy. 
Waste generation and collection 
Kisumu City, with an estimated population of over 500,000 generates approximately 437 tonnes of solid waste daily. 65% of the waste generated is organic in nature and 27% is recyclable. With limited capacity to sort, reduce and recycle, Kachok dump site is already full to its capacity, but continue to receive more waste due to lack of an alternative site. 
KLIP Research focus 
The solid waste management situation in Kisumu is complex and cuts across public health and environmental issues, presenting both the social and institutional dimensions that cannot be ignored. KLIP through research activities therefore demonstrates a socio-ecological transformation within the social and biophysical environments of the city while considering issues of urban sustainability. With research activities concentrated at a market place (Kibuye) which receives and handles huge quantities of food materials into the city, a residential area as a consumer of the food items from the market and the dump site for final disposal of the waste materials, both waste and food value chains are of great interest in tackling issues of food security and environmental cleanliness. The ultimate objective is to induce a socio-cultural change amongst the major stakeholders and promote best practices to ensure sustainability.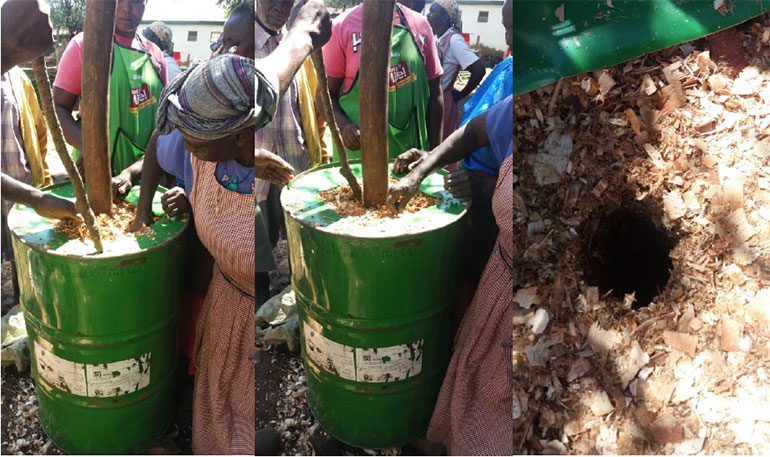 Picture: Undertaking research at Kibuye market (Briquetting and training of traders to utilize waste that would otherwise end up at dump site)
Solid waste value chain identifying best solid waste management practices and going beyond basic waste management practices, and looks at waste prevention, recycling, reuse, treatment and composting, and considering weak links in the waste value chain, e.g. inefficient waste collection, marketing of recycled products and solutions for organic waste (constituting 65% of waste generation) composting and biogas, briquetting etc. 

Food value chain analysis is to inform reduction of the volume of waste materials in the waste disposal stream to the dump site by considering mainly retail and consumption losses while also improving on food security. The main aim is to reduce food wastage to help improve food security and reduce the current waste predicament in one go 

Identification and strengthening the linkages amongst the waste actors for synergy. Acceptance of the waste operators at the dump site and formally engaging them within established waste recycling centers. It involves initiation of the process of re-thinking and review of existing institutional and legal framework for integration of waste pickers into the formal waste management system to improve their livelihood conditions. 
Michael Oloko is the lead researcher at Kisumu Local Interaction Platform and leader of the comparative project 'Solid Waste Management'