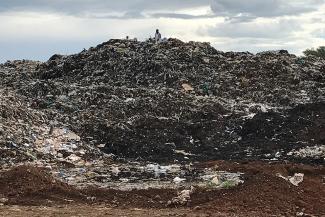 Solid Waste Management
The flow of waste material and the opportunities for improvement form the basis for the project, including management, composting, and energy recovery. The market of Kibuye in Kisumu, Kenya, serves as ground for improving practice as well as a source for experience and knowledge.
The research activities and collaborations are carried out in a transdisciplinary environment and incorporate academia, public sector (city management and county officials), private sector, civil society and the community in the entire scope of the research and implementation period. It is to facilitate effectiveness in policy lobbying and advocacy, institutional strengthening at all levels, enhanced engagement of partners and stakeholders in value chains and knowledge management. The activities are concentrated within market places (Kibuye market-largest market in the region and concentrated material handling activities), informal residential areas lacking waste management services and the Kachok dump site located within the City.
The participation of SKLIP is focused on adding practical and business-related knowledge to the local work in Kisumu.
It involves sharing experiences and challenges with the overall purpose of identifying and concentrating on comparative aspects for a win-win development of effective resource management systems with aspects of physical space as well as ideas and actions for continuous improvements. Specific aspects include formulation of frameworks for:
Developing mechanisms for effective and sustainable waste resource management systems and networking. By providing space for idea incubation starting from the fundamental concept level and nurtured to become a reality in new products as inventions/innovations, entrepreneurial ventures, artist products etc.

Creating a start-up platform and a resource centre for new companies, universities and other organizations for resource management and environmental improvements. To provide a learning space for students, practitioners and community out-reach programmes.

Developing test beds for new technologies/new industrial development for researchers, practitioners and industrialists. Providing opportunity to link research to innovation and finally to industry. Testing different ways of doing things.

Decentralization of solid waste management with supportive legal and institutional framework; municipality and private companies (Public Private Partnership) and social structure & responsibility
The comparative research activities will be anchored on the ongoing activities and the experiences as presented by existing spaces, materials and waste actors and focused on environmental as well as socio-economic benefits through effective collaboration networks, innovations and improvement of technologies.
Usefulness
The current research activities are designed to achieve effective knowledge co-production to ensure sustainable urban development by contributing towards effective and sustainable waste resource management systems and networking, creation of a resource centre for waste management technology and collaboration among various stakeholders within the waste management value chain.