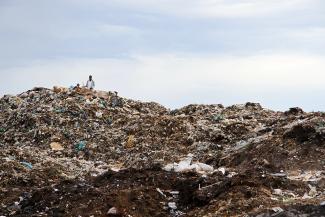 Urban October focus Solid Waste
Urban October is a month of activities, events and discussions around urban sustainability, organised by UN-Habitat and partners. Urban October started yesterday, 1 October with World Habitat Day, focusing on Municipal Solid Waste Management with global observance taking place in Kenya.
Solid Waste Management is the theme of one of Mistra Urban Futures' comparative projects, involving the local platforms in Kisumu, Kenya, and Malmö, Sweden. Project activities are concentrated to the market places in Kisumu, like Kibuye, informal residential areas and the Kachok dump site located in the City.
The ongoing devolution in Kenya – Kenya Accountable Devolution Program (KADP) – addresses capacity building for governments to better respond to citizens' needs through improved service delivery and citizen engagement. Strong institutions and effective policies developed on the combined basis of social, economic and environmental pillars of sustainability form part of a range of objectives.
'The goodwill of the County Government of Kisumu to deal with solid waste management challenges in the City, as demonstrated by the actions of waste evacuation from Kachok and the cleaning of the city, is encouraging' says Dr Michael Oloko, project leader.
All actors in the relevant sectors are invited to take advantage of the program to build strong and effective working relationships.
'The Local Platforms in Kisumu and Skåne in collaboration with the local team of Practical Action, the international NGO specialising in appropriate technologies and livelihoods have identified and presented possible business opportunities at different levels within the solid waste management chain' Dr. Oloko explains. 'Discussions are ongoing to jump-start the operationalization of some of these ideas among the actors through research activities. This has resulted in the formation and registration of Kisumu Waste actors' Network (KIWAN), now linked with other waste organizations from Brazil, Argentina and Nicaragua to benefit from diverse experiences and expertise through an International Recycling Project anchored at Jaramogi Oginga Odinga University of Science and Technology.'
Photo: Barry Ness
Text: Michael Oloko and Jan Riise