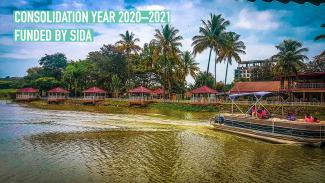 Photo: Yashvi1919 on Wikimedia Commons
Unmuted Voices for Sustainable Urban Development
For the last 10 years, Mistra Urban Futures, a global research network on urban sustainability, has been undertaking research activities through its city platforms; Gothenburg (Sweden), Skåne (Sweden), Sheffield-Manchester (United Kingdom), Shimla (India), Cape Town (South Africa) and Kisumu (Kenya). The research activities were guided by principles of "Transdisciplinary Knowledge Co-production", that allowed inclusion and participation of different stakeholders; policy makers, government officials, practitioners, civil society, local community, private sector and international partners in the research alongside the academia. The set up was intended to present a holistic approach, starting from the very conception of individual projects, project design and research, to implementation of results, and communicating the findings as well as recommendations to tackle the complex urban challenges. The city platforms, that includes, "Kisumu Local Interaction Platform Trust (KLIP)", were designed to be neutral entities to bring together different sectors to enhance stakeholder interactions, exchange and sharing of ideas for generation of knowledge necessary to promote urban sustainability.
The results to date are; established city platforms with both local and international networks, and a means of understanding and incorporating local and/ or traditional forms of knowledge into development to promote democracy, confidence and legitimacy of the outputs and outcomes.
Kisumu Local Interaction Platform Trust (KLIP) has therefore organized a Webinar on 29th March, 2021 commencing from 11:00 to 13:00 East African Time (EAT), to present findings and impacts resulting from this innovative research approach. It will present ways of dealing with specific socio-economic and environmental societal needs, while giving attention to global interests, and the knowledge coproduction initiatives aimed at achieving more appropriate and practicable interventions within our society. The findings and impacts need to be understood well by the stakeholders, and means to upscale, replicate and/ or improvements for increased benefits, need further considerations.
Your participation and contributions during the Webinar will be very useful in laying future strategies in safeguarding the gains already achieved in the impacts, and developing a road map towards policy formulation, review and development at various levels of governance.
We kindly request that you register to participate in the Webinar through the link below.For any clarifications regarding the Webinar, please contact the Director: Prof. Stephen Agong' (Email: sgagong@jooust.ac.ke) , or Webinar Coordinator: Dr. Michael Oloko, email: moloko@jooust.ac.ke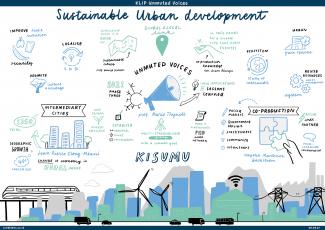 Programme
Time
Topic
Facilitator/speaker
Moderator
11:00-11:05
Welcome and introductionof presenters, panelists and facilitators
Mr Samuel Okello, former Mayor of Kisumu

Ms Beatrice Okero

11:00–11:05
Kisumu Local Interaction Platform, a Kisumu City space for stakeholder interactions and research activities on urban sustainability challenges

Prof Stephen Agong' Vice-Chancellor,Jaramogi Oginga Odinga University of Science and Technology and Director-KLIP Trust

 
11:10–11:20
Ten years with Mistra Urban Futures and
KLIP from a development perspective
Ms. Nayoka Martinez Bäckström, Sida
 
 
11:20–11:30
Official opening of the Workshop
Prof Anyang' Nyong'o, Governor of Kisumu County
 
 
11:30–11:40
Keynote speech on intermediate cities in
Africa and Africities Summit 2022 in Kisumu
M. Jean-Pierre Elong-Mbassi, Secretary General of United Cities and Local Governments (UCLG) Africa
 
 
11:40–11:55
Unmuted voices for sustainable urban
development – A KLIP impact study 2021
Ass. Prof Marie Thynell,University of Gothenburg
 
 
 
 
 

11:55–12:00

12:00–12:05

The Urban Food System. Opportunities for improving food and nutrition security in
Kisumu

Localising implementation of SDGs and the New Urban Agenda at Kisumu City Level

Mr Paul Opiyo

Dr. Michael Oloko

Moderator:
Dr. Joyce Osogo, CECM-Public Works, Road and Transport

 
 
 
 
12:05–12:10
Promotion of Culture and Heritage for Urban Sustainable Development in Kisumu City
 
Dr. Fredrick Odede
 
12:10–12:15
Fragile ecosystems in Kisumu County – Case study of Dunga Urban Wetlands
 
Dr. George Waga
 
12:15–12:20
Recreating Kisumu City's Solid Waste Management System
 
Dr. Franklin Otiende
 
12:20–12:25
Non-motorized Transport and Parks and Open Spaces Integration in City Development
Prof George Mark Onyango
 
12:25–12:30
Social capital in rural urban migration and effect on sustainable urban development
 
Dr. Lilian Omondi
 
12:30–12:45
Feedback from plenary and way forward
Plenary
Prof Stephen Agong'
12:45–12:55
Concluding remarks
Prof David Simon, former director of Mistra Urban Futures
 
 
12:55–13:00
Closing remarks/Prayers

Hon. Dixon Obungu, CECM-Lands, Housing, Physical Planning and Urban Development

Prof Stephen Agong'
 
 
 
 
 
 
 
 
Photo: Yashvi1919 on Wikimedia Commons