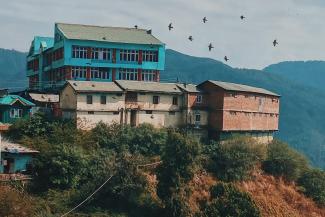 Comparing policies for climate change responses in small cities
Lack of personnel and financial capacity are key constraints for small and intermediate towns to deal with climate change. Division of powers, responsibilities, fiscal capacity and independence of local authorities are central issues to improve the situation. These are some of the results presented in a new article written by researchers of the Mistra Urban Futures network*
An essential component of sustainability and climate change strategies is to address urban inequalities by promoting urban justice and resource distribution – but this often becomes policies vulnerable to changing leadership and election cycles. The article authors use small and intermediate cities in India and South Africa to elaborate on the issues and note that remarkably little is known about small cities tackle sustainability challenges.
"Even though city governments are constitutionally designated with key environmental functions, they are not empowered with financial and human resources to perform them. Smaller city governments are even
more disempowered" write the authors. There are also significant differences in the structure of governance and fiscal income in small cities, shown by the comparisons between cities in the two countries, and the national policies vary considerably in terms of roles, resources and responsibilities.
There is a however a general need for more concerted and strategic approaches to equipping governments in small and intermediate towns and cities to deal with climate change. Even though the scales are smaller, the challenges of climate change may be as "wicked" as for the large metropolitan areas of the world.
* Mistra Urban Futures was a 10-years research programme and research centre, developing transdisciplinary and comparative knowledge with a co-production approach. Researchers at partners such as Nagrika in India, African Centre for Cities in Cape Town and Royal Holloway University of London have continued the collaboration. This article is built on that collaboration.
The publication is written by David Simon, Yutika Vora, Tarun Sharma and Warren Smit. It is accessible with open access and presented in more detail and with links for download etc.
Photo by Mohit Mathers on Unsplash