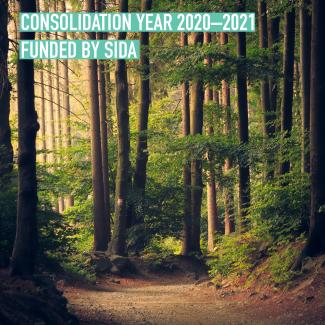 As part of The Nature of Cities Festival in February 2021, Mistra Urban Futures organised a discussion about Nature-Based Solutions with David Simon, Harini Nagendra and Johanna Alkan Olsson. Moderator David Maddox.
Scholars and practitioners are increasingly promoting so-called nature-based approaches for urban climate change adaptation. There is widespread consensus that they both support and require transdisciplinary approaches, notably by involving citizens in the change process and finding innovative ways to unite different actors' efforts and capacities. However, there is little empirical evidence regarding the actual value of citizen involvement to sustainability in this field. Against this background, this paper examines whether (or not) current forms and conditions of citizen involvement help to create a platform to support nature-based solutions and ensure a transformative adaptation process. The results show that under current conditions, citizen engagement often hampers sustainable outcomes. In fact, current structures and mechanisms for mainstreaming nature and climate considerations into sectoral planning are limited and, furthermore, neglect citizen involvement. In addition, there is a blind spot with respect to personal spheres of transformation toward sustainability regarding citizens, civil servants, and decision-makers. Key constraints are power structures and the lack of cognitive/emotional and relational capacities required for improved democratic governance. If we are to tap into the potential of nature-based solutions to increase climate adaptation governance, we need targeted financial and human resources, and greater capacity to overcome current constraints and support all levels and phases of mainstreaming, notably planning, implementation, monitoring, and learning.
The video below covers the session, starting at 40:45 and ending at 1:23:30.
Harini Nagendra is an Indian ecologist who uses satellite remote sensing coupled with field studies of biodiversity, archival research, institutional analysis, and community interviews to examine the factors shaping the social-ecological sustainability of forests and cities in the south Asian context.Her areas of interest include Urban sustainability, Ecology and development, Land change, Biodiversity and conservation.
Johanna Alkan Olsson is a social environmental scientist witha PhD from  Linköping University (2003). Today Johanna's research is increasingly focusing on environmental dilemmas in the urban context mainly the relation between blue green structures and the rest of the built areas in the context of strategic spatial planning and human wellbeing.
Photo by Lukasz Szmigiel on Unsplash