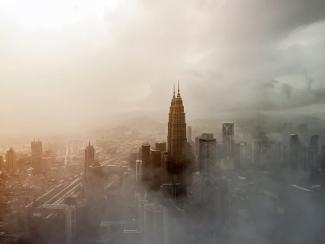 Localising the SDGs and the NUA
- Are we on the right track?
The implementation of the New Urban Agenda and the Urban Sustainable Development Goal form the backdrop to this session, where practitioners and academics will share their experiences. The session has a particular emphasis on small and medium sized cities, where inclusion, governance and fairness will be in focus; reflecting the transdisciplinary research fields of Mistra Urban Futures and the Swedish International Centre for Local Democracy (ICLD).  
It is about knowledge exchange, reflection and co-production of knowledge among actors engaged in urban research and practice in the Global South and North, focusing on how cities engage with and adopt and implement the New Urban Agenda and the Sustainable Development Goals.
The research of Mistra Urban Futures is structured around 'Realising Just Cities' that are accessible, green and fair. This framework may provoke reflection, engagement and action around what a 'just city' implies. The Swedish International Centre for Local Democracy (ICLD) supports local governments in building effective, transparent and inclusive local institutions.
Mistra Urban Futures is carrying out comparative research to monitor and analyse the implementation of Agenda 2030 and the New Urban Agenda in intermediate cities across the world. The ICLD supports municipal partnerships in a large number of cities across the world. The work of the organisers is thus well-aligned with the NUA aims of promoting safe, inclusive, accessible, green and resilient urban areas with participatory and inclusive multi-level governance mechanisms, as well as Agenda 2030's commitment of 'leaving no one behind'.  
Experiences from the first phase of Mistra Urban Futures comparative research, and those of the ICLD cities offer participants to explore the opportunities, challenges and success factors so far of the NUA and Agenda 2030. How cities address the complexity of adopting these agendas with their potential synergies, trade-offs, strategies, citizens' engagement and conflicts, will be discussed.
Time: 9 February 15:00–17:00 local time
Place: World Urban Forum, Kuala Lumpur Convention Centre, Room 402
Speakers: Lead researcher Sandra Valencia and Prof David Simon, both Mistra Urban Futures; City Manager Doris Ombara, Kisumu, Kenya; Edgar C Mulwanda, Lusaka City Council, Zambia; Monika Månsson, City of Malmö, Sweden; Jerker Stattin, ICLD; and Tarun Sharma, Nagrika, Dehradun, India.
Organisers: Mistra Urban Futures and Swedish International Centre for Local Democracy (ICLD)
For more information, please contact Sandra Valencia or Jan Riise, Phone +46 708 642820, Mistra Urban Futures. and World Urban Forum's presentation of the event
Photo Botanical Garden by Izuddin Helmi Adnan on Unsplash
Photo Kuala Lumpur Skyline by Ishan @seefromthesky on Unsplash