Ilmar Reepalu chairs the review panel
The review panel will visit all Local Interaction Platforms and spend considerable time in Gothenburg, talking to stakeholders, researchers, board members and staff during March, April and May 2015.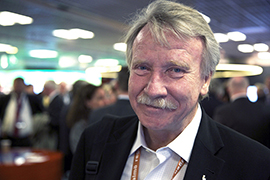 Mr Ilmar Reepalu chairs the panel. He is former Mayor of the City of Malmö and an architect by training. He is a well-known personality in political circles as a member and chair of the City's Executive Committee for almost 30 years, until he retired in 2013. 
Other members of the panel:
Professor emerita Caroline Moser, University of Manchester, an expert in urban social anthropology and social policy. 
Professor John Robinson from the University of British Columbia. Prof Robinson's research focus is on interdisciplinarity, i.e. research and practice aimed at addressing issues outside the academy. 
David Dodman is the co-head of the Human Settlements Group and team leader of 'Cities and Climate Change' at IIED, International Institute for Environment and Development. His expertise covers areas such as resilience in urban centres, urban governance for adaptation and community-based environmental management. 
Professor emeritus Carl-Johan Engström, Royal Institute of Technology, studies city development in a globalised economy and how planning practices need to be developed in a sustainable direction.
Photo Ilmar Reepalu: Øresund News