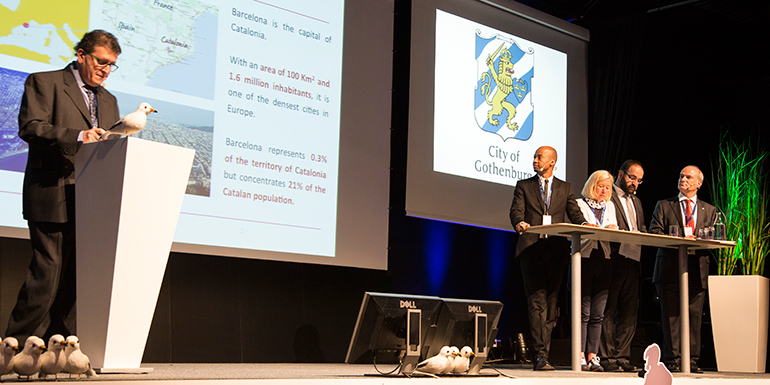 from left to right: Jordi Tolrà i Mabilon, Barcelona, Mokena Makeka, Architect, Cape Town: Anneli Hulthén, Mayor of Gothenburg; Mehmet Kaplan, Minister for Housing and Urban Development, Swedish Government; David Simon, Professor, Mistra Urban Futures
Stealing Good Ideas
Gothenburg is facing significant sustainability challenges over the next few years: segregation, housing shortage and unemployment. On top of that the city will have to learn how to live with the climate change.
Having mentioned this, Anneli Hulthén, Mayor of Gothenburg and part of the panel at Urban Challenges and Trends, came to the conclusion that stealing good ideas from other cities would be necessary.
The Swedish Minister for Housing and Urban Development, mr Mehmet Kaplan, was also concerned about the segregation and thought that the creation of cities where people can live together is on top of the national priority list: 'Economic sustainability is easier, it is measurable and we know how to do it', the Minister said.
The well attended seminar "Urban Challenges and Trends" formed part of the City of Gothenburg's celebration of the arrival of the sailing teams of the Volvo Ocean Race, this year coming back to the home port of the company. The high level seminar was moderated by Mistra Urban Futures Director, Professor David Simon.