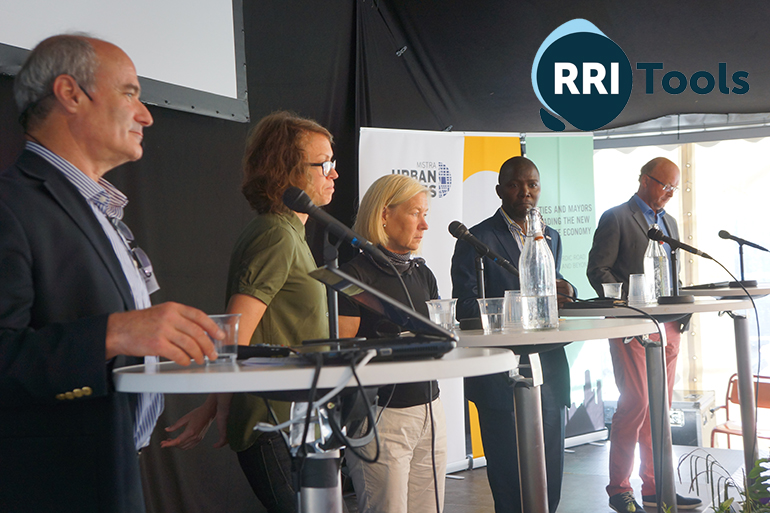 Communication including several stakeholders in Almedalen 2015: researchers, policy-makers, politicians and city representatives. From left: David Simon and Helen Arfvidsson, Mistra Urban Futures; Anneli Hulthén, Mayor of Gothenburg; Daniel Okutah, City Manager Kisumu, Kenya; Thore Vestby, Mayor, Frogn, Norway. Photo: Jan Riise
Mistra Urban Futures 'Good Practice' in RRI
Mistra Urban Futures has been selected as 'good practice' in Responsible Research and Innovation in Europe. The EU-funded project RRI Tools received a large number of nominations and has selected 31 European projects, programmes and organisations. It is primarily Mistra Urban Futures' focus on working with stakeholders from both academy and practice that has got the RRI Tools attention. By involving both academic and practicing stakeholders, the programme emphasises open communication and mechanisms that increase the visibility of needs and the accessibility of results. Carefully designed, transdisciplinary approaches, co-creation and co-production of knowledge provide a kind of inclusive, bottom-up way of working that is at the same time inclusive and empowering, and may produce valuable data and qualitative findings that may be fed 'upwards' into regional, national and international systems for planning, resource allocation and sustainability initiatives.
RRI Tools is a three year project that will finish in 2016. The project aims at developing a toolbox for the implementation of RRI, Responsible Research and Innovation, in practice. The recently published catalogue of good examples and best practice forms part of that work. Three more of the 31 examples are Swedish, thus making Sweden and Germany the two countries that have developed most 'good practice' RRI projects and programmes.
The RRI Tools project is carried out by a consortium of 26 European partners and a network of 19 European 'hubs' for communication and dissemination of the toolbox. It is coordinated by the La Caixa Foundation in Barcelona, Spain. Vetenskap & Allmänhet in Stockholm is the project╒s Swedish partner.
Contact: Jan Riise, Mistra Urban Futures, phone +46 708 233377