Together for new knowledge
What happens when people who work with complex urban problems on a daily basis and researchers who highlight such challenges in their doctoral studies come together and learn from each other? Two that knows are Alexandra Westin and Lisa Örberg, thanks to Mistra Urban Futures Open Research School.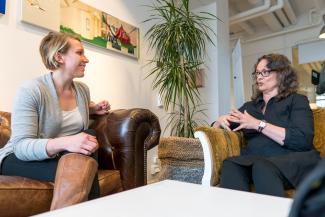 Usually work in two different worlds
Alexandra Westin, researcher at Chalmers and Lisa Örberg, project manager at Trafikverket, The Swedish Transport Administration, usually work in two different worlds. Since the fall of 2017, they have meet for two full-days per month for lectures and discussions in a PhD course for researchers and practitioners organised by Mistra Urban Future's Open Research School. The atmosphere that prevails when we meet to talk about what the course has meant for them is characterized by the same enthusiasm and curiosity about each other.
- There have been such fun discussions about large subjects that I don´t usually have with my colleagues at Chalmers, and that made me open my mind for things I've never previously reflected over, Alexandra says. Lisa nods and fills in. 
- That we come from such different environments means that there is no competition and that everyone is only curious about each other. 
Lisa started her career working with communication and has now worked for several years with sustainable transport at Trafikverket, The Swedish Transport Administration. Applying to the Research school was her own initiative, as a way to develop her work and knowledge of sustainability issues. For Alexandra, who is a PhD student at Chalmers and partly financed by Mistra Urban Futures, the course is compulsory. In her research, Alexandra studies the environmental impact of consumption and how changed purchasing processes can help municipalities achieve their environmental goals. In order for the research to be applicable, part of the work involves taking in views of the practice. 
More tools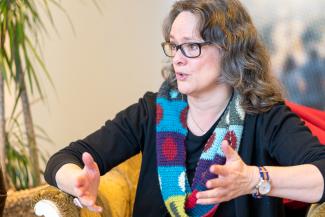 - I have gotten many more tools to use and ideas on how to get the municipalities and other organizations engaged and knowledge about how to gather the right people in the right place, she explains.
A central concept that forms both the set up and content of the course is co-production. Bringing together researchers and practitioners in the same course is in itself an example of a co-production methodology. A large part of the course is also devoted to allow participants to study, discuss and evaluate cases from different parts of the world where co-production has been used in both research and practice to generate new knowledge. 
- The view I have gained is that co-production is a great deal about taking advantage of all the relevant knowledge available from the actors involved, sometimes they are found were you least expect them, Lisa explains.
Both Lisa and Alexandra express that they feel hopeful and inspired by the many examples they have learned. But they also emphasize the difficulties and challenges that lie in existing structures, which are also visible in their own organizations. Lisa tells us that Trafikverket, The Swedish Transport Administration has come a long way, by working with methods that include different dialogues with those affected by a problem and together try to come up with solutions.
- We have an open atmosphere and welcome comments and feedback. But we have a great deal left to do to really embrace a co-production approach. In practice, there are many obviously good solutions that are generated that cannot be achieved because they "fall in between" in terms of responsibilities and they lack funding for implementation, she explains.
A concrete example is a proposal for a new cycle path, which is a municipal concern because it is not in connection to a state road, and where the municipality may lack funding for that investment.
Thanks to the course, Lisa feels that she can offer advice to provide new analyzes and suggestions on methods and solutions internally. 
- I do the best I can with the conditions I have, but I would not have been able to come back with such good suggestions if I had not gone this course, she says.
New research ideas
Alexandra addresses similar challenges in her research, including the requirement to show robust data to be able to publish scientific articles.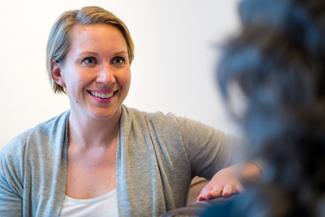 - It's not always that someone's point of view can count, making it a challenge to get it into the process. 
A change that Alexandra hopes for is that transdisciplinary research begins to be more accepted, as it is still not common. The main feature of this research is that non-academic actors are involved, for example, users. 
- That's what I want my research to be about and that's where I've grown and learned a lot from this course. I have so many ideas for my dissertation now, that I never reflected on before, she says.
There is no doubt that Alexandra and Lisa are happy with the course, but it is demanding. On the question if there is something they are lacking; the unanimous answer is time!
- We have many in depth discussions about subjects that on the surface appear very simple. We never have enough time, Lisa says. 
- Yes, I'm completely wiped out after two course days, Alexandra emphasizes with a smile.
SHORT FACTS MISTRA URBAN FUTURES OPEN RESEARCH SCHOOL 
The course Co-producing knowledge in transdisciplinary research – From practice to theory. (2x7,5 ECTS) is divided into two parts Its directed towards you who are dealing with so called 'wicked urban problems' in your daily practice or who aim to address such current and future urban challenges in your PhD research, and who see the urgency for a transdisciplinary approach.
The Research school is now open for applications for the fall 2018 course. Apply no later than May 27th 2018. Read more