Speaker at EU event in Brussels 
David Simon, Director of Mistra Urban Futures, was a speaker at the workshop on 'Fostering new synergies and partnerships on sustainable urbanisation', held at the Stockholm Region's EU Office in Brussels on Monday 5th March 2018.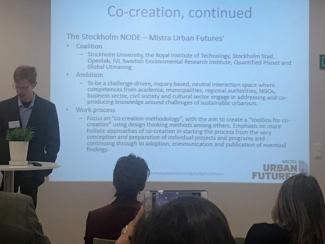 This event brought together Swedish researchers and European Commission officials to enhance collaborative opportunities since both the Swedish Government and European Commission have recently launched sustainable urbanisation policies and funding agendas.
Discussion focused on nature-based solutions (NBS) and relevant research already being undertaken in Sweden and by Swedish-based international centres, represented by Mistra Urban Futures, with particular reference to the expected strong emphasis on NBS in the Commission's forthcoming Ninth Framework Programme (FP9).
Swedish Environment Minister, Karolina Skog, and Humberto Delgado Rosa, the Commission's Director, Natural Capital in the Directorate-General for the Environment, addressed the reception that followed the workshop.