Mistra Urban Futures Stories
The impact of bringing researchers and research results closer to the political agenda and the local work of counties, cities and municipalities is one thing that is mentioned by almost everyone, when asked about what Mistra Urban Futures means to them. Over the past few months, a series of interviews have been made to create a personal image of the Centre, complementing the facts regarding project, publications and events.
All 15 stories can now be found on the Mistra Urban Futures website.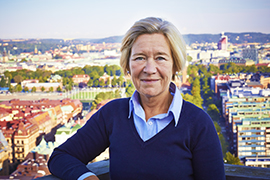 Anneli Hulthén, Mayor and Chair of the Executive Committee of the City of Gothenburg, expresses it very clearly: 'Mistra Urban Futures is a knowledge hub that makes it easier for us as politicians to add sustainable urban development to the political agenda'.
The story of Mistra Urban Futures also includes a whole range of stakeholders that make up the extensive network of partners of the Centre, including private companies. One of these companies is Creative Concern in Manchester, U.K., represented by Steve Connors, CEO, who has developed an online platform for informal sustainability discussions that has become an important forum in the region.
The complete interviews with Anneli Hulthén and Steve Connors are found on here 
Photo: Anna Hult