Bondo University College has become a fully-fledged University
On the 13th of February Bondo University College (BUC) was elevated into a fully-fledged University following the award of Charter by the President of Kenya, His Excellency, Hon. Mwai Kibaki.
The Right Hon Prime Minister Raila Amolo Odinga as well as four cabinet ministers also attended the award ceremony. At the same time the university also got a new name Jaramogi Oginga Odinga University of Science and Technology (JOOUST), in honor of the first vice president of Kenya, the late Jaramogi Oginga Odinga. JOOUST is situated in Bondo Town within the Siaya County in Kenya.
15 000 attended the ceremony
Among the congratulatory messages read to the participants numbering well over 15 000 were those received from Mistra Urban Futures Headquarters and the President of Chalmers University of Technology.
New partner of the Kisumu Local Interaction Platform (KLIP)
Bondo Universiy College has been one of Mistra Urban Futures local partners in Kisumu since the start of the local interaction platform and its successor JOOUST thus becomes the new partner and member of the Consortium which is comprised of Maseno University and Kisumu Municipal Council among others. Prof Stephen G Agong was appointed and installed the Acting Vice-Chancellor for JOOUST by the Hon Minister for Higher Education, Science and Technology Prof Margaret Kamar. Prof Agong was the founding Principal of Bondo University College and is the Director of the Kisumu Local Interaction Platform.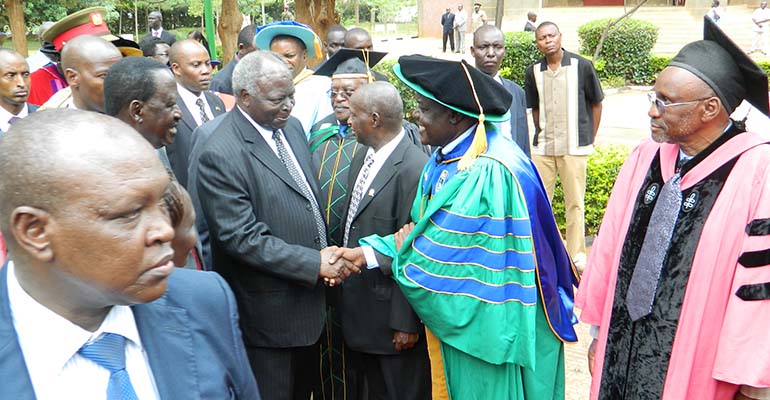 Prof Stephen G Agong greeting and welcoming Head of State Hon Mwai Kibaki
Head of State unveils the JOOUST Plaque to demarcate the official award of charter, while the JOOUST Chairman of Council Mr Titus Gateere (in black academic gown) along with others observe.
 
Read more
Jaramogi Oginga Odinga University of Science and Technology