Sea-level rise and integrated coastal zone management
Darryl Colenbrander, City of Cape Town and Anton Cartwright, Mistra Urban Futures spent a windy morning on the 8th of September on Cape Town's beaches with a visiting delegation of senior International Development Research Centre (IDRC) officials.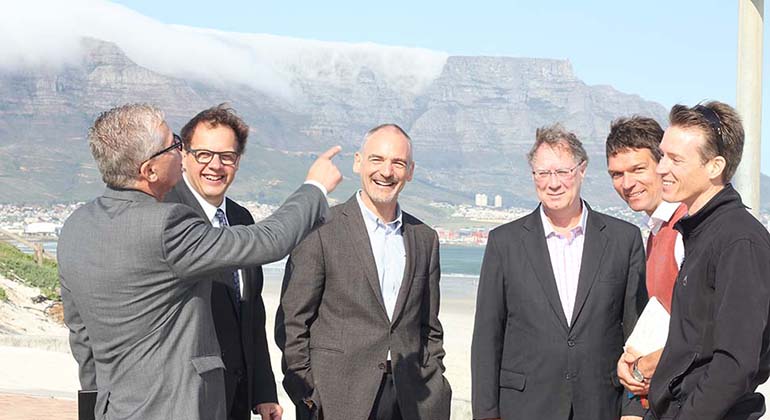 From left to right in the IDRC delegation: Acting Board Chair, Hon. Monty Solberg, President, Dr. Jean Lebel, Regional Director for sub-Saharan Africa, Simon Carter, and Vice President Programmes, Stephen McGurk, Anton Cartwright Mistra Urban Futures Researcher in Cape Town and Darryl Colenbrander, City of Cape Town.
The visit followed a three year research project called Flooding in Cape Town Under Climate Risk (FLICCR) between the City of Cape Town and University of Cape Town aimed at understanding flooding risks in the city and their social origins and consequences and developing collaborative risks reduction strategies. The study benefited greatly from the close working relationship forged between University of Cape Town and the City in the Climate Change Think Tank programme, which as supported by Mistra Urban Futures. Darryl explained the process being followed by the City of Cape Town in applying a coastal setback line in order to reduce sea-level rise risk and ensure a co-ordinated response to storm surge damage.  This process has been documented in a forthcoming South African Geography Journal publication: "Drawing a line in the sand: managing coastal risks in the City Of Cape Town" available here.
Photo: Gloria Lihemo