In 2008, the African Centre for Cities at the University of Cape Town (UCT) launched what would become its primary Cape Town-based research project: the CityLabs programme. From the outset, the focus of CityLabs was engaging with urban issues through the co-production of knowledge. Ten years later, this approach is being replicated on a continental scale with the African Urban Research Initiative
"African cities tend to be multifaceted and complex," explains Dr Warren Smit, a research manager at UCT who coordinates the CityLabs programme. "A lot of existing urban research and theory is based on cities of the global north and is not applicable to the global south.
"Co-producing knowledge that is relevant to our local urban settings and which provides a nuanced and holistic view of African cities and their challenges is therefore essential work."
Ntombini Marrengane, the coordinator of the African Urban Research Initiative (AURI), agrees. "Unless an active network of durable knowledge institutions, focused on applied urban research and capacity building is urgently established, most African cities will not be in a position to understand their urban development dynamics, let alone address them effectively," she says.
"With AURI, we are using what has been learned from CityLabs about the value of co-producing knowledge, but also promoting local expertise through networking and capacity building."
Grappling with informality
CityLabs brings together academic researchers and practitioners from government, the private sector and civil society to engage around key challenges facing Cape Town. In all, there have been nine such labs, each anchored by a researcher and typically with a lifespan of three to five years.
Some CityLabs have focused on collaboratively developing new policies, while others have been research-focused. According to Smit, the majority have engaged with issues of informality: "Residents of informal settlements face numerous challenges in their daily lives, such as protection from the elements, access to and the storage of food, and the threat of crime and violence.
"Many of the CityLabs have asked, 'How can we transform the city through interventions in the built environment, for example, through informal settlement upgrading, and through strategies for providing affordable housing in well-located areas?'" Smit says.
Smit describes one example of the CityLabs' practical impact: "The Urban Violence, Safety and Inclusion CityLab, for example, culminated in the piloting of a training programme for government officials and other practitioners on informal settlement upgrading."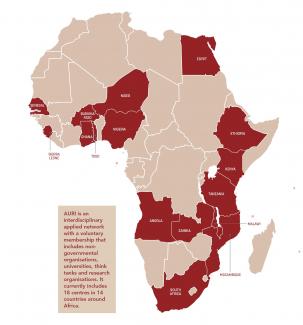 Expanding across the continent
AURI is an interdisciplinary applied network with a voluntary membership that includes non-governmental organisations, universities, think tanks and research organisations. It currently includes 18 centres in 14 countries around Africa.
"The AURI project came about in 2013 when a number of African urban research centres participated in a workshop in Addis Ababa. Those who participated agreed to establish AURI as a network of credible and resilient institutions rooted in local realities but engaged with broader trends," explains Marrengane.
According to her, while AURI researchers are drawn from fields as diverse as architecture, urban planning, geography and sociology, at present the focus is on interventions in the built environment. Earlier this year, the sixth AURI Policy Conference brought together urban researchers from all over Africa to discuss spatial inequality and encourage a comparative research agenda for African cities.
Marrengane hopes that in years to come AURI can expand both its network and the focus of its research. "I hope that AURI can reflect an even wider diversity of urban settings – from large metropolises to smaller cities – all within a sustainable and cohesive knowledge network," she says.
Text: Ambre Nicolson, photo: Warren Smit
This article was originally published in Umthombo, a magazine featuring research stories from across the University of Cape Town (UCT). Located at the southern tip of Africa, UCT's leading-edge research contributes to global knowledge, produces local solutions to pervasive challenges and brings an African voice to the world stage.
'Umthombo' is the isiXhosa word for a natural spring of water or fountain. The most notable features of a fountain are its natural occurrence and limitlessness. Umthombo as a name positions the University of Cape Town, and this publication, as a non-depletable well of knowledge.