Urban Futures Festival in Kisumu
The second annual Urban Futures Festival, the Kisumu Local Interaction Platform (KLIP) event, was held on the 21-22 November in Kisumu. The event is an opportunity to strengthen cooperation and exchange of knowledge between academia, industry and society.
The two day event was as last year divided into two parts. The first part was open to the public, showing how the platform in Kisumu is working for sustainable development in the city. Many residents gathered at Jomo Kenyatta Sports Ground, where they could view entertainment in the form of a Boda Boda bicycle race, a youth soccer tournament as well as traditional dance and music from the Luo culture. The residents also had the opportunity to take part in one of the research projects dealing with handicraft production and entrepreneurship. Participants from the villages Dunga, Mfangano, Osiri and Seoport showed how to manufacture ropes out of discarded plastic bags and how to make paper from water hyacinths.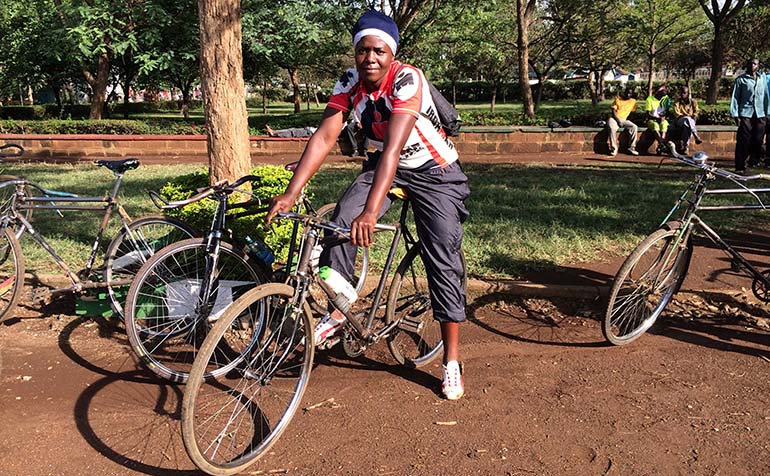 One of the participants in the Boda Boda bicycle race
The second part consisted of a seminar where speakers from academia and industry took turns to talk about research, development and future plans. The partnership developed between Kisumu and Gothenburg was one of the topics. Professor Maria Nyström from Gothenburg attended the event along with two of the PhD students who have their projects based in Dunga Beach in Kisumu. Maria talked about Mistra Urban Futures platforms around the world with a particular focus on the platform in Kisumu and the main projects themes; ecotourism and marketplaces.
Other speakers included the platform in Kisumus Director Professor Stephen Agong, the Minister for Infrastructure and Planning Vincent Opeda, Executive committee member, Tourism, Trade And Heritage, County Government of Kisumu, Dr. Rose Kisia and the region's new Governor Jack Nyanungo Ranguma. The lake, the rainforest and its proximity to the nature reserve of Masai Maria is some of Kisumu premier products for tourism according to Rosie Kisia. The Governor spoke about the importance of locally produced food, that is important to preserve and develop the area's unique culture and that all stakeholders need to work together. The platform in Kisumu has come a long way, 'said the governor, and the work in Dunga can be seen as a model for further development of tourism in the region.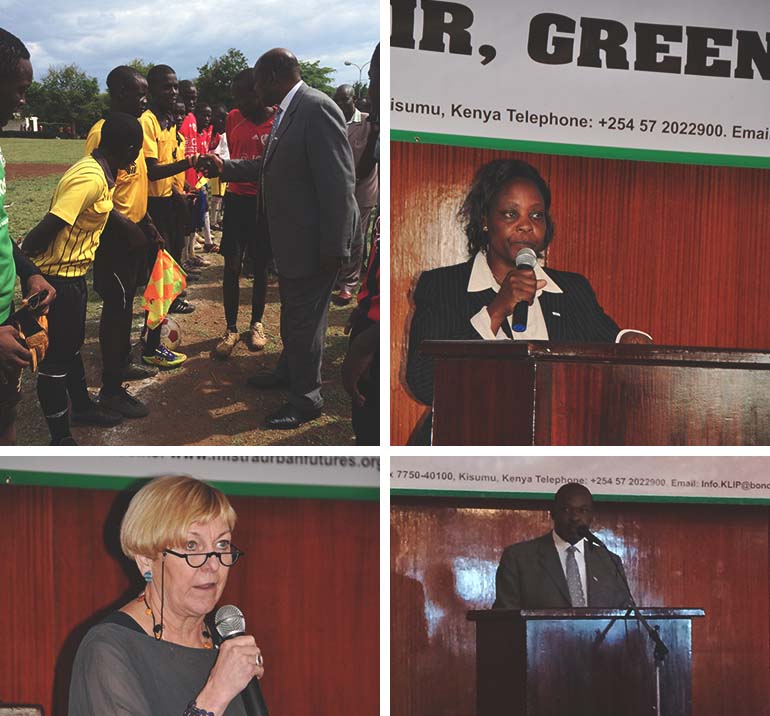 From the top, left to right: Governor Jack Nyanungo Ranguma welcomes the players in the football tournament. Executive committee member, Tourism, Trade And Heritage, County Government of Kisumu, Dr. Rose Kisia. Professor Maria Nyström. Governor Jack Nyanungo Ranguma.
Read more about Kisumu Local Interaction Platform (KLIP) event