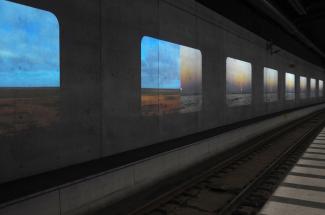 Photo: ©Tania Ruiz Gutierrez, 2010
Researchers Recommend Rethinking Culture
It is necessary to radically reorient the notion of culture – from sustaining origins to forming relations. That is one of the conclusions and recommendations from an overview of research across the fields of migration, culture and urban studies from a translocality approach.
The research overview, carried out by Professor Maria Hellström Reimer at Malmö University with Per Möller and Erin Cory, also at Malmö University, is part of the work at Mistra Urban Futures Research Panel on International Migration and Urban Development.
Culture may have gained importance, the authors say, including culture as a fourth pillar of sustainability. But an increased focus on culture does not necessarily lead to more sustainable societies.
Current political tendencies and demands for stricter border controls may support the idea of seeing culture as a tool for assimilation as well as for mitigation of social tension, the review concludes. In particular, the anthropological meaning of culture – as part of our living together, language, religion etc – has been in focus for research interest as 'culture' may work as a means for the recognition of diversity and change as well as for discrimination and social segregation.
With migration as an inevitable aspect of societal life, there is a need to look at culture's role for sustainability and forming new relationships, thus also rethinking what integration means from spatial and temporal perspectives. An understanding of culture as related to movement, space and time is emerging, hence breaking up the traditional bond between culture and territory.
These changing patterns of mobility lead to new cultural challenges related to the formation of knowledge, the authors write in their concluding remarks. New questions that arise includes issues of vocabularies, concepts and representation to understand the specific urban situations that have emerged. This knowledge formation may influence urban planning and policy-making, in a way necessary to contribute to realising not only sustainable but also just and responsible cities.
The complete report, Translocality and Translocal Subjectivities: A Research Overview Across the Fields of Migration, Culture and Urban Studies, can be downloaded for free
For further information, please contact Maria Hellström Reimer or Erin Cory at Malmö University.
Photo (including small picture on front page) from Tania Ruiz Gutierrez, Annorstädes / Elsewhere / Ailleurs, permanent video installation for the City Tunnel, Malmö Central station, 2010.