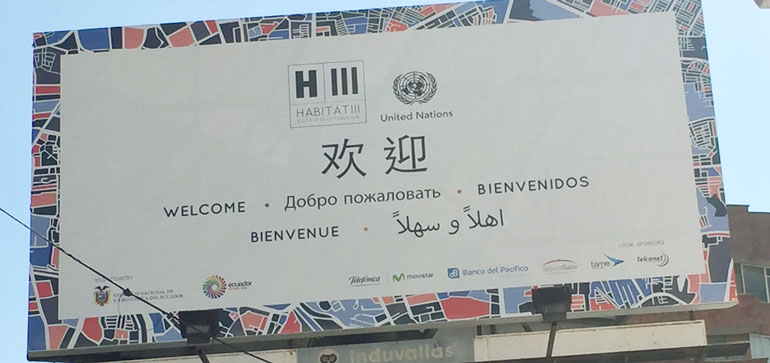 Mistra Urban Futures at Habitat III
'If you want to go fast, go alone, if you want to go far, go together'
Mistra Urban Futures takes part in the Habitat III in Quito, Ecuador this week, until 20 October, as partners in the Swedish Pavilion organised by Sida, Lantmäteriet, Quantified Planet and Global Utmaning.
WIth WWH Earth Hour Challenge and Global Utmaning, there will be a networking event in the Swedish Pavilion, located in the Area F, booth number 120. This event will also include a presentation of our recent book, Co-Production in Action and Rehtinking Sustainable Cities.
Collaborative Data Collection and Analysis
45 min presentation in the Swedish Pavilion, 14:00–14:45, Tuesday 18 October
Area E, booth 120
The New Urban Agenda encourages 'collaboration among all relevant stakeholders', including local governments, the private sector, civil society, academic institutions and many others, to ensure economic development and addressing existing and emerging challenges.
Reflecting the collaborative and global ambitions, a group of three otherwise unrelated organisations have joined forces to add value by collaboration to the common agenda:
Mistra Urban Futures, a trans-disciplinary research centre hosted by Chalmers University of Technology, coordinator of pilot project testing data for targets and indicators for the Urban Sustainable Development Goal.
WWF, an international NGO with a growing engagement in urban issues, analysing data from the flagship project Earth Hour City Challenge with more than 300 cities participating.
Global Utmaning, an international think tank, focussing on management in urbanisation issues, working with an extensive group of international senior advisors from all sectors of society.
Together they tell a story of challenges, collaboration, comparisons and leadership – in most cases from the kind of bottom-up perspective that is the signature of cities' efforts.
Participants:
Prof David Simon, Mistra Urban Futures
Carina Borgström-Hansson, WWF Sweden
Fouad Khan, Luc Hoffman Institute / WWF
Elin Fabre, Global Utmaning
More information: please contact David Simon or Jan Riise
Mistra Urban Futures will be present and/or presenting at several events during the four conference days 17-20 October. Please feel free to get in touch at the events listed below:
15 Oct 18:00-20:00 and 16 Oct 8:00-10:00. Steering Committee of World Urban Campaign, Mercure Hotel.
16 Oct 15:00-18:00 World Mayors Assembly
17 Oct 9:30-10:30. The Role of Urban Thinkers Campuses and The City We Need. World Urban Campaign event, venue Room 8, Casa de Cultura.
17 Oct 14:00. Inauguration of Swedish Pavilion. Exhibition area, booth E 120. Talk by Swedish Minister for Housing Peter Eriksson.
17 Oct 14:30-16:00. Book launch: Urban Planet. Habitat X-change, Booth B27, Habitat III Exhibiton area.
18 Oct 12:00-12:45. Contextualising and Inspiring Sustainability in the New Urban Agenda, organised by UCCRN, Columbia, Future Earth, UN-Habitat
18 Oct 14:00-14:45 Collaborative Data Collection and Analysis, Swedish Pavilion, Booth E120, with Global Utmaning and WWF (see above)
19 October 14:30 UGEC Panel at the Habitat X-change booth, B27