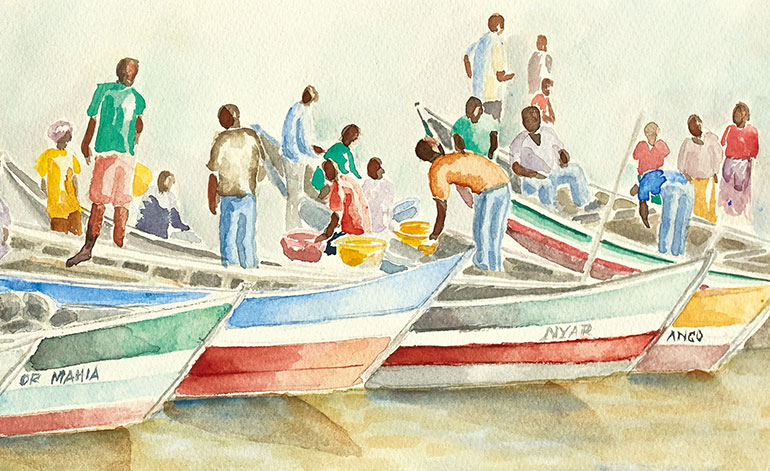 Inclusive Place Branding
Participation is a key word for the development of the knowledge and reputation of a particular region, city or nation. It is about creating the place brand together to attract visitors, residents, business and investors, and at the same time building social and cultural capital.
Eva Maria Jernsand at the School of Business, Economics and Law of University of Gothenburg, defends her doctoral thesis 'Inclusive Place Branding' 16 December. She is one of Mistra Urban Futures PhD candidates and her work is based on the Kisumu Local Interaction Platform projects 'Eco-Tourism' and 'Market Places'.
The objective of the research has been to conceptualise and define the expression 'inclusive place branding', and to study the influence on local development of an inclusive approach. Observations and interviews regarding a local development project regarding tourism at Dunga Beach in Kisumu, at Lake Victoria, have been the basis for reflections and learning.
The doctoral thesis point at how an inclusive place branding work may create new relationships and a symbolic, cultural and social capital, valuable for the continuous development. The work contributes to position the place relative to stakeholders and interest groups.
The field work also resulted in improvements of the guided tours at the beach, a guide association, improved waste handling systems and a new signs programme helping visitors to find their way around the area.
Eva Maria Jernsand is the second Mistra Urban Futures PhD candidate in Gothenburg to defend her thesis, after Lisa Bomble earlier this autumn, getting her PhD for the 'Communicative Interfaces for Planning'. Both theses are available for download:
Inclusive Place Branding: från Göteborgs universitet (pdf)
Communicative Interfaces for Planning
For further information, please contact Eva Maria Jernsand, phone +46 708 327466.
Photo/artist: Eva-Maria Jernsand