Moving beyond sustainability – a narrative of hope
In the newly published licentiate thesis Regenerative Place-Making: Making-Places for Collective Life and a Common Future, Sigrid Laurel Östlund, Department of Architecture and Civil Engineering, Chalmers University of Technology and Mistra Urban Futures explores how we can move beyond mainstream sustainability, through the study of regenerative place-making.  
As the planet faces urbanization and globalization, it's essential to re-evaluate the roles of built environments and human activities in connection to ecosystems that we and other species depend upon. An important part of this challenge is to address the potential role of place and spatial design. This could be a paradigm shift that is necessary for changing current and future circumstances.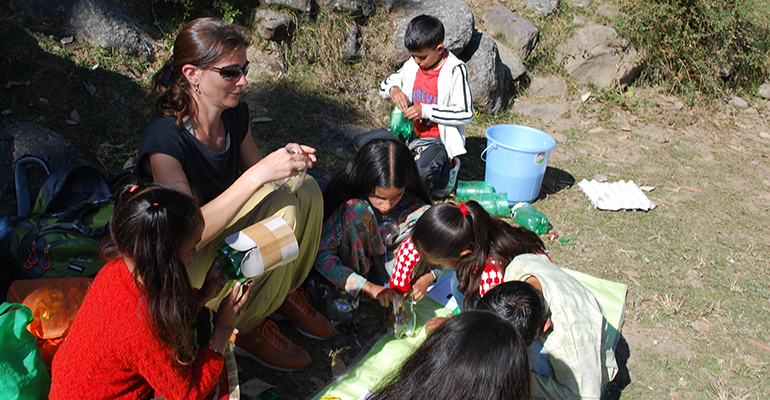 This challenge is too monumental to be resolved by any one person or discipline. This thesis contributes to the larger story through a smaller story: one about the potential relationships between place-making, regeneration and designerly thinking. 
Regenerative design and place-making
More specifically the thesis focuses on place-making, particularly the perspective of spatial design and experiences of the built landscape, and how this is affected by and can affect our relationship to ´waste-making´. 
Mainstream sustainability focuses on avoiding scarcity through austerity and efficiency. It tends to convey that human activities are de facto bad for the environment and measures its successes as being "less bad". Regenerative design theory problematizes mainstream notions of sustainability that reinforce human-nature dualisms and perpetuate linear systems of resources and power. Regenerative design stresses that we must shift into a mindset that recognizes that societies (and their economies) are inseparable from ecologies, and that local and global communities are made up of human and nonhuman subjects. It does not deny that we need to reduce the negative impact of human activities. However, it argues that human activity is not de facto bad for the environment and proposes to shift the focus of our efforts to increasing the positive effects of human activities.
An important part of the solution to this problem, according to regenerative design theory, is to reconsider and rewrite a "narrative of hope", stories of how we can change the world. Stories told and enacted within their cultural socio-ecological contexts can promote certain values and beliefs that build co-creative and co-evolutionary partnerships for regenerating resources and the notion of "the good life". 
Study areas – waste to resources and more 
The areas studied represent publicly shared places where waste has been used as a resource or contributes to the process of being turned into a resource. In total 20 sites have been visited, some of which are:  
•    Waste Warriors, Baghsu, India
•    Clean Upper Dharamsala, McLeodganj, India
•    Cykelköket, Göteborg, Sweden
•    Chalmers ReCycle, Göteborg, Sweden
•    Alelyckan Kretsloppspark, Göteborg, Sweden
Results 
"Some of the main results, are that waste-resource activities and expressions in publicly shared places can take many forms and contribute to other values such as community building, empowerment, good-will, donation and recreation. Each place and activity tells a contextually and individually different, yet similar, story of hope, renewal, contribution and creativity. The places which contributed most to such a narrative, were the ones that included 'making practices'; what I call 'making-places'. It is clear from these studies that the incorporation of waste-resource conversion in public and common life is possible, and can have many benefits for psycho-social wellbeing and the experience of the built landscape. They also add new dimensions to the experience of place, and call into question our common notion of what 'public space' is and can be used for", says Sigrid Laurel Östlund. 
The Main Supervisor is Professor Jaan-Henrik Kain, Department of Architecture and Civil Engineering, Chalmers University of Technology with Artistic Professor Henrietta Palmer, Mistra Urban Futures as Co-Supervisor. 
"We are all impressed by the significant contribution made by Sigrid Östlund, taking us beyond often watery applications of "sustainability" towards a generative architectural practice. By linking a wide set of theories she outlines a new "paradigm" that will serve as a basis for shifting the practices of architects and designers. Her coming PhD thesis will soon bring this important work to a wider international audience", says Jaan-Henrik Kain.
Read more
Licentiate thesis Regenerative Place-Making: Making-Places for Collective Life and a Common Future
PhD project: Regenerative Placemaking
Questions?
Please contact Sigrid Laurel Östlund, sigrido@chalmers.se