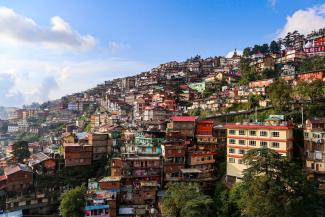 Urban Responses to the Covid-19
and the Localisation of Agenda 2030
Thursday 23 July 15:00–16:30 CEST (GMT+2)
Mistra Urban Futures was a 10-years social science programme for sustainable urban development charactherised by co-production of knowledge and transdisciplinary approaches to so called "wicked problems" and sustainability challenges. One of the flagship projects was a 7-city comparative programme involving city administrations, researchers, civil society and other stakeholders with regard to the local adaptations of the Sustainable Development Goals and the New Urban Agenda.
The Urban Thinkers Campus will build on this work, including the 7 cities and inviting more to join a discussion about the incidence of and responses to the COVID-19 pandemic - e.g. comparing and analysing differences in responses as well as planning for interventions once the various forms of lockdowns are lifted. One key issue is the degree to which these measures are consistent with and support existing resilience strategies, as well as climate change strategies and sustainability programmes and objectives. The idea is not to deprive ongoing development needs of funds or merely to return to where we were before the virus.
Different stakeholder groups will be invited and evidence from different cities will be presented as to provide a starting point for a constructive and forward-looking discussion on strategy development.
The Campus will add to existing work done on localisation of the Sustainable Development Goals and the New Urban Agenda by adding the COVID-19 dimension to issues of resilience, adaptation and strategies for implementation. In what ways has this work been beneficial for the responses to the pandemic?
Speakers and panelists:
David Simon, Professor, Royal Holloway University of London
Tarun Sharma, Director, Nagrika, Dehradun, India (social enterprise in one of the 7 cities)
Warren Smit, PhD, Researcher African Centre for Cities, University of Cape Town
Angeles Arano, City of Buenos Aires, Project manager Agenda 2030
Sara Pettersson, City of Gothenburg, Urban Planning and SDG implementation
Beth Perry, PhD, Urban Institute, University of Sheffield
A draft report from the Urban Thinkers Campus can be found below, under "Files". This will form part of the material for a scientific article, to be submitted later this year.
Photo of Shimla (India) by Sreehari Devadas on Unsplash