Implementing the SDGs and the New Urban Agenda
'We're quite clear on the 'what' and 'how' of the New Urban Agenda', Raf Tuts from UN-Habitat said in one of the many sessions at the 9th World Urban Forum, held at the Kuala Lumpur International Conference Centre in the Malaysian capital from 7-13th February. 'But we're not entirely clear on 'who'.'
Quite a lot was said about the Sustainable Development Goals and the New Urban Agenda, and the emphasis on collaboration – spanning sectors, disciplines and levels – was often a key message to and from governments and municipalities.
More than 20,000 people from 160 countries attended the conference that the World Bank calls 'the world's premier on cities'. Networking events, side events, high-level round-tables, receptions and plenaries followed each other across several days and many venues.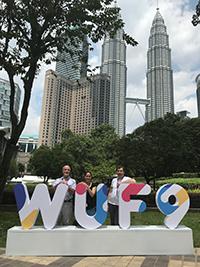 Mistra Urban Futures, represented by David Simon, Sandra Valencia and Jan Riise, took advantage of the opportunity, partly by engaging in some events as partners or co-organiser, partly through a wide range of informal meetings with colleagues and potential partners at the World Bank and World Resources Institute, the New School in New York, the Mansueto Institute for Urban Innovation, members and officials of several governments and municipalities, organisations like the International Centre for Local Democracy (ICLD) and the Swedish Association for Regions and Local Authorities (SKL) from Sweden – and many others.
With ICLD, Mistra Urban Futures organised a networking event called 'Localising the SDGs and the New Urban Agenda – Are we on the right track?' with the participation of city representatives of Kisumu (Kenya) and Lusaka (Zambia) as well as the City of Malmö, SKL and ICLD. Mistra Urban Futures' steering committee partner for the Stockholm node, Global Utmaning, organised another networking event, introducing also the new Executive Director of UN-Habitat, Ms Maimunah Mohd Sharif, who was mayor of Penang, Malaysia's second city, until taking up her new post last month.
David Simon was furthermore invited to participate in a 'Special session' organized by UN-Habitat, focusing on 'Urban Data' with an audience of several hundred people. He contributed insights on the need for greater clarity and simplicity from the Centre's comparative project on city engagement with the New Urban Agenda and SDGs.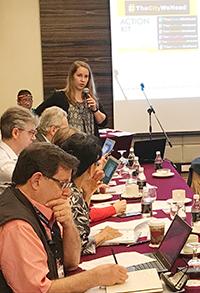 Mistra Urban Futures is an associate partner of the World Urban Campaign, that successfully arranges a series of 'Urban Thinkers Campuses' around the world. Its role in communicating and being a forum for UN-Habitat and partners was strengthened at the Steering Committee meeting which David Simon and Jan Riise attended.
Returning to Raf Tuts and the concern regarding who is actually going to do the work, there were some promising signals for strengthening inclusiveness. Grassroots organisations were unusually well represented at the conference. The ten recommendations of the 'Kuala Lumpur Declaration' represent the delegates' messages to governments all over the world; one of which is about adopting multiple governance mechanisms, 'that actively engage national, subnational and local governments, all groups of society, including youth, women and grassroots organisations and particularly the excluded, vulnerable and disadvantaged groups'. Leave no one behind.
Photo and text: Jan Riise, Mistra Urban Futures
Picture to the right: Mistra Urban Futures team at WUC9
Picture to the left: Devina Meinzingen at World Urban Campaign Steering Committee