City officials exchange showing results
City of Cape Town officials work with University of Cape Town counterparts to generate and write up new insights into public policy making, planning and service provision.
A stimulating and engaging workshop took place on the 24th November where seven city officials presented their research on specific issues facing the City of Cape Town, which they had produced and written up in collaboration with academics from the University of Cape Town. This was the final workshop of the second round of the Officials Exchange under the Mistra Urban Futures Knowledge Transfer Programme. The officials, from a range of sectors and departments in the City, had up to 8 weeks away from their regular day jobs to spend time at the University reconnecting with the academic literature in their field, analyzing data and information from their work in the City, and writing up a journal article together with their academic co-authors.

The officials involved, their academic counterparts, and the titles of their papers are as follows:
Tackling wicked problems and tricky transitions: Change and continuity in Cape Town's Environmental Policy Landscape, by Amy Davison, Environmental Resource Management Dept., City of Cape Town and Zarina Patel & Saskia Greyling, University of Cape Town.
Measuring the benefits of a public library service: a practical exercise in impact assessment, by Najma Patel, Camps Bay Library, & Janusz Skarzynski, Fish Hoek Library, City of Cape Town and Mary Nassimbeni, University of Cape Town.
Comparison of travel time between private car and public transport with a case study for Cape Town, by Gerhard Hitge, Transport for Cape Town, City of Cape Town and Marianne Vanderschuren, University of Cape Town.
A diagnostic approach to intra-metropolitan spatial targeting: Evidence from Cape Town, South Africa, by Claus Rabe, Spatial Planning and Urban Design, City of Cape Town Rob McGaffin & Owen Crankshaw, University of Cape Town.
An analysis of the dynamic and social complexities of municipal waste management reform, by Barry Coetzee, Utility Services, City of Cape Town and Harro von Blottnitz & Ralph Hamann, University of Cape Town.
Spatial Planning in the Global South: Learning from implementation in Cape Town, by Adele McCann, Spatial Planning and Urban Design, City of Cape Town and Nancy Odendaal, University of Cape Town.
Most of the papers have already been submitted to top ranking journals and are either in the process of being reviewed or have been accepted for publication. In addition to providing deeper insights into the workings of a metropolitan government and the challenging planning and policy dilemmas that officials are having to grapple with, the presenters also reflected on their experiences in this knowledge transfer and exchange project with its goal of 'making knowledge in a new way'.
There was a unanimous expression by all officials of the great value of the project. They spoke of how it had afforded them the opportunity to 'step out of their work space and reflect on their work in a new way'. Despite the challenges of getting away from their desks and their regular work, of having to move into an 'academic head space', getting to grips with new literature, ideas and concepts, and writing collaboratively, the officials felt that they had arrived at new insights and learnt to 'think and write differently'. It was also expressed that the published research papers gave their work 'greater credibility', and that the 'head space' that the programme offered enabled them to reflect critically on the assumptions upon which policies and programmes they were working on are based.
Reflecting on their positive experiences, the officials recommended that more 'spaces' be created in the City for deliberations and knowledge sharing to take place, particularly between departments and sectors, between officials and politicians, and between officials and other stakeholders in the city. Furthermore, it was felt by all officials that the 'translation' of the new knowledge and insights back into the City would be important to ensure that knowledge was 'brought back to the departments' and into their daily work on projects, plans and policies.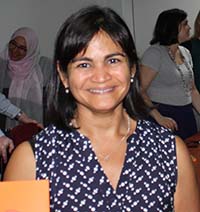 All in all, the presentations generated much debate and discussion regarding the complex and inter-connected nature of various social, economic and environmental issues challenging the City, about how institutional change happens, the role of academic knowledge vis-à-vis practical knowledge, and the influence of politics and technical expertise in public decision making. In closing, the Programme Co-ordinator, Dr. Zarina Patel, noted the uniqueness of this innovative programme and how it required new kinds of 'fitness' for all involved, both those from the City and those from the University. She congratulated the officials and their academic partners on writing top class papers and for their 'discipline and dedication'.
Read more
Written by: Dianne Scott and Anna Taylor 
Photos by: Zarina Patel and Gordon Pirie