City Officials Exchange Programme launched
The Knowledge Transfer Programme in Cape Town reached a milestone on 27th November 2012, when the City Officials Exchange Programme was launched at the African Centre for Cities, ACC.
The programme creates knowledge platforms that overlap the researcher-practitioner divide with the objective of developing knowledg platforms that are better able to provide complex policy responses to complex urban sustainability challenges. As part of the programme, 4 academic researchers were embedded in the City of Cape Town in April 2012.
The second part of this programme, the City Officials Exchange has just been launched. Six
City Officials, with a deep involvement in urban sustainability policy development have been selected to spend a two month period at the ACC, wher they will be supported in writing up their account of policy development for publication and dissemination. Congratulations to the 6 selected officials: Ken Sinclair-Smith; Charles Parkerson; Lorryn Steenkamp; Darryl Colenbrander; Rumbidzai Chin'anga and Wilmont Arendse.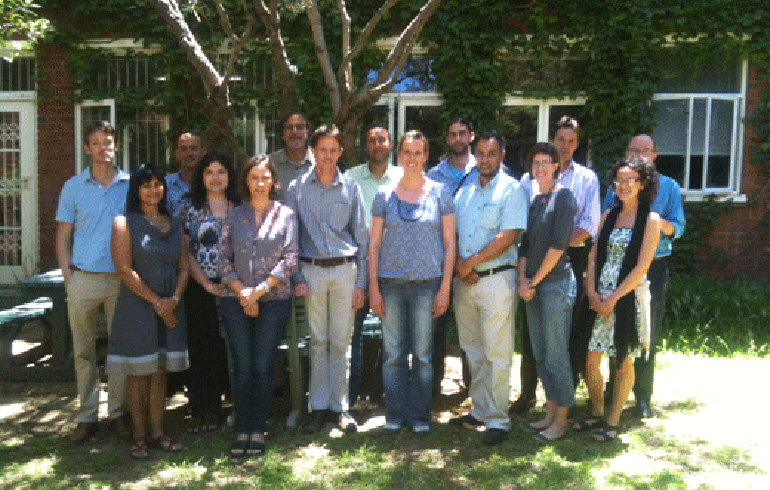 Photo: Chimango Hara.
Front Row (left to right): Zarina Patel (Cape Town LIP Director); Amy Davison (City of Cape Town Mistra Urban Futures Co-ordinator); Pippin Anderson (City Exchange Co-ordinator, ACC); Ken Sinclair Smith (City of Cape Town); Lorryn Steenkamp (City of Cape Town); Charles Pakerson (City of Cape town); Anna Taylor (Mistra Urban Futures Researcher, ACC); Mary Lawhon (IPP Co-ordinator, ACC)  Back Row: Darryl Colenbrander (City of Cape Town); Rob McGaffin (Mistra Urban Futures Researcher, ACC); Ian Palmer (CTLIP Project Steering Committee, PDG); Wilmont Arendse (City of Cape Town); Saul Roux (MUF Researcher, ACC); Anton Cartwright