Urban Lecture 
Sustainable Cities – Case Studies of Accessibility, Green Infrastructure and Equity
By Professor John Black, University of New South Wales, Sydney 
Throughout the world, governments are attempting to address the adverse consequences of increased motorisation and suburban sprawl with policies to achieve greater sustainability of development. 
In the book Rethinking Sustainable Cities: Accessible, Green and Fair, David Simon suggests that accessible, integrated public transport, reduced parking and car use, pedestrian spaces, walking/cycling (with associated health benefits) and access to green space are all hallmarks of "strong sustainability" within cities. 
Re-branded for the purpose of this seminar as "accessibility", "green infrastructure" and "equity" – all areas of substantial scholarship and high level consulting advice by the presenter – planning and urban development examples are drawn both from developed and developing economies. 
Background 
Common methodologies in examples cited in the presentation are primary data collection through fieldwork and site investigations and analyses of secondary data - journey to work census spatial data. Accessibility – Sydney, Australia (1977, 2011), Sapporo, Japan (1983), Southeast Asian cities (1979-80, 2005-2008), Istanbul (2005) and prescriptions for policies (Chinese cities, 2000); Green Infrastructure – Pilsen, Chicago and Emeryville, California (USA); and Equity – Australia Cities (1992) and Japanese cities. An emerging issue for Smart Cities – for example, India and Iran (Isfahan) – is transit-oriented development (TOD) and the discussion of this topic leads into conclusions around policy frameworks, implementation, evaluation frameworks, and financing, including the public-private partnership (PPP or PFI in the UK).
Date: Thursday, February 9, 2017
Time: 11:30-13.00 
Place: Mistra Urban Futures, Läraregatan 3, Gothenburg
Register no later than Sunday February 5, 2017
Programme 
11:30 Welcome and introduction, David Simon, Director Mistra Urban Futures
11:35 Presentation, Professor John Black, University of New South Wales
12:15-13:00 Light vegetarian lunch
Professor John Black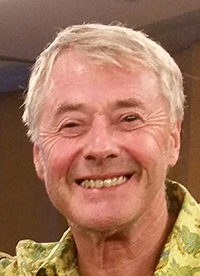 John Black was appointed Foundation Professor at University of New South Wales, Sydney, Australia in 1984 and now is an Emeritus Professor as well as holding an Honorary Professorship at the University of Sydney, Faculty of Health Sciences. He has a multi-disciplinary educational background with degrees from Faculties of Architecture, Arts and Engineering. His research career started in the 1960s when he undertook a study of the social and environmental impacts of truck traffic generation in London. The economic, social, health and environmental aspects of transport have been recurring themes of research that he has supervised over the years. He was appointed as a member of the Australian Commonwealth Government Ecologically Sustainable Development (ESD) Transport Working Group in the early 1990s, where, today, ESD principles underpin all transport infrastructure assessments undertaken by all three tiers of government. He has worked as a researcher and consultant in 36 countries of the world - most recently in late 2016 in Iran (Traffic Impact Assessment Guidelines) and India (Smart Cities). 

This Urban Lecture is arranged by Mistra Urban Futures and the Urban Freight Platform
The Urban Freight Platform
The Urban Freight Platform (UFP) is an initiative supported by the Volvo Research and Educational Foundations (VREF) on urban freight research based in Gothenburg, Sweden. The UFP works as a facilitator of academic research on urban freight within the context of the logistics competence center Northern LEAD at University of Gothenburg and Chalmers University of Technology. Our vision is to continue to develop cutting-edge research combining skills from various disciplines, make the urban freight research cluster function more effectively and ensure that the relevance and importance of urban freight is made accessible to a wider public.