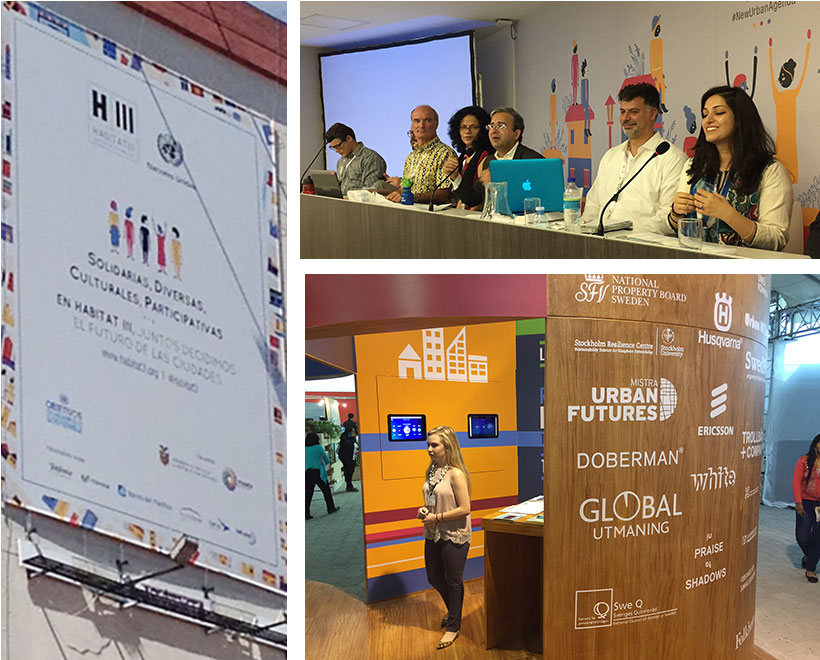 Habitat III in Quito – a participant's view
By David Simon, Director of Mistra Urban Futures
The Third UN Summit on Housing and Human Settlements (Habitat III) in Quito this week is bringing together some 50,000 people representing all manner of urban interests from around the world (Photo 1). Coming 20 years after the Second summit in Istanbul, it is intended to set the direction for the UN system's urban engagements over the next 2 decades through the adoption by world leaders of the New Urban Agenda (NUA).
Although the UN has made progress in recent years in engaging more substantively with non-state actors (UN-speak for everyone and anyone outside of national governments, which constitute the UN membership club), the contradictions and tensions in this arrangement were exposed during the protracted negotiations over the NUA, with some governments opposing the recognition of subnational (i.e. regional and local) governments even though they form part of the state sector. In UN terms, the NUA's explicit recognition of the importance of urban local authorities and diverse other stakeholder groups as essential actors in any transitions to greater urban sustainability constitutes a major achievement and historic first. The final NUA text is at https://www2.habitat3.org/file/535859/view/588897 .
These distinctions and tensions are also evident in the entry arrangements at the conference site, with government delegates, UN staff and other categories of accreditation having the highest status and fast track entry to the registration and security clearance areas, while ordinary 'participants' have had to stand in interminable queues, often in hot sunshine, for literally hours. While what is by far the largest such event ever held in the Ecuadorian capital is inevitably creating bottlenecks, at the single entry and badge issuing locations, the continued delays – meaning that many people have been missing or arriving late for their sessions – has by Tuesday morning led to the event being dubbed Queueto by some frustrated participants. By Wednesday, additional scanners had been installed – but since the number of registered participants was known in advance, the inadequacy of arrangements was baffling.
The problem has been exacerbated by the summit being split into two adjacent sites, requiring separate security entry procedures each time one moves between the two. The official programme and selected networking and side events are in the main Casa del Cultura, while the rest take place in the Exhibition area. Although they could readily have been integrated into a single campus, the latter site is open to the public in an effort to make the event accessible to ordinary citizens, hence necessitating separate screening. Preparations for the summit, especially in relation to the approval and scheduling of networking and side events, had also been chaotic, leading to a frantic last-minute scramble for alternative venues and travel arrangements.
A plenary session of the World Mayors' Forum on Sunday afternoon, hosted by the dynamic mayor of Quito, preceded the main summit. This slightly curious formula constituted the UN's accommodation to the implications of the NUA, namely granting a formal platform to local government leaders, while maintaining the summit itself as the creature of national governments. That said, Ban ki Moon, the outgoing UN Secretary-General was on message, whereas, his engaging personality notwithstanding, Joan Clos, UN-Habitat Executive Director and a former mayor of Barcelona, somewhat misjudged the balancing act.  While noting the importance of the summit, he pointing out that, as the signatories, national governments held the ultimate responsibility for the NUA and its implementation. He must have been shifting in his seat as one after the other, the dynamic current mayor of Barcelona, followed by her counterparts from Dakar and Montreal, hailed the importance of the NUA and asserted confidently in Spanish, French and English that cities are in the frontline of the struggle against climate change and other challenges, as well as action and implementation.
Since Monday, while government delegates have been preoccupied by the usual summitry and starting to focus on how to move forward, not least with fundraising for implementation, other participants have been offered a plethora of competing presentations of every sort. Lectures, GIS and urban database presentations, panel discussions, exhibits and book launches on both sites have jostled for attention. Local authority representatives and the leadership of the main umbrella bodies, ICLEI (Local Governments for Sustainability) and UCLG (United Cities and Local Governments) and the World Compact of Mayors, were upbeat following the success of the local government summit in Bogotá last week, where, after years of rivalry, they agreed to work together around the NUA and implementation of the urban Sustainable Development Goal (SDG11). UCLG's GOLD4 report, launched at both summits, deserves serious attention in this context.
Jan Riise and I represented Mistra Urban Futures, accompanied by the chair of our Board, Thomas Rosswall. My own agenda has been packed, with committee planning meetings, discussions about potential future research and conference collaborations and catching up with colleagues from around the world fitted around speaking commitments. On behalf of Mistra Urban Futures, I launched our two new Open Access books, Rethinking Sustainable Cities: Accessible, green and fair and Co-production in Action: Towards realising just cities in a packed Side Event shared with the Urban Climate Change Research Network's Second Assessment Report on Cities and Climate Change, to which I am a contributor. In a separate book pre-launch at the pavilion of the International Council for Science (ICSU) and Future Earth, I spoke as a section co-editor of the forthcoming Future Earth volume, Urban Planet. At the Swedish Pavilion (Photo 2), a joint event organised by Mistra Urban Futures with WWF Sweden (organiser of the annual Earth Hour City Challenge, on the international jury of which I served this year) and Global Utmaning, a Swedish think tank, reported on our collaborations around urban sustainability, climate change adaptation and leadership for the SDGs and NUA. This was ably led by Jan, competing with speakers and music in adjacent pavilions. Part of my contribution focused on our experience using co-production methodologies, a topic that also arose in panel discussions on urban resilience and change for Future Earth, and on the work of the Urbanisation and Global Environmental Change programme over its ten-year life, now concluding. The only commodity in short supply has been sleep!
David Simon
Prior to the Habitat meeting, an international group of researchers including David Simon published a comment in Nature: Scientists must have a say in the future of cities.
David Simon is also one of the contributors to a global roundtable of researchers asked by The Nature of Cities about the most important outcome of Habitat III.
Published 21 October 2016. Pictures by David Simon and Jan Riise.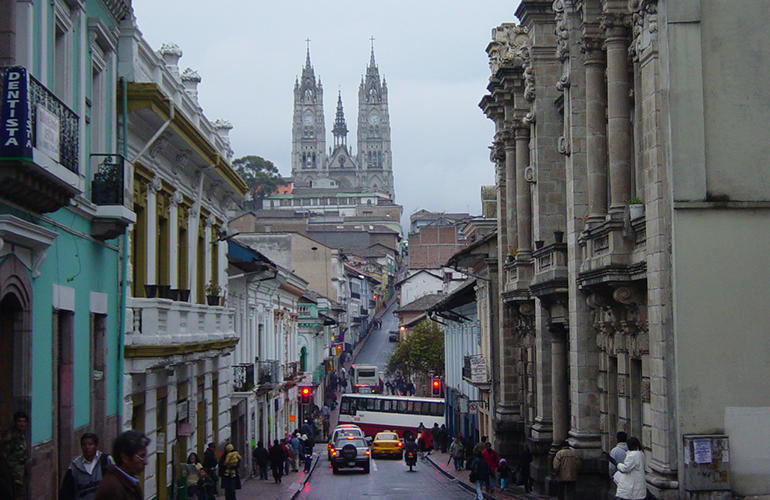 An unprecedented and historic urban moment
This text by Mistra Urban Futures Director David Simon was first published as a comment to an articled published by Urban Transformations, an ESRC network coordinated by Oxford University. The paper '2030 policy endorsement of a sustainable futures: implications for urban research' by Susan Parnell, Owen Crankshaw & Michele Acuto
My purpose in this comment is to emphasise four salient points about the current state of play and to propose a way forward that is both straightforward and practicable, and which could thus greatly assist all stakeholders by promoting a unity of purpose.
First, it is vital that all those engaged or with interests in promoting urban sustainability keep focused on the essentials and not lose the unprecedented and historic opportunity that the build-up to Quito represents. The process to get 'here' has, quite literally, been a struggle or, more accurately, a series of intersecting struggles. If, for any of a number of reasons, the moment is lost – as many opposing vested interests would dearly love – there will be no going back.
Second, a key element of this historic moment is that the NUA and urban SDG (like the SDGs as a whole) in effect provide the urban components of Agenda 2030 and are framed in terms of the imperative of achieving global sustainable (urban) development. Previous UN 'development' agendas have focused principally on low and lower-middle income countries. In this sense, the shift from the Millennium Development Goals (MDGs) to SDGs symbolises far more than simple succession. Agenda 2030, the NUA and SDGs make unambiguously clear that sustainable (urban) development is everyone's challenge. Indeed, what needs to be done in OECD countries in terms of decarbonisation, retrofitting and redesign of the urban fabric is no less formidable than building sustainably out of urban poverty in new and existing urban areas elsewhere.
Third, the importance of the current urban focus reflects not only the need for transitions and transformations to urban sustainability per se but also the centrality of this process to the attainment of overall societal sustainable development. Some cities might appear superficially as islands of concrete, brick, steel, glass, tarmac, mud blocks, corrugated sheeting, wood and plastic,[1] but this would be misleading. Cities are central nodes in economic, socio-cultural, demographic, political and social-ecological systems and flows that integrate them inextricably into their surrounding regions ('hinterlands') and national and transnational spaces. What happens in urban areas has profound implications beyond their boundaries as well as inside them. Fundamentally, rural sustainable development is no more feasible without urban sustainability than vice versa.
Finally, if this is the urban century, we need to be attentive to urban areas of all sizes in all locations. We tend to use 'cities' as a short-hand for urban areas generally. However, since most policy debates, even in the Agenda 2030, NUA and SDG processes, take place in large cities (usually national capitals or commercial hubs) and are dominated by agencies, city leaders, professional elites and other 'stakeholders' based there, implicit meanings and understandings tend to drift quickly towards actually inferring large cities. These, after all, also tend to dominate the headlines about explosive urban growth, the increasing number of megacities outside of Euro-America, prestige symbols of urban modernity (including gleaming transport hubs, elite megaprojects and, most curious of all, the great phallic race to erect the tallest, most virile freestanding tower in the world), and, at present, unwanted flows of desperate migrants and refugees from other regions. Nevertheless, the dynamics of urban growth have already been shifting and much current and future growth will occur in secondary, intermediate and smaller urban centres. Their sustainable planning, development and management are therefore fundamental to sustainable urban and societal futures.
So how, given this diversity, complexity and sometimes strong opposition from interests vested in the status quo, can the prospects for the urban century to become the urban sustainability century be maximised? The challenge is formidable but the key almost certainly lies with integrated ('joined up') thinking and action of the following elements:
First, using incentives for a limited period and effective and enforced regulations appropriate to local conditions to encourage movement towards urban economic greening on a clear timetable. This would have the purpose of demonstrating quickly – as the evidence is showing increasingly clearly in many parts of the world – that such transitions provide and present substantial net economic opportunities rather than survival threats to the construction, urban transport and other sectors often associated with opposition to sustainability transitions. If they can be enrolled as supporters exploiting new opportunities, a key obstacle will have been overcome.
Second, mobilising civil society, community groups, indigenous knowledges and other forms of 'bottom-up' pressure on local, regional and national authorities to promote sustainability in line with the new undertakings made in adopting Agenda 2030, the NUA and SDGs. Even authoritarian governments, including in China, are beginning to show movement in this area, also haunted by numerous domestic environmental disasters.
Third, involving UN and other international agencies and international NGOs like ICLEI and UCLG, to promote proactive local urban leadership and mutual international learning and to engage with local and national leaderships. Research around the world is showing increasingly that such multilevel governance, while often difficult to achieve, provides a crucial mechanism for sustainability transitions, precisely because no level of government or mode of governance can do it alone.
Fourth, in support of this, deploying substantive participatory methods, including new forms of co-design and co-production to engage diverse stakeholder groups actively in locally appropriate and relevant research and governance, can play important roles in overcoming entrenched conflicts and institutional antagonisms.
Finally, following from the previous point and simultaneously coming back to my starting point, there is a straightforward way to bring the currently rather separate Agenda 2030, NUA and SDGs together that offers a path forwards that will enhance their prospects of success. This is simply to set up the SDG implementation process as the monitoring and evaluation framework for Agenda 2030 and the NUA. Despite its positive and progressive content, the NUA Zero Draft was long and complex and lacked any clear implementation mechanism or process beyond, in effect, relying on national governments to adopt it and proceed in their own ways. Conversely, the SDGs offer a holistic set of metrics for gauging progress towards sustainability on approaching 200 variables. However, the challenge of implementing the SDGs around the world are formidable, with many voices objecting to the complexity and cost. Such objections could readily be assuaged if they were linked to relevant aspects of Agenda 2030 and the NUA to monitor and evaluate progress rather than being implemented in isolation. In addition to Goal 11's overt urban focus, numerous indicators in other Goals are pertinent to urban areas and were refined during the finalisation process to ensure compatibility. In addition to giving the SDGs a substantive role within the global sustainable development agenda, this would also ensure that urban progress was 'everybody's business' within multilevel governance frameworks.
Notes
[1] Although probably unfamiliar in most of the global North, it is important to acknowledge the materials which provide the shelter for significant proportions – and sometimes even the majority – of inhabitants in many urban areas of the global South.
Photo: Quito street, by Martin Zeise, Wikimedia Commons
false
Cities and Climate Change at COP21
This is the first in what we hope will become a regular Mistra Urban Futures blogspot, to which various voices from our LIPs and partners will contribute. To get the ball rolling, it is perhaps appropriate that I am writing from COP21 in Paris, where I have been representing MUF for the last couple of days and taking the temperature, so to speak, of negotiations and – equally importantly – the expectations surrounding them.
My strongest impression, substantiated by others I have spoken to, is that cities and urban climate change issues are considerably more in evidence than previously. They may still merit only fleeting mention in the final UNFCCC text that emerges as the Paris declaration/agreement, but the urban imprint in what is happening here is very tangible. Paris as host has its own stand but individual cities and urban associations are evident in many national pavilions or in the displays on regional associations, international agencies and NGOs and the like. These include, most conspicuously, UN-HABITAT and ICLEI but the Mayors' Compact, UCLG and others are also in evidence. Equally importantly, mayors from the Nordic countries and elsewhere, are here in person, participating in events and seeking to ensure that their countries' UNFCCC negotiators keep 'the urban' firmly in mind.
The side event in which I participated yesterday, 'National government, Nordic Cities and Mayors Looking beyond Paris' and held in the pavilion of the Nordic Council of Ministers, symbolised the coalitions of interests gelling around the importance of multilevel governance for effective action on climate change. First off was Mehmet Kaplan, the Swedish Minister of Housing and Urban Development, a veteran of Habitat II in Istanbul and friend of Mistra Urban Futures. He was followed by  Bo Frank and Dagur Eggertsson, mayors of Växjö and Reykjavik respectively, myself and then Renat Heuberger, CEO of the Southpole Group thinktank/advocacy firm. Really heartening was the consistency and complementarity of the issues raised, priorities articulated and examples of good practice and necessary change cited. Most of us were later interviewed live on air by Kaj Embren, the session organiser and facilitator. Anneli Hulthén, outgoing mayor of Gothenburg, was speaking at another event yesterday.
More generally the mood pervading the Le Bourget summit venue – and the tens of thousands of participating indigenous group and community and NGO activists, advocacy groups, local and regional authorities and national government delegations (the Parties to the UN Convention) –  is cautiously optimistic. Cautious in view of all the past disillusionment and frustration that have dogged the UNFCCC negotiation process since the hype, hope and expectations in the build-up to and during COP15 in Copenhagen – which I also attended as I was doing some work there for UN-HABITAT. Optimistic because the world has moved on, the evidence of advancing climate change and its effects (not least on and in urban areas) is clearer than ever and more rapid than previously anticipated, and because some of the coalitions of interest around the negotiation process have changed tangibly.
Interestingly, perhaps, African solidarity has probably deepened, despite the wider diversity of active engagement with climate change challenges evident on the continent. Last night I listened to several of the African negotiators reporting soberly and admitting to some continuing frustration, not least in terms of responses to their and other G77 efforts to get the target mean global temperature increase reduced from 2C to 1.5 and the voluntary nature of national emissions target reductions forming the basis of the current initiative. One hopeful sign was the specialist on gender rights reporting satisfaction at progress. In answer to a question, the Ghanaian doyen of African negotiators summed up their collective perspective by saying that he expected a deal, albeit one that would fall short of the more substantial demands in terms of temperature target, INDC (intended nationally determined contributions) and the size of the global fund to assist 'developing countries' to adapt.
In contrast, I have just attended a press conference by the chief US negotiator, Todd Stern, who reflected the very different posture of the US government under Obama. He referred to the US as a key member of what he described as the emerging 'high ambition coalition', outlined the substantial interventions by his government on vehicle and power plant emissions (two sectors together accounting for two thirds of total US emissions) under existing legislation, and expressing a sense that considerable progress has been made already during this week in narrowing the areas and text on which disagreements remain. Although indicating that a 1.5 degree target would not be feasible to include at this late stage since the 2C 'safe limit' was so well established, he confirmed that the final text would indeed contain clear human rights and gender statements. The atmosphere in the press conference was calm and no hostile questions emerged.
If a week is a long time in politics, it is a very long time in global governance negotiations. How far the remaining gaps can be closed remains to be seen but with so much at stake and the Habitat III summit just 10 months away, we can but hope that the interests in favour of a deal embodying meaningful emissions reductions and a viable global adaptation fund will prevail over those against.
David Simon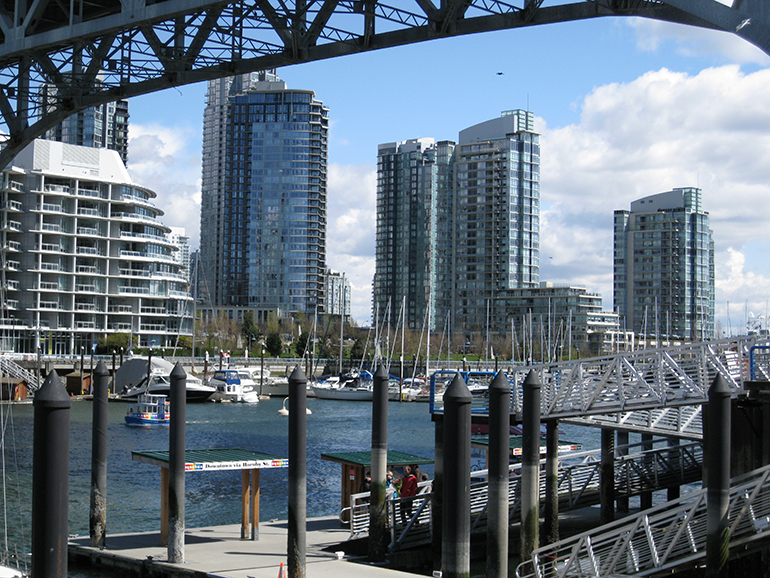 This text is originally published on the website of UGEC Urbanization and Global Environmental Change, and reprinted here with the permission of UGEC. Picture above from Vancouver, Canada. Photo: David Simon
Urban research with immediate impact
Carefully designed and contextualised local comparative urban research can provide data and qualitative findings that can be fed upwards into national and international sustainability initiatives and balance the otherwise predominantly top-down nature of such activities, writes Professor David Simon, Director of Mistra Urban Futures.
One of the sea changes in academic life sweeping a growing number of OECD countries is the legitimising of applied research, for so long regarded as the poor relation of 'pure' academic research and theorising. Indeed, such research has increasingly been demanded by official and non-governmental funders in the name of 'relevance' in recessionary times when theoretical or 'blue skies' research has become viewed as frivolous or unaffordable. By contrast, applied research by many academics in the global South has always been normal and perhaps even essential as a supplement to low university salaries. In principle this has given Southern researchers a headstart in competitive bidding for such work, especially in partnership with Northern institutions more experienced in the complex bureaucratic grant application stakes.
One aspect of this phenomenon is that researchers are commonly now required to include 'impact statements' of how they expect their work to produce measurable outcomes in addition to planned outputs in their funding applications. These statements then form a key part of post-project evaluations. These new applied demands have often caused consternation either at the principle of more narrowly defined research performance criteria or the instrumentality and inappropriateness of some of the required metrics. Perhaps the most extreme form of such top-down prescription is the way in which the 2014 Research Excellent Framework septennial assessment of UK university research comprised one section on impact, which was defined in a way far more suited to linear industrial innovation and production processes than the complexities of social and multi- and transdisciplinary sustainability science, in which unpredictability is a central feature. For a fuller discussion of these issues, see my recent co-authored article, 'Crossing boundaries: complex systems, transdisciplinarity and applied impact agendas' in the journal, Current Opinion in Environmental Sustainability (http://dx.doi.org/10.1016/j.cosust.2014.08.007).
Despite these sometimes formidable challenges, ideal opportunities to undertake focused sustainability research which combines intellectual and applied dimensions may present themselves unexpectedly. One example is the process of developing and formulating the set of 17 Sustainable Development Goals (SDGs), which are intended by the UN to replace the Millennium Development Goals (MDGs) from January 2016. Unlike the MDGs, which applied only to poorer countries, annual reporting on the SDG targets by means of sets of indicators for each will be required of all countries. Another innovative feature is the inclusion of a goal (no. 11) addressing urban sustainability, the more significant because it acknowledges the importance of urban dynamics and development to overall national and systemic sustainability. Although because of UN system rules, national governments will be the reporting authorities, local authorities will inevitably play important roles in data collection and upward reporting to the national level.
Last September, I took up a new position as Director of Mistra Urban Futures (MUF), a Gothenburg-based international research Centre on sustainable urbanism that works through transdisciplinary co-production partnerships in Gothenburg, Greater Manchester, Cape Town and Kisumu. This way of working and the golden opportunities to undertake systematic, applied comparative urban research across these research platforms provided important incentives for me. Even before my contract commenced, I was asked to host a key workshop in London of the Urban SDG Campaign group that MUF had decided to fund. This event was one in a series preparing the targets and indicators for Goal 11, To make cities and human settlements inclusive, safe, resilient and sustainable.
The challenge is immense: working through the New York-based and UN-appointed Sustainable Development Solutions Network (SDSN) charged with developing the SDGs as a whole, UN Open Working Group and the global alliance of mayors to formulate a set of globally agreed targets and indicators is politically delicate  and practically challenging. Unlike in health, education and other sectors, there is no internationally agreed definition of what constitutes an urban area. Instead, most countries have their own definitions that reflect local urban and planning history, colonial inheritances, administrative and institutional arrangements, socio-cultural traditions and political conditions.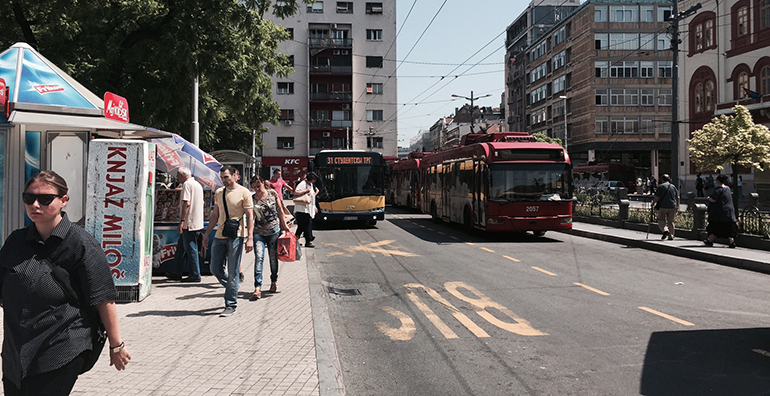 Access to public transport is an indicator for urban sustainability research. Picture from Studentski Trg in Belgrade. Photo Jan Riise
Following three days of intense debate and as our workshop outcome document was submitted to SDSN, it occurred to me that no amount of work in a vacuum by an international group of academics, NGO, UN and local authority planning staff was going to be able to identify and get political acceptance of a suite of such technical indicators that would be both practicable and helpful in promoting sustainability transitions in the huge diversity of urban areas worldwide. Hence it occurred to me that our four local platforms might provide ideal testing grounds for the targets and indicators since they are all secondary or intermediate cities located in very different geopolitical, geo-economic and socio-cultural contexts and together constitute a sample reasonably representative of the diversity of our urban world. Eventually Bangalore, a multimillion city but by no means the largest in India and where Aromar Revi, the co-chair of the USDG campaign is based, was added for yet greater diversity.
Mistra and Sida agreed to fund the pilot project, which is current running across the five cities and providing invaluable feedback. Unsurprisingly, there is very little on which all five cities appear to have data to hand, the capacity to collect it cheaply, or agree on the relevance or importance of individual indicators. The individual city reports are due for submission by the end of this month, followed rapidly by the project's final report. A draft will be presented at the next USDG campaign workshop, to be held at MUF in Gothenburg from 8-10th June, and where the findings and implications will be mulled over. Revisions to the current draft set of targets and indicators will be directly informed by these research results, and will then be forwarded to SDSN for the final stages of negotiations over the northern hemisphere summer. The full set of SDGs, targets and indicators will be announced by the UN Secretary-General at the General Assembly in New York at the end of September, and are due to come into operation on 1st January next year.
Whatever the final outcome and whatever one's view on the utility of the MDGs and SDGs, the experience has been fascinating and exemplifies how carefully tailored and contextualised local comparative urban research can provide fine-grained data and qualitative findings that can be fed upwards into national and international sustainability initiatives to 'ground truth' and balance the otherwise predominantly top-down nature of such target setting and reporting  that may well not sit well with diverse local contexts, conditions and capacities.
David Simon, Director of Mistra Urban Futures, Chalmers University, Gothenburg, and Professor of Development Geography at Royal Holloway, University of London, has been a member of the UGEC Scientific Steering Committee since its inception.
The city constitutes a spatial capital that can be invested in
By Mikael Cullberg, Director Gothenburg Platform
Published: 2015-03-10
The Mistra Urban Futures project 'Shared city - divided city' ("Dela[d] stad") and its follow-up by the three main cities in Sweden, 'Cities in collaboration' ("Storstäder i samverkan") show exiting, even revolutioning results. Researchers Ann Legeby of the Royal Institute of Technology (KTH) and Lars Marcus of Chalmers University of Technology (with colleagues at KTH and city officials) show that local councils often have the right visions and objectives to counteract segregation and differences in opportunities for people, but that these are not implemented in practical spatial planning and construction, quite the contrary: When construction actually takes place in the urban area, the result is often less cohesion, less of a mixed city, more segregation. 
 
How then do you build cities and towns so that the objectives are fulfilled, so that this unwanted development is stopped and turned in the right direction? These research and practice projects look at the urban area as a system: They look at the connections, not the objects, the parts. They look at the functional form of the city, not its symbolic – that is, what it does, not what it looks like. The city constitutes a spatial capital that can be invested in, or squandered. When cities are built, the resources are allocated to different locations. The essential here is that good locations can be created in the process – or not. Previously good locations can even be destroyed. The number of good locations is not fixed, it depends on how the city is planned and built. The functional form matters; it affects the relationships between people, as well as between people and activities. Housing, traffic, services, enterprise, etc. form an entity, which is all about interplay in the public space, about accessibility, movment patterns, locations, etc. The focus must hence be on building the city, not just housing, office space and shopping areas. 
 
The fundamental questions are: Who live alongside each other? Who share the public space? What resuorces are within reach? The projects show that spatial form affects the opportunities for the inhabitants of the different city neigbourhoods. Particularly vulnerable areas often have a disadvantageous spatial form (and location). The accessiblity to the resources of the city is generally much less favourable (public and commercial services, facilities, employment, etc.), and to boot they often receieve a lesser part of the investments made in relation to other areas. The spatial planning of the city therfore influences the possiblities for livelihoods and peoples' connections to society as a whole. It  can, when things go wrong, separate people, activities and functions.
 
On instance is the layout of the late modernist housing area of Bergsjön in Gothenburg: The connection between its different parts is poor, and it is equally badly connected to the neigbouring Kortedala and Partille. The buildings turn away from the thoroughfares, and the passages where most people are in motion. The access to employment and services is relatively low. This kind of planning does not create good locations for commerce and enterprise, nor for meeting-places for poeple.
From Gothenburg to Cape Town with Mistra Urban Futures
Published: 2014-08-14
This blog post was originally produced for Platform ontheplatform.org.uk/
Steve Connor reports from a project workshop with Gothenburg, Cape Town, Kisumu and Greater Manchester, sharing their insights on how sustainability is governed and delivered in their respective cities.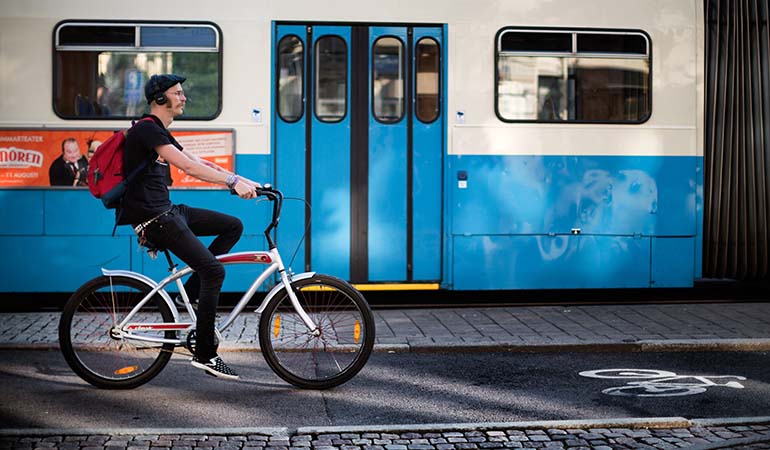 Over half of humanity now lives in cities and the ratio between bumpkins and townies continues to climb in favour of those who choose an urban life; one recent UN estimate suggested that by the end of the century 80% of us will have made cities our home.
For sustainability wonks this means that the sustainable development challenge is intractably linked to how we grow, govern and design our cities. Can we deliver a future where those cities are greener, have a density that reduces sprawl and makes them more efficient, and are fair in terms of reduced polarities between the rich and the poor?
This critical question has shaped the programme for an internationally-focused research centre attached to Chalmers University in Gothenburg called Mistra Urban Futures. This Swedish centre has created a lively and rich programme of projects and partnerships, which includes a series of city partnerships or 'Local Interaction Platforms' on sustainability, connected together for shared learning, across Gothenburg itself but also Cape Town, Kisumu, Shanghai and finally, Greater Manchester.
The Greater Manchester Local Interaction Platform (LIP) is led by the University of Salford's SURF team (and as regular readers of Platform will know, includes the very web portal that you're reading right now). In Kisumu or Cape Town for example, there have been events, research studentships and other activities to pursue their local LIP goals while here in Greater Manchester, the programme included the creation of a magazine-style knowledge sharing website, which we've called Platform, along with projects on the value of community hubs with the Greater Manchester Centre for Voluntary Organisations or on food and austerity.
All of the Local Interaction Platforms are also working on a common project, called Governance and Policy for Sustainability - or GAPS for short. Designed and led by Tim May from SURF at Salford University and Simon Marvin at Durham University, the project looks at how sustainability is governed and delivered in each respective city.
At a recent project workshop in Gothenburg, the shared learning and parallel research programmes began to bear fruit as the cities presented to each other their reflections on 'sustainability politics' in their respective cities. With striking and useful similarities between the cities but enough divergence to stretch the thinking gear of those involved, the conversation was a productive one. As Tim May said kicking off the initial session, the key is finding "the main messages we can take to our stakeholders, insight for our policy makers as well as strong academic findings around what is 'new' in urban sustainability."
Gothenburg
The Gothenburg team shared first. As a city region there's a lot to compare between Gothenburg and Greater Manchester. The city region is made up of 13 municipalities which first joined together as a group in 1995, when they also crafted their first policies on sustainability. The central authority for the city itself is a left-leaning coalition of socialists and greens that serves a population of 500,000; the other metropolitan authorities in the partnership are centre-right and are closer in policy terms to the wider national policy picture. There is a broader 'business' region (BRG) that the city region consults with, but the main policy formulation sits with this partnership of 13 authorities.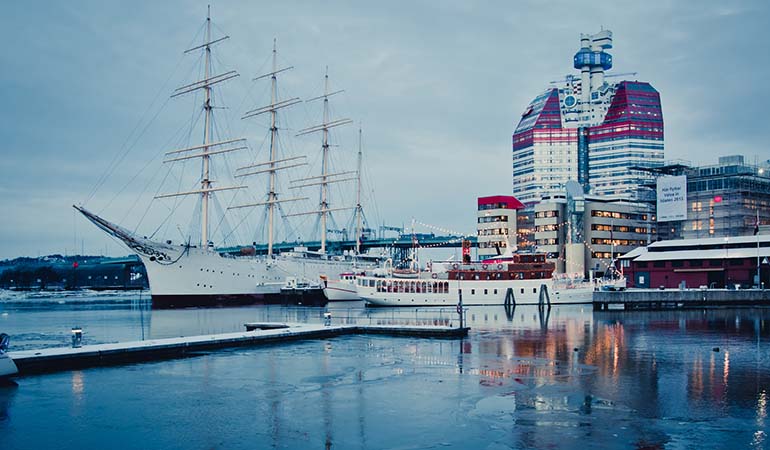 Even though, according to Stig Egnell one of the leaders of the Gothenburg LIP, "sustainability is something made by politicians, a political product", the city region does have an ongoing dialogue on sustainability and has identified three headline challenges as the city region seeks to grow and prosper. These are:
• Social polarisation and unsustainable lifestyles;
• Insufficient transport infrastructure; and
• Climate change (mitigation and adaptation).
There is a realisation that facing up to these challenges is critical if Gothenburg is to hit some of its bold, progressive targets (it aims to be zero carbon by 2030, for example) and interestingly, that sustainability is also critical in terms of the city's image and its attractiveness to talent, investment and business.
Shared prosperity and applying the 'spirit level' to Gothenburg is seen by those involved to be also of importance as a lack of social cohesion and opportunity is holding the city back, as is an under-invested transport infrastructure which needs to achieve a modal share of 20-40% by public transport by 2020, particularly to increase liveability and density in the heart of the city. In another parallel with Greater Manchester the city will also be staging a referendum on whether to continue with congestion charging, in September 2014 and there is the rise of a new, local party that's been winning local council seats with one key policy aim: an end to congestion charging.
Building a broad-based and ongoing sustainability coalition continues to be core thread of the city's endeavours. From the initial 13 authorities, to the BRG, the strategic transport authority, the private sector, the two main Universities and a network of professionals and experts called HUR2050, the challenge is to build:
• Inter-municipal co-operation and shared working;
• Policy integration, particularly in areas with a poor sustainability record; and
• Integrated, 'mainstreamed' sustainability in both government and business.
Whether it's climate goals or a 'West Sweden Package' of major transport improvements to double the adoption of sustainable transport modes, what is encouraging from the Gothenburg experience is that constituencies may come from very different political starting points to support a shared political objective: for example the greens are supporting transport improvements in their aim to get to a carbon neutral city as quickly as possible; for the Chamber of Commerce those same investments and interventions will help to bring customers and suppliers closer together.
The current direction of travel for Gothenburg is captured in their 2013 'Sustainable Growth' strategy which highlights smart transit systems, an end to fossil fuels and a more equitable society as the outcomes they're aiming for.
Cape Town
With four million citizens Cape Town is a good-sized city region to act as a comparator although its status as a relatively young democracy brings with it a set of very unique challenges including enduring poverty, inequalities and environmental degradation. It too has been through a process of political consolidation moving from 23 individual municipalities when the democratic process began, to seven and now just one, which the city now called the 'unicity'.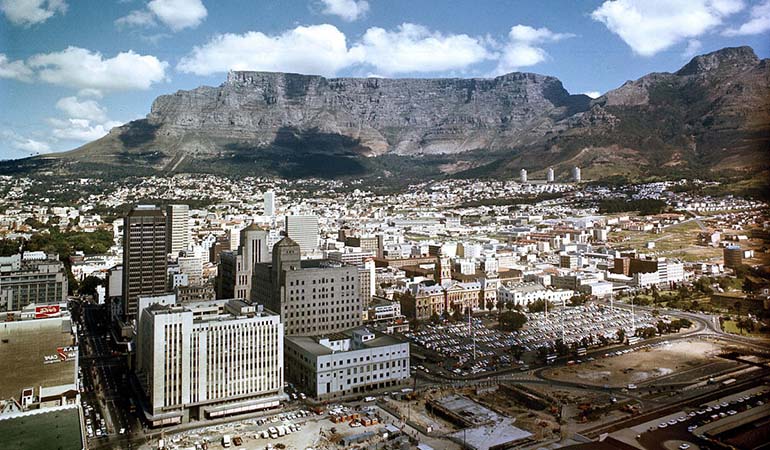 To understand the gap between policy and practice supporting sustainable development in Cape Town, a team of four embedded researchers each working alongside city officials, have reviewed five main policies using six sustainability 'filters'. The city policies covered:'
• Economic growth;
• City growth;
• Climate adaptation;
• Climate mitigation and energy; and
• Its spatial development framework.
Seven main themes have emerged out of the research so far, including an overarching question put by Amy Davison of the City of Cape Town: "How do people know if their policies are making a difference?"
One key theme according to Amy Davison and her colleague Zarina Patel from the University of Cape Town's African Centre for Cities, was the importance of framing sustainability within a context that politicians and stakeholders connect with. "You can't ever hope to have an impact without addressing the core concerns of the city," she said. "Ecological sustainability isn't yet embedded in policy and decision making but some issues, like inequalities, very much are."
Another theme the Cape Town research has flagged up is the need to unlock institutional knowledge to help deliver sustainability. Even though the wider city region has been through significant changes, some individuals have been in civil service posts for 20 years and have no easy mechanism for sharing a huge wealth of personal experience.
Which links to another theme for Cape Town, the need for more 'Spaces for Interaction' on sustainability. The LIP process for Cape Town aside, there is a critical lack of opportunities for policy makers, business and politicians to come together and interact around sustainability issues and create any kind of deliberative process. This lack of a conversation on sustainability is exacerbated by short term electoral cycles that see personalities, and policies, change.
Sustainability as an issue or area of concern does get more traction, it seems, when it plays to the wider aspiration set of the city. Cape Town makes great play of wanting to be a 'world class' or 'design' city and is highly visible in the national media (not least because it is governed by the opposition party) and so framing sustainability as a way of delivering on those wider set of aspirations looks like a route for success.
Greater Manchester
The GM perspective was delivered by Platform co-founder Beth Perry from the University of Salford (supported, a little, by myself and drawing on research carried out with AGMA Environment Director Mark Atherton)and focused on capabilities, current urban challenges, governance and perceived 'gaps' between policies and the delivery of real progress, 'on the ground'.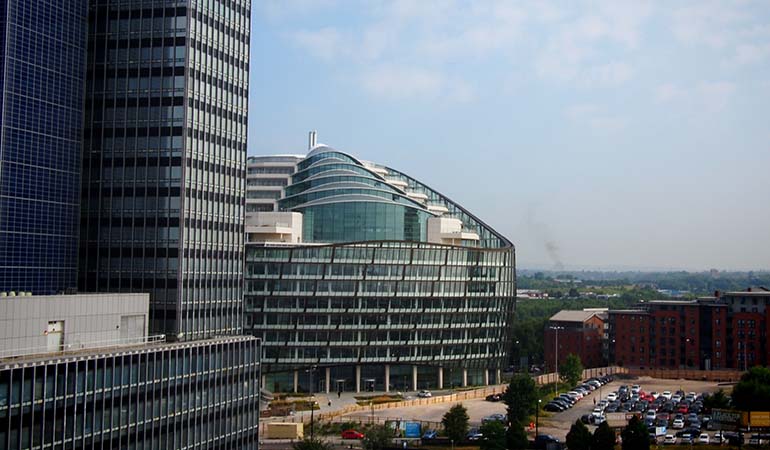 The first stage in looking at the 'politics of sustainability' in Greater Manchester came with the team (working with key individuals in the Association of Greater Manchester Authorities) mapping out a baseline that took in:
• Specific challenges of urban sustainability in Greater Manchester;
• Formal policies designed to address urban sustainability;
• Roles of different organisations, groups and communities in formulating  policies;
• Forums and mechanisms for consultation and participation in formal policy making-processes;
• Mechanisms for and barriers to ensuring that policies are implemented and assessing their effectiveness;
• The evidence base for urban sustainability policy; and
• Relevant activities and groups that remain outside the formal policy process.
In a second phase of work, the team expanded to include Dan Silver and Amina Lone of the Social Action and Research Foundation, alongside the Greater Manchester Low Carbon Hub. They carried out questionnaires returned from key policy leads around areas like climate change as well as workshops and one-on-one interviews.
Challenges ranged from the systemic, such as a two-tier governance system and rapidly changing national policy landscape through to a need for more 'joined-up thinking' between and across policy areas for sustainable urban development, particularly around social inclusion, diversity and equality. There is a fragmented knowledge base for sustainability and the risk that lessons are not being learnt between disparate projects or initiatives; also a concern that the knowledge of the city region's universities is not being fully exploited.
The team summarised the problems to be addressed as moving 'upwards', 'horizontally' and 'downwards'.
Upwards represents a tendency for agencies and partnerships to look up to UK national policy rather than seeing Greater Manchester as a base for innovation on sustainability and somewhere that can lead rather than follow.
Horizontally there is a lack of joining up between those working on sustainability, no overarching governing body or champion for sustainability and, as with Cape Town, a lack of the spaces needed for the city to have a conversation on sustainability (one of the driving factors behind the creation of this site, Platform).
Downwards there is still a lack of transparency and local voluntary sector groups, BME groups, representatives of community groups and small businesses are underrepresented in city-regional strategy and policy processes.
A full summary of the work can be read here and in the Urban Futures area of this site.
So what can we all learn together?
The three LIPs examined (Kisumu are still synthesising their findings) showed some rich commonalities and also some areas of difference from which each can learn.
There is a common theme of tactical manoeuvring on the part of sustainability enthusiasts across all the cities as they shape and remould their agendas to fit with shorter term shifts in city priorities; it's clear that sustainability advocates need to be nimble to gain traction.
The image and attractiveness of the city, its status and reputation, is an area where sustainability can ascend up the policy agenda to the highest levels of city leadership; here Greater Manchester's relationship with the C40 cities was referenced, for example.
The need for a shared space, dialogue and 'shop window' for sustainability is clear across all the cities, which calls into question what role traditional media is playing in cities with regard to sustainable development; it is a space where sustainability wonks are clearly having to adopt Jello Biafra's edict: 'Don't hate the media, be the media.'
And it is clear that there is a profound gap between policy commitments and practice on the ground, and between the distinctive aims set for sustainability against broader city goals which may cause tensions, for example around unfettered economic development, or the relaxation of planning and threat of urban sprawl.
As the team from Kisumu stated in one MUF workshop, there are commonalities across all our cities and whether it's academic insights or ways to bridge a policy/action gap, being part of a series of Local Interaction Platforms has already started paying off for each of our cities.
By: Steve Connor
Steve is co-founder and CEO of Creative Concern. He specialises in ethical and sustainability issues, integrated campaigns, city strategies, brand development and creating strange installations out of trees, lights and beautiful type. Particular areas of expertise include climate change, place making, transport, food issues and the natural environment.
Images:
First image of Gothenburg is by Flickr user Ulf Bodin under a Creative Commons licence
Second image of Gothenburg is by Flickr user Henrik Terbeck under a Creative Commons licence
The image of Cape Town is courtesy of the UN Photo Library.
The image of Manchester is courtesy of Steve Connor
This blog post is a part of Platform an online news source and information portal for sharing knowledge and intelligence on sustainability across Greater Manchester. Mistra Urban Futures platform in Greater Manchester is one of the developers behind Platform. ontheplatform.org.uk/
Rethinking sustainable festivals: spotlight on Manchester International Festival
Published: 2014-05-21
The Alternative? Beth Perry profiles the environmental sustainability activities of Manchester International Festival within the emerging cultural ecology of the city.
Manchester International Festival (MIF) is the world's first festival of original, new work and special events and takes place biennially in Manchester, UK. The Festival launched in 2007 as an artist-led, commissioning festival presenting new works from across the spectrum of performing arts, visual arts and popular culture. In this article, drawing on interviews with different members of the MIF team, Beth Perry highlights their less well popularized but equally important role in contributing to Greater Manchester's environmental sustainability.
 
MIF prides itself on having made a significant commitment to reducing the environmental impacts of its office operations and was the first festival to be independently certified as meeting the sustainable events standard, BS8901, as well as a recipient of A Greener Festival award. Whilst the ethos of being artist-led is central to their mission, benefitting the local economy, engaging local communities and minimizing its environmental impact are also stated core principles. Examples of activities have included: greening the office space; sourcing and creating productions responsibly and working with partner venues to reduce the environmental impact of MIF events.
Greening the Office Space
Like other cultural organizations, the growth of the environmental sustainability agenda within MIF started with small-scale changes.  Efforts were invested in minimizing the environmental impact of the MIF offices through purchasing energy efficient machines, improving office practices around recycling and re-use, and reducing the use of paper, or, where necessary using FSC accredited paper stock. Other activities included purchasing ethical products and fair trade tea.  A Green Team manages the environmental targets of the Festival, which are the result of internal policies rather than external pressures. The UK Arts Council's sustainability targets are, for instance, a recent development. Staff are incentivized to adopt green travel incentives – through being able to reclaim bike travel at a rate of 20p per mile.
 
With strong support from the upper echelons of the organization, supported by good networks, the Festival enrolled to take part in the trial for the BS8901 standard for event sustainability. A strong synergy between environmental and cultural values was critical to the birth of the sustainability agenda: "We are a Festival of premieres, we kind of premiered the BS8901, and it fits with what we all believe in", said Gemma Saunders, MIF's Green Team Co-ordinator.
 
The Green Team agrees on targets, specifically for transport, waste and communication. MIF consists of a core team of 16-20 people, expanding during the Festival years and each department is represented in the Green Team.  MIF now has an international standard for sustainable events management (ISO2012).  Whilst this represents emerging good practice in the sector, such standards can be full of jargon and difficult to achieve."This is a big tome of work", said Jennifer Cleary, MIF Creative Learning Director, "and it is noted that it is not particularly accessible to smaller organizations that do not have the kind of resources that MIF have" (2012).
Assessing the Impact of the Festival
Festivals, of course, don't usually take place in offices. They are spread out into places across the city-region, in formal cultural venues, on the street, in squares, in meanwhile spaces, in reclaimed industrial mills. Alongside improvements in the office, it quickly became apparent that MIF needed to consider its venues as well: "We go into found spaces that don't have anything in them, electricity, water - so we have to come up with ways of doing, ways of getting those things in - and we think about those in sustainable ways" (Gemma Saunders, 2013).
 
The team realized that it was very difficult to monitor and reduce the carbon footprint of a festival, given the varied spaces into which it reaches:  "We calculate the carbon for the office we don't do the festival because, who has the capacity to calculate carbon for an entire festival?" (ibid)
One space over which MIF does have control is Festival Square. In 2011, actions included using compostable cutlery and tableware and expanding recycling facilities which saved 79% of festival waste from landfill. Partnerships with the City Council were developed to secure electricity supply without the use of external generators, bikes were used to help staff get around, production sets were re-used and recycled and banners upcycled into usable bags.
 
The priorities for 2013 linked in with the themes of transport, waste and communication. The team developed targets for the amount of waste going from Festival Square to landfill, achieving an impressive 1% of waste going to landfill with help from Enterprise, waste management. They sought to promote their sustainable ethos through a programme of awareness-raising. Since 2009, this has included attaching the sustainability policy to all contracts for artists. Walking routes were clearly marked in the brochure and online and hybrid cars were procured from Electricity North West to move Festival artists around, a development made possible also due to the introduction of electric charging points in NCP car parks. Even the mud didn't go to waste, with the residues from the Macbeth production going to local allotments.
Sustainability in Cultural Programming?
With a remit to engage creative audiences with the 'urgent stories' of our time, the environmental agenda has been central to the development of the Festival and is manifest, not only in the office space, but also within cultural programming.  In 2009 MIF commissioned the Manchester Report to get leading thinkers to come up with radical, experimental revolutionary ideas about how to reduce climate change emissions.  This was a partnership with the Guardian newspaper and involved inviting high-profile thinkers to present their ideas to a panel of experts, chaired by Lord Bingham, in front of a live audience.
Although MIF does not specifically set out to produce an 'environmental commission' each year, 2013 also saw a cultural ecological collaboration between the Biospheric Foundation and MIF to produce the Biospheric Project. Stemming in part from MIF's previous efforts to construct a vertical farm in 2011, the final project built on the Biospheric Foundation's 30 year vision to achieve a transformation in the urban ecological systems in the city. Through the 18 month collaboration, MIF supported the Biospheric Foundation to develop the emerging urban farm/urban research laboratory and engaged with the public around issues such as food culture, community growing and urban forestry.
Attracted to the deep community embeddedness of the Biospheric Foundation and the long-term vision, the collaboration has played an important part in what is conceived as a much broader transition. As Vincent Walsh, Director of the Biospheric Foundation noted (2014): "They helped me massively… helping me structure, getting the right people in, helping with volunteers and all that kind of stuff - our team on our own wouldn't have been able to do it." After the 18 day Festival ended, the challenge for the Biospheric Foundation is now to create a 10-year business plan – "The hard work now begins…I've invited them to join the Board as I'd like to continue a longer term relationship with the Festival to protect the investment that was made there" (Vincent Walsh, 2014).
A long-term journey
Organizational support has been a key factor in achieving successes to date. Like Cornerhouse, the Festival's staff  refer to a natural synergy between environmental and cultural dispositions, ensuring that efforts to embed sustainability can be focused on external engagements, rather than internal persuasion. The urban context has also played its role, making progress easier to achieve over time. In the space of just two years, the operating conditions in Manchester changed dramatically: "In 2009 when we said to the caterers 'we only want you to use compostable packaging', it was a proper battle. It was so expensive and we couldn't share the cost. We had to get someone to collect it and Greater Manchester didn't do regular food collections at that point. We managed because we found a bloke who just was willing to experiment with us and saved a whole container in his plant that was just our waste in case it was contaminated. It worked really well and in the end the waste was composted and spread over farmers' fields within two months. Two years later …people had started doing it kind of closer to home and now Enterprise does it all and we have managed to get to the 1%, which is amazing, because of how they do it at their plant (Gemma Saunders, 2013)."
Examples like this point to the challenge of measuring impact. Many of the targets and performance indicators selected by the Green Team are difficult to measure in terms of numbers or quantifiable metrics. This is particularly the case given the specific challenges that cultural festivals have in accessing, managing and monitoring different spaces in the city. Whilst organizations such as Manchester Art Gallery can manage their own building, experimenting with cooling and heating, MIF owns neither the urban spaces it uses, nor indeed the office: "We are not in control of this office space because we rent it from Bruntwood - so we can't decide who our electricity supplier is, or whether we have got magic taps - but Bruntwood are really helpful and they have got a really good sustainability agenda. They helped certify us ISO2012 (ibid)".
A difficulty facing the Festival is the high level of transport required. As an international festival, the team recognize that importing over a thousand extra people into the city for 18 days creates transport chaos: "it's absolutely an enormous  problem…some artists just don't want to cycle round on a bicycle" (ibid). Consequently, in some years, the Festival has experimented with off-setting, putting money towards solar roofs in Wythenshawe, but is currently looking into the scientific calculations behind offsetting to evaluate their approach. Like the academic world, the Festival hits against the demands of a globalizing world in tension with sustainable local behaviours: "We have introduced more technology… but there are certain things that we can't change because of the fundamentals of what we are doing. We want people to come here from all over the world as well (ibid)."
These issues sit behind MIF's central role in catalyzing the Manchester Arts and Sustainability Team (MAST). MIF were central in developing relationships between cultural organizations interested in sustainability and drawing in Julie's Bicycle to offer support to the development of Manchester Cultural Leaders Environmental Forum (MCLEF) before it developed into MAST in 2012/2013. "It's good that people are communicating with each other and that MIF is represented and not forgotten in the year and a half that we are not really around that much" (Gemma Saunders, 2013).  Since late 2013 MIF have chaired the MAST group, working closely with other organizations such as Cornerhouse and Band on the Wall.
An Alternative?
The Manchester International Festival is unashamedly, first and foremost, an international artistic event. In this, it appears highly successful.  Its impact on the city can also be seen in economic terms through, for instance, the growing popularity of Manchester as a tourist and cultural destination. For some people in the city, it's all good: the bourgeois buzz, the excitement, the transformation of the city into a cultural hive, the opportunity to participate in innovative new works, delivered on the doorstep. For others, perhaps those unable to afford the tickets despite the reduced prices for residents, they may recall the swelling visitor numbers, the increase in traffic or a sense of invasion by cultural elites.  So much is placed on those 18 days that it is perhaps understandable that other cultural organizations in the city, particularly those with fewer resources or political clout, may feel crowded out.
 
But this is not a Festival that only engages with the city for 18 days a year. Bringing new collaborative, voluntary partnerships together such as MAST, supporting sustainable event management and commissioning cultural ecological projects as art, all illustrate that MIF has a sense of belonging to the city-region. MAST represents an emergent collective consciousness and leadership of the cultural sustainability agenda, represented also in the commitment of MIF to commission works which deliver on artistic integrity, whilst capturing the stories of our time.
 
The Festival is large, one of Manchester City Council's selected strategic investments, and has a privileged position in the cultural mainstream in the city. There are multiple other cultural initiatives in the city and outside it which suggest a more alternative or radical rethinking of the relationship between art and ecology, a sub-cultural ecology that does not benefit from the resources or reputation of MIF.  This suggests that a future role for the Festival, particularly given the massive disparities in arts funding per head between the North and the South of the country, may be to provide a mentoring role in relation to smaller cultural or community initiatives to enable them to learn from MIF's experiences.
 
But 'can Festivals ever be green?' Mark Briggs, in the Ecologist, argues that audience travel accounts for the greatest part of the carbon emissions. Co2penhagen in Denmark, an arts and music festival, was heralded as the world's first CO2 neutral festival (http:www.co2penhagen.com). Its website makes great claims about the local sourcing of all energy using renewable sources. Yet the small-print notes that whilst they can ensure carbon neutrality for the three days of their festival, they cannot ensure this in the preparation phase, in relation to transportation or with food and drinks that are delivered and sold. In carbon terms, these are pretty significant omissions. To that extent, it could be argued that festivals can only ever tinker at the edges of actual carbon reduction. The real opportunity is through public engagement with the festival going audience.
MIF have started along this long road, exploring alternative energy generation, dealing with waste and raising the profile of critical environmental issues. Through the environmental agenda, there is already evidence that the Festival is using its position to bring about broader change. It contributes a central part of the picture of how the city-region needs to transition to a more sustainable future and is highly visible within the city's cultural landscape and ecology. To that extent its catalytic role, combined with a more collaborative ethos, suggests an alternative sense of responsibility that needs to be cultivated from large-scale public events, so they are both in and also for our cities.
Further information
www.mif.co.uk
www.mif.co.uk/about-us/green-mif
www.biosphericfoundation.com
www.mif.co.uk/gallery/the-impact-of-the-biospheric-project
www.co2penhagen.com
@MIFestival
@BF_UK_CIC
Sources
*Interviews with Gemma Saunders, Jennifer Cleary and Vincent Walsh.
*'Can Festivals ever be green?', by Mark Briggs
This article has been written as part of the 'The Alternative?' series by the Greater Manchester Local Interaction Platform.
It also draws on work carried out for the Arts and Humanities Research Council 'Cultural Intermediation' project.  It is part of a working paper in development for publication on Low Carbon Culture? as part of the Mistra Urban Futures research agenda.
By Beth Perry
Beth is the Director of Mistra Urban Futures Greater Manchester Local Interaction Platform and a Senior Research Fellow and Associate Director at the Centre for Sustainable Urban and Regional Futures (SURF), University of Salford. As interdisciplinary urbanist, Beth's interests are in transformation and change, particularly around governance and policy processes; the roles of universities in their urban environments; and the research-practice relationship.
This blog post is a part of Platform an online news source and information portal for sharing knowledge and intelligence on sustainability across Greater Manchester. Mistra Urban Futures platform in Greater Manchester is one of the developers behind Platform. ontheplatform.org.uk/
Thinking allowed: values and learning for sustainable futures
Published: 2014-02-20
In this short essay Tim May examines how, in our dialogue around sustainability, we anaesthetise ourselves against the effects of current actions on the environment because we are not faced with the voices from future generations.
Humankind exhibits a strong desire for tangibility: to make something real so that it becomes part of what we call our common sense. It then becomes familiar and lies beyond our normal conscious thought by being taken-for-granted.
We need this process to navigate our way through the world. We come to see things and relations as familiar and believe ourselves capable of shaping our environments to our will. We define ourselves through our capacity to act and make claims about the sort of people we are in terms of what we have achieved.
A huge amount rests upon these claims. Chief Executives of large multinational companies move from one organisation to another based upon the value that is attributed to their leadership in terms of shaping the businesses over which they preside. We also elect political leaders because we find their proclamations about the world in which we should live and how they will shape it to be broadly in alignment with our own.
Equally, if we act without good justification, we can be held to account for our actions. Those accounts must be reasonable to others and if they are not, consequences follow: from friends and colleagues expressing displeasure, through to exclusion from groups to a loss of liberty through incarceration. Thus, if we do not manage our lives in acceptable ways, the outcomes are negative.
These issues relate to the content and the consequence of our actions. We can see that the value placed on the content of any actions is dependant upon the power of those who judge them. Further, consequences are assessed according to who the victims are.
When it comes to the environment, who stands as its judge and can it be seen as a victim? The environment is 'non-human' and regarded as natural and we manipulate and control it in our image as if it had infinite resources; it is separated from the sensitivities that we feel towards persons who are significant in our lives; it is removed from the realm of the tangible. To render it tangible we are reliant upon information concerning current trends - for example, greenhouse gas emissions - whilst the victims are often seen as future generations. Current actions are separated from consequences that appear only through the passage of time.
Consequences are spread not just over time, but space. Consumption patterns can have implications for those far removed from the realm of everyday life. Thus, at current trends, by 2017 we will throw away a third more electronic waste than we do now. That is estimated at 64.5 million tonnes, most of which will end up in developing countries.
Consequences that stretch over space and time are two ways in which we can anaesthetise ourselves against environmental damage. There are others. Here we find a great deal of work going into tangibility by separating the content of information from the contexts of our lives. Two of these are the economy and technology.
We are constantly told how important the economy is. After all, we need money to live and most of us need to work to live, whilst our elected politicians fight over who is the best administrator of the economy. However, it is a very particular view we are given which is based on a limited idea of supply and demand. It is not contested: we are bombarded on a daily basis through the media that this is a 'natural' state of affairs.
The work that goes into naturalising the economy is extensive. Whole groups of officials, in Whitehall and cities, work very hard to make the information we collect on the economy 'tangible'. Media cover economic trends and politicians argue over who is the best economic caretaker. A discussion of consequences, contradictions, winners and losers and alternatives is deafening in its silence.
The promise of technology runs the same route. It is seen as separate from everyday actions and often heralded as a panacea to contemporary problems. Whilst technology shapes human behaviour, it is shaped by human actions. Technology needs to be sensitive to the contexts in which we live. Once we see this, technology becomes less of a general solution to our problems. Importantly, it also becomes less attractive to large corporations in their permanent search for profit.
What is missing from all of this? To take seriously the contexts in which we live. It is this which makes things tangible and provides the filters through which facts are turned into meaningful thoughts and endeavours. As other Platform articles have shown, communities are thinking about the future by being concerned with their resources in the present. Here we find daily struggles that are a cause of celebration of human endeavour, not ridicule and condemnation as so favoured by media reports and documentaries.
When we take context seriously, what happens to officials who preside over the content of information about places? Their practices aimed at tangibility need to be questioned. Yet they too live in places where some things can be taken-for-granted and where resilience may or may not be possible. It is time to join these issues up and not work so hard to keep them separate and so what we measure and what we value need to be brought together.
We can anaesthetise ourselves against the effects of current actions on the environment because we are not faced with the voices from future generations. Yet if we do not anticipate how our actions, based upon existing and past knowledge, effect the environment, one thing we can be certain of: future generations will not have the luxury of learning from history, but live with the irreversible consequences of current actions. It is time to open up the dominant ways of making things tangible, by bringing in the voices of those who are trying to make a difference in the places in which they live. Here we can learn a great deal and here too, we can find values that are not for the few, but the many.
By Tim May
Tim May is Professor and Director of the Centre for Sustainable Urban and Regional Futures, University of Salford, Manchester, UK. He holds degrees from the London School of Economics and Political Science, the Universities of Surrey and Plymouth. Tim's interests centre upon the relationship between knowledge, strategy, context and practice.
This blog post is a part of Platform an online news source and information portal for sharing knowledge and intelligence on sustainability across Greater Manchester. Mistra Urban Futures platform in Greater Manchester is one of the developers behind Platform.
Read more about the project Values and Learning in Urban Environments 
 
Small change strategies: Facilitating collaborative change through design
Published: 2013-11-27
The new designer role - an agent of collaborative change
Design is often defined as both a verb and a noun – it is both referring to the end-result - the product, and the process behind. Today, instead of looking at a single product, it is the whole system or a "problem" area that is in focus for the designer. The "new" role of the designer is about applying traditional design skills to meet on-going societal challenges and to change undesirable situations into desired. But to design for a sustainable social development, you need to start from a grass root perspective to really understand the situation to be changed, and identify local resources, skills and opportunities to start building a process from. I call this "small change strategies" inspired from Nabeel Hamdi´s book "Small change" from 2004 where Hamdi highlight the importance for sustainable development to take its starting point from already existing initiatives with strategic potential and build on them. According to Otto von Busch, professor at the College of Arts (Konstfack) in Stockholm, the new designer´s role can be described as an " orchestrator and facilitator, an agent of collaborative change" (von Busch, 2008:63). But von Busch means that the designers role is not only to be a "neutral" facilitator, but be an external "intensifier" that is to activate, enthuse and facilitates assistance to self-help:
"A key ability in an intensifying role lies in the capability to spot and reveal existing potentialities and initiatives.... These local initiatives are then supported and amplified through situated practices and workshops with the aim of energizing existing and emergent processes and intensities promoting local potentialities ' (von Busch, 2008:63)
To me the "new" designer role is to identify, enable and facilitate these small change strategic processes with an opportunity based mindset and a system based approach that combine strategic thinking and practical making in a process for a collaborative change.
How we worked:
#1 Identify local resources and support on-going initiatives
The starting point of our research project has been to look at the environmental challenge of water hyacinths as resource for the residents of Kisumu County and its environs in the Republic of Kenya, and turn this challenge into an opportunity for handicraft development. By identifying local "change makers",  crafts- wo/men and artists with their own motivation as a driving force, we have tried to link them with other actors and initiatives in the industry, society and academia to create a "knowledge cluster" linking together making, creating and thinking. The project builds on to existing initiatives with Zingira community craft as one of the main drivers. They work with both product design and capacity training based on management of house hold waste to create livelihoods for the local community. The organization is a crucial partner in the project where they act as the local coordinator, trainer, mentor and facilitator.
#2 Initiate educational programs that combine business thinking and entrepreneurship with practical craft skills
During the process we have initiated a number of different training programs linking knowledge with entrepreneurship and business, creativity and sharpening of craft skills, to the rising of the level of awareness among the crafts- wo/men. For example, 20 community members from Dunga Beach was trained in water hyacinth utilization training supported by Kisumu Local Interaction Platform (KLIP), where they learned to use the water hyacinth as a resource for craft production. Another example is an entrepreneurship training initiated by Diakonia Sweden, Ufadhili Trust, ADS Nyanza and Western and Business Sweden as a part of  the Lake Victoria Rights Program, LVRP, where a total of 15 artisans from four different communities in Mfangano Island/Homa Bay, Sio/PortBusia and Osiri/Kisumu Counties are participating in a one-year course. They were also joined by five representatives from Dunga in Kisumu County. Through workshops and a mentorship program, the crafts people are supported to formulate and concretize their business ideas into practice by Zingira Community Craft along with Ufadhili Trust.
#3 Setting up real life business cases – collaboration with industry
Right now the participants are facilitated to develop a collection of high-quality craft products for Afroart aimed for the Swedish market, a cooperation initiated by the researcher. In this way the participants "prototype" their knowledge into practice in a sharp business case. Also a cooperation with Imperial Hotel, one of the larger hotels in Kisumu County, is about to start for development of services and products related to eco-tourism and crafts. Some of these craft services was presented during KLIP day 21 to 21 December. Other products and services developed so far within the project are "Crafted playgrounds", a way to take advantage of waste materials to create social spaces for play and recreation, and "The children´s academy" a hands-on educational program designed to teach children and young people in crafts and ecology. This is spearheaded in partnership with Maseno and Jaramogi Oginga Odinga Universities (JOOUST). A part of this process is also to develop techniques for what we call "small scale innovations"  - simple handicraft tools and equipments that can simplify and develop the work of craft production. Examples are a manual rope-making machine, a own production of carved crochet hooks, and a cheap but effective pulp mill for paper production which can also be replicated locally.
Findings so far
Through the above -mentioned activities, the potential of craft is made visible and is used in a new way. Through strategic development of new products, services and experiences related to craft production, where collaborative work is the first concern, awareness raising about the importance of partnerships, to combine craft skills with business and a opportunity based approach, which strengthens the crafts- wo/men community as awhole and the stakeholders are also involved in the process of development and production. This leads to new insights and approaches, and an expanded network of opportunities to reach and explore new markets.
It takes leadership, patience, time and trust in order to create sustainable development for long term implementation. According to Hamdi, organization is the foundation for development, and organization of competences and skills to build long -term relationships between local actors and a global network, requires having an open dialogue and communication and to see each other as equal collaborative partners. (Hamdi 2004). The lack of user friendly tools and equipment is a major challenge for the crafts- wo/men today. The development of simple, resource-efficient, durable tools to support the up-scaling of the production without the crafts values getting lost is needed.
Trainings that combines business, entrepreneurship, craftsmanship and creativity skills in an open and exploratory environment where participants learn from each other through a 'healthy' competition is needed. The efforts should be grounded in the participants' reality and should be possible to implement in their daily lives.
Conclusion
It is the participants themselves who must do the main work in a development process, the designer should be seen as a strategic external support in an on-going process where the participants' own motivation is the driving factor. The strategic designer´s role is to link different actors together, both locally and globally, and facilitate a process that is applying strategies into practical actions and learning.
The strategies must be materialized and implementable in real life through small changes but with big impact for those who are affected. The biggest challenge for the designer is perhaps to design a system where you as a designer in the long run can remove yourself so that the process becomes self-sustaining.
About the project
The research case is Dunga Beach, a small fisherfolk community six kilometres outside Kisumu town in Kisumu County. The starting point is how to turn the threat of the invasive plant water hyacinth into an opportunity for the local community. By establishing a shared knowledge co-production platform that links different stakeholders together, the water hyacinths turn from being a local "problem" to a tangible resource. In the project, Helena work both as an acting designer facilitating a design process, and as an observing and reflecting researcher. Her research team includes participants from Dunga beach, Zingira Community Craft and ÅhD research colleagues from Maseno Univeristy in Kisumu County. Other close collaborators are Afroart and Diakonia Sweden.
Main references:
Von Busch, Otto, Becoming fashion- able: Hacktivism and engaged fashion design, 2008
Hamdi, Nabeel, Small change –about the art of practice and the limits of planning in cities, 2004
By: Helena Hansson
Helena Hansson is a Doctoral student in design at the Academy of Design and Crafts (HDK) in Gothenburg since September 2012. She has been working as an industrial designer and teacher in design since 1999 and has been involved in several crafts development projects in Sweden as a strategic designer. Her research project is linked to Mistra Urban Futures platform in Kisumu, KLIP - Kisumu Local Interactive Platform, where she explores the potential of craft as a societal change maker, facilitated by design.
 
South Africa's Carbon Tax – a means to an end?
Published: 2013-11-21
One of the salient questions for any country or city looking to benefit from all the upside potential in a "low carbon, resource efficient and socially inclusive" (UNEP, 2011) green economy, is how to go about the transition, and perhaps more acutely, how to finance the transition. Internalizing the externality costs of greenhouse gas emissions via a carbon pricing or a cap and trade scheme is one of the instruments available.
In May 2013 South Africa's Treasury released its much awaited Carbon Tax Policy Paper: reducing greenhouse gases and facilitating the transition to a green economy. Since that time the focus has been on gathering public comment and tightening perceived loopholes in advance of a planned 1 January 2015 commencement date.
The proposed carbon tax forms a central plank in South Africa's National Climate Change Response Plan and is the key instrument in achieving the "peak-plateau-decline" trajectory of greenhouse gas emissions that will see the country's 2012 emissions level of 590MtCO2 reach a maximum of 614MtCO2 between 2025 and 2035 before declining to 428MtCO2 in 2050. This in turn would allow South Africa to meet its commitment to the international climate negotiations of a 42% reduction in emissions relative to "growth without constraints" baseline in 2025 and would result in an almost 75% reduction relative to the unconstrained scenario by 2050.
The proposal is for a carbon tax of R120/ton of CO2equivalent emissions. All companies will receive a 60% initial exemption, resulting in an effective tax rate of R48/tCO2e. Further exemptions, up to a maximum of 90%, are possible for trade-exposed sectors, best in class companies or companies that pursue off-set projects. Agriculture and forestry are completely exempted up until 2019.
In recognition of the difficulty of measuring, reporting and policing the emissions of a colourless, odourless gas the tax will be levied on coal, oil and gas inputs and a few process emissions for things such as cement production.
Predictably, the public comment window elicited strong and divergent opinions from the 115 respondents. Adversaries were quick to articulate their concerns regarding particular loopholes: Will the minimum threshold be set at 100,000tCO2 as per South Africa's carbon disclosure project or at a lower level?  How will carbon market red tape be reduced so as to make off-sets more viable and carbon registries more efficient? Should South Africa, with its reliance on coal-fired electricity and its high per capita carbon count, really be seeking to lead the developing world countries on this issue given the risks to its economic competitiveness? Do we need additional tax revenue streams when we struggle to marshal and spend the existing fiscus with any real impact?
The reality is that the amount of money that a carbon tax is likely to generate for South Africa is likely to be R8-12bn in initial years; a roughly 1 per cent increment to South Africa's total tax revenue and hardly the grounds for gross fiscal malfeasance. Moreover, South Africa is by no means the first country to embark on this exercise: Mexico, China, Japan and the states of Alberta and British Columbia in Canada have versions of a carbon tax or a local carbon market in place to support their respective domestic green economies.
For South Africa, the issue critical to the success of a carbon tax involves the extent to which other policy and institutional developments allow energy users to respond to the price signal by switching to cleaner energy sources and the manner in which they spend the additional revenue. Clearly the type of energy sector deregulation that enables consumers a choice of electricity and liquid fuels would enhance the structural shift that can be expected following a relative price increase in carbon intensive energy. In this sense the limbo that South Africa's draft Integrated Systems and Market Operator Act finds itself in is conspicuous, as is the potential lock-in that Coal 3 (the commissioning of further coal fired power stations) would ensure.
It is also important how the additional revenue is allocated. The country has a number of intuitively attractive options from a fiscal strategy perspective: an extension of the free basic energy grant, welfare grants or indigent energy subsidy, support for renewable energy programmes, support for commodity exporters or a simple reduction in company or income tax. Similarly, Treasury's insistence that off-set options be restricted to South African projects creates the potential for R500 million to R1 billion investment each year in mitigation and sequestration projects.
South Africa leading the developing world in implementing a domestic carbon tax certainly represents an interesting policy space. A lot of work is still required if the country is to be ready to implement the tax come 1 January 2015, particularly as adversaries are found amongst both organized business and labour – that is both sides of the economic spectrum – and 2014 is an election year.
There is however, something compelling about a country, inspired by a noble vision, looking to demonstrate bold leadership. Given the relative lack of real economy traction provided by other economic instruments such monetary policy and inflation targeting, and policies such as Industrial Policy Action Plan and the National Development Plan, the fiscal shock of a carbon tax could be used to arrest the current economic slide and associated complacency, regain control and introduce an economic coherence and focus, especially among those businesses that have mastered the art of obfuscating and delaying government policies aimed and introducing change. In this sense the implementation of the technical but relatively simple carbon tax, could provide a useful precursor to the more complex and pressing tasks of ensuring a more inclusive, competitive and resource efficient economy.
By: Anton Cartwright
Anton Cartwright is a Mistra Urban Futures Researcher at the African Centre Cities in Cape Town, where his focus is on the green economy. His work includes aspects of risk, markets, decision-making, finance, innovation and economic growth as they relate to the conjoined challenges of meeting human needs within the planet's carrying capacity. This work is supported by Mistra Urban Futures.
This blog post is part of Urban Africa a news and information source about cities in Africa.
 
Reconciling uncertainty and decision-making in climate adaptation
Published: 2013-10-30
Issues of uncertainty are a primary area of mis-communication in climate change science and the confusion impedes effective climate change decisions.
Climate change adaptation should make use of the best available science to identify the nature and location of expected impacts, but at the local scale there are difficulties in interpreting the volumes of climate data that are available from various sources due to the spatial and temporal scales at which these data are reported (Ziervogel and Zermoglio, 2009).
Local estimates of climate change impacts and costs take on a 'cascade of uncertainty' (New and Hulme, 2000); uncertainty originates in the range of possible future concentrations of greenhouse gases and is sequentially increased by the possibility of different, and imperfectly understood, ecological, social and institutional responses to the consequences of climate forcing.  Much of this uncertainty is innate: whilst knowledge of the interactions between greenhouse gas emissions and global warming is now very good, it is simply not possible to know how people, institutions and the many feedback loops will react to an anthropocentrically perturbed climate or how these reactions will affect future warming.
A systematic approach to determining when and where uncertainty matters represents an on-going challenge for local climate change adaptation efforts, and grounds for further research.  In the interim, the issue of how to take good decisions in spite of climate change uncertainty is critical.
Some emerging principles in this regard include:
Confronted with uncertainty, it is better to know that you don't know, than to assume that you do when you don't (or cannot) know. It is possible to plan for uncertainty.
Reflecting on local knowledge and local records and those data that are applicable at the City-scale can bridge the gap between down-scaled climate models and local decision makers, and improve the decision making process.
Climate change uncertainty places a greater emphasis on knowledge accumulation and communication and on iterative and flexible decision outcomes. Designing these features into adaptation programmes is important.
Recognition of uncertainty warrants caution with regards to lock-in of specific decisions and their associated infrastructure and technology (Kemp and Weehuizen, 2005). In the context of climate uncertainty decision making stridency and notions of "climate proofing" verge on hubris.
Given uncertainty, the "blind use of a single generation of probabilistic impact information raises the possibility of maladaptation" (New et al., 2007). In advancing this approach "Scenarios [conjectures of what might happen in the future] are invaluable in situations where uncertainties might otherwise lead us to think that because we cannot have knowledge that is certain we should proceed in total ignorance" (Cornish, 2004).
Scenarios do not, however, imply discrete future states and are typically not presented together with probabilities. Recognising this is important to scenario-based approaches leading to a default 'middle road' strategy that conceals important information about extremes and variance (Dessai et al., 2009; New et al., 2007; Stainforth et al., 2007).
In the face of uncertainty, identifying 'no-regrets' adaptation options that deliver benefits across and a wide range of possible climate, institutional and socio-economic futures and changing uncertainty estimates, represents an appropriate point of departure (Lempert et al., 2006; Popper et al., 2005). Very often these no-regret options are socio-institutional, and contain the features of reversibility and flexibility that are appropriate to early-stage climate change adaptation.
This blog post was produced for discussion by the delegates at IDRC's workshop, Research on Adaptation to Climate Change in Coastal and Estuarine Systems, Belem, Brazil, 2-4 October, 2013.
A full list of references can be found here.
By: Anton Cartwright
Anton Cartwright is a Mistra Urban Futures Researcher at the African Centre Cities in Cape Town, where his focus is on the green economy. His work includes aspects of risk, markets, decision-making, finance, innovation and economic growth as they relate to the conjoined challenges of meeting human needs within the planet's carrying capacity. This work is supported by Mistra Urban Futures.
 
This blog post is part of Urban Africa a news and information source about cities in Africa.
 
Reliance supports local carbon market while composting Cape Town's green waste
Published: 2013-10-23
Not everybody knows this, but under South Africa's National Environmental Management:  Waste Act (59 of 2008) all solid waste that leaves private property or is placed in a wheely-bin provided by the local municipality, belongs to the State. This is largely a matter of convenience as it allows local governments to plan and provide definitive waste management services. However as rising commodity prices have pushed the value of waste stream up and awareness around the greenhouse gas emission produced by landfill sites has developed, the ownership issue has developed a number of interesting implications.
The City of Cape Town outsources most of its solid waste handling to five large companies. These companies provide a high level of service to rate paying communities and deploy large logistics fleets in moving waste around the peninsula before it ends up either in a landfill site (over 2 million tons of waste per annum) or it is recycled (roughly 500,000 tons per annum). One particular company, Reliance Compost, has developed highly specialized machinery and processes for converting the City's green waste into compost. Reliance's central business model is simple. Based on a three year rolling negotiation the City of Cape Town pays the company (as they do other waste handlers) to manage several green waste drop-off sites in what constitute large contracts. At these sites, Reliance collects the green waste, breaks it into fine chips and transports it to its processing plant. Turning waste to compost takes 3-6 weeks depending on the weather. During this time the waste rows are turned every day to ensure aerobic decomposition. The finished product is either trucked to bulk clients (which include the City of Cape Town department responsible for parks and flowerbeds) or bagged and sold to nurseries. Reliance manages over 300,000m3 of green waste per annum.
Reliance's ingenuity does not end there. From the outset they have been aware that by diverting green waste from landfill they are preventing the emission of methane, a noxious greenhouse gas with a global warming potential 23 times that of carbon dioxide. This qualifies Reliance for carbon credits and true to form the company has been pursuing these credits since they began their operations  inception. Unfortunately the flagship carbon market instrument – the Clean Development Mechanism – with its high transaction costs and opaque processes proved hopelessly inadequate for Reliance (and most other African projects). By my own estimates, if the CDM were to continue with the level of mitigation it achieved in 2011 and 2012, it would remove only 1.45% of the total greenhouse gases required to keep atmospheric concentrations below 500ppm by 2050. Not deterred Reliance looked for voluntary market opportunities and with the help of an NGO called Promoting Access to Carbon Equity began trading their credits through South Africa's Credible Carbon registry. In 2013 Reliance supplemented their not-insignificant revenue from handling green waste with a further R2,4  million worth of carbon revenue, generated from the sale of 71,000 tons of CO2 as measured by the independent carbon auditing firm, Carbon Calculated Pty Ltd. It is a condition of the Credible Carbon registry that carbon revenue is spent on poverty alleviation in southern African and in compliance Reliance has so far spent R1,1 million on local community projects.
Reliance's is a Cape Town green economy story of innovation, entrepreneurship, opportunity (if not opportunism) and closed-loop thinking. It also speaks of the manner in which local carbon markets are emerging in the absence of a global market co-ordinated by the United Nations Framework Convention on Climate Change.  These markets pay even less attention to actual mitigation than the CDM, instead taking their raison d'état from local priorities.  To do this they have developed their own accountability procedures. They are unlikely to prove much help in reducing greenhouse gas emission in the short-term but do have a role to play in financing the transition toward a green economy.
The final chapter in the Reliance story will involve the City of Cape Town – the legal owners of the waste that Reliance puts to such good use. It is important that City waste managers are aware of how Reliance has benefitted from the carbon market for two reasons: they need to encourage their other waste handlers to pursue similar opportunities and they need to factor this revenue into their future contract negotiations with their commercial waste handling partners so as to save the City money.
By Anton Cartwright
Anton Cartwright is a Mistra Urban Futures Researcher at the African Centre Cities in Cape Town, where his focus is on the green economy. His work includes aspects of risk, markets, decision-making, finance, innovation and economic growth as they relate to the conjoined challenges of meeting human needs within the planet's carrying capacity. This work is supported by Mistra Urban Futures.
This blog post is part of Urban Africa a news and information source about cities in Africa.
Turn up the volume
Published: 2013-10-11
Beth Perry and Alex Wharton argue that we need to turn up the volume on the articulation of different values for the relationship between economic, social and environmental concerns in the city-region. They introduce a new series to Platform, 'In the Event', which is designed to create a learning log of different debates and events around Greater Manchester.
As researchers we have a lot of meetings with different stakeholders across the public, private and voluntary sectors. We are often told that there is a lack of space and time to talk about and reflect on the sustainability of Greater Manchester. People often enjoy these discussions and comment that they offer a 'space' - outside of the constraints of working life - to reflect on their assumptions, priorities and values. This is good to hear - research should be a two-way process of value to both the researcher and the 'researched'.
Yes it is also surprising. Once you have signed up for different mailing lists - and know where to look - there is a multitude of events, discussion groups, seminars, workshops, focus groups, festivals, panel debates, networks, lectures which deal with different aspects of the city-regional agenda. There are so many spaces to talk and discuss that it is impossible to attend or engage with them all.
Examples include New Economy's breakfast briefings, Cities @ Manchester's Urban Fora, Steady State Manchester's series of talks, MIF Biospheric talks on science and the environment, seminars organised by Centre for Local Economic Strategies - the list goes on.
At first glance this appears to be a contradiction: we are told we need more spaces to talk; we also hear the plea that we need to stop talking and start doing. Is this a conflict? We think not.
The issue is that there is a missing middle between talking and doing - learning. Without learning, discussions are piecemeal and not joined up. Often, alternative values and priorities are being clearly articulated for a different kind of urban system - which integrates economic, social and environmental values for a more sustainable urban future. Yet the danger is that these possibilities get lost in the din.
We need to turn up the volume. As part of the Greater Manchester Local Interaction Platform's aspiration to raise the visibility of alternative forms of sustainable urbanism, through bridging the gap between policy-makers and community interests, Platform is launching a series of blogs called 'In the Event'.
We will be engaging in spaces that exist for the articulation of alternative values, listen in on different conversations and create a context for people to learn and reflect. This includes events on community engagement; the localism agenda; diffuse pollution; ethnic diversity; economic growth and the notion of prosperity; the role of urban agriculture; and how to create a just city.
We hope this will create a learning log, published on Platform. Short event reports will capture background information, central questions, main points, and implications for policy, practice and research for individual events. We would also like to invite organisers of all kinds of events to share their own reflections and publish those on Platform. It's an experiment, one that we hope will create a basis for further dialogue and open up new opportunities for linking reflection with actions in the development of a sustainable Greater Manchester.
Find out more:Values and Learning in Urban Environments
By Beth Perry and Alex Wharton
 
Beth is the Director of Mistra Urban Futures Greater Manchester Local Interaction Platform and a Senior Research Fellow and Associate Director at the Centre for Sustainable Urban and Regional Futures (SURF), University of Salford. As interdisciplinary urbanist, Beth's interests are in transformation and change, particularly around governance and policy processes; the roles of universities in their urban environments; and the research-practice relationship.
 
Alex Wharton is a Researcher at the Centre for Sustainable Urban and Regional Futures (SURF). He is currently working full-time on Mistra Urban Futures platform in Greater Manchester. Alex's main interest is in the socio-economics of sustainable urban transitions - specifically, the relationship between economic growth and social justice, and the ways in which local authorities engage with local communities.
 
This blog post is a part of Platform an online news source and information portal for sharing knowledge and intelligence on sustainability across Greater Manchester. Mistra Urban Futures platform in Greater Manchester is one of the developers behind Platform.
 
Integrating climate change into Cape Town's city development strategy
Published: 2013-10-07
Climate change is reshaping our understanding of development pathways, bringing into stark relief how development choices impact us unequally and often in unintended or unforeseen ways as mediated through the environment or earth system. As these impacts and feedback loops become more apparent and better understood, there is growing need to reconfigure the ways we relate to nature and manage resource. Cities, as places of high population density, where an increasingly large proportion of the world's population reside and where consumption levels tend to be particularly high, are obvious places to start. Various forms of strategic urban planning create the potential for making cities better prepared to deal with climate change, both in terms of limiting emissions to reduce the rate and scale of changes in the climate (i.e. mitigation) and managing the risks posed by such changes to local residents, businesses, infrastructure and ecosystems (i.e. adaptation).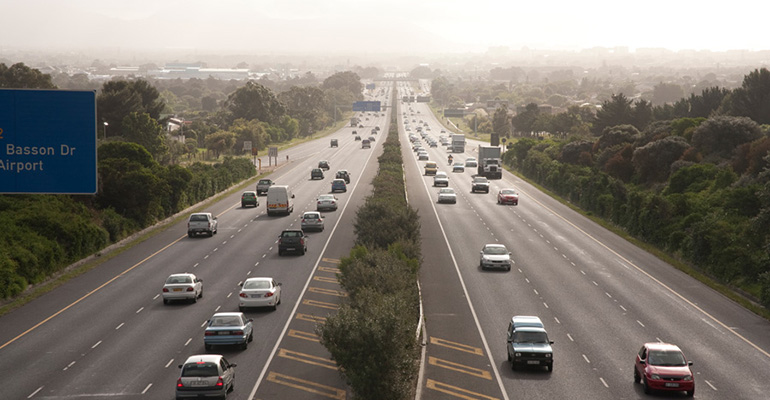 Photo: S. Wilson, for the Stockholm Environment Institute. 
In Cape Town, South Africa, climate change poses a variety of significant risks. The city has an extensive coastline that is heavily built up and highly exposed to storm surges and increasing sea levels. Cape Town has many residents and businesses that are already very exposed and vulnerable to the effects of winter rainfall and flooding, as well as summer wind and fires. Water demand within the city already periodically outstrips supply and climate projections indicate a likely decrease in annual rainfall and higher summer temperatures, placing additional strain on the water system. Climate change also threatens to increase the city's already severe disease burden and aggravate conditions of food insecurity and malnutrition. Hotter, drier conditions, in addition to habitat fragmentation caused by ongoing urban expansion, threatens species extinction and a loss of biodiversity that is key to the city's heritage, cultural identity and a major contributor to the tourism industry.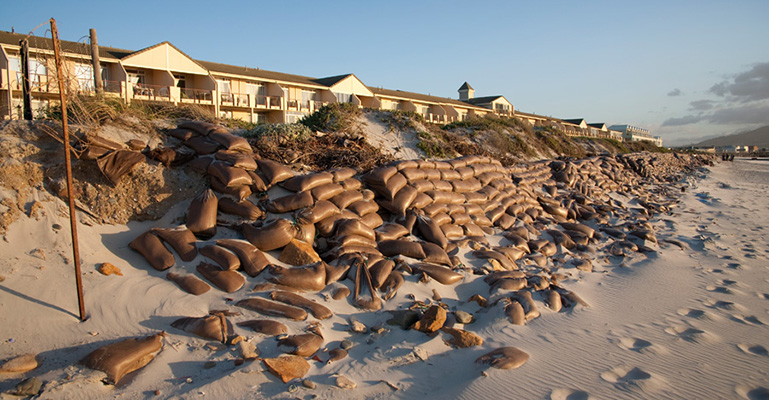 Photo: S. Wilson, for the Stockholm Environment Institute.
Cape Town is not only threatened by the impacts of climate change, but also contributes to exacerbating the problem of anthropogenic climate change. Cape Town cumulatively emits high levels of greenhouse gases (an estimated 7.82 tonnes CO2e per capita), mainly from transport and the use of coal-based electricity. This poses a threat to Cape Town's economic competiveness as carbon emissions become increasingly monitored, regulated and taxed internationally.
All in all, climate change has considerable implications for Cape Town's future. This is reflected in Cape Town's City Development Strategy (CDS), adopted by the Cape Town City Council in October 2012, which presents a vision for the city in 2040 and a set of strategies for progressing towards that vision. Within the CDS, climate change is primarily related to concerns regarding food, energy and water security in the city. Emphasis is placed on increasing the resource efficiency of the city over the medium to long-term and the need for research and innovation to support such a transition. This is put forward as an economic opportunity for Cape Town, as a place to develop and test new approaches and technologies for building climate resilience and low carbon growth that, once proven effective, can be exported across the continent. The CDS highlights Cape Town's remaining natural resources (e.g. dune cordons and wetlands) as a key strength and source of adaptive capacity in the face of climate change, motivating to restore and maintain the ecosystems that underpin these natural assets, and in the process creating much needed employment opportunities. However, what the CDS currently does not give sufficient attention to is the unequal nature of climate risks (and emissions) within the city that, if left unattended, may well exacerbate social fragmentation and insecurity in Cape Town. The challenge remains how to implement the high-level strategies laid out in the CDS. This requires strong political commitment, more analytical work, better communication and coordination between sectors, departments and professional groupings, as well as innovative new financing mechanisms.
By Anna Taylor
Anna Taylor is a researcher at the African Centre for Cities, University of Cape Town. As part of Mistra Urban Futures, Anna is working on the governance conditions for adapting to climate change at the city scale. Anna plays a coordinating role in phase 2 of the Climate Change Think Tank, a deliberative space for leaders in Cape Town's public, private and civil society spheres to debate and collectively construct local pathways for navigating climate change. The Climate Change Think Tank is a forum for commissioning key pieces of strategic research and sharing knowledge amongst researchers and practitioners. This work is supported by Mistra Urban Futures, the Institute for Housing and Urban Development Studies and UN-Habitat. Anna is also affiliated to the Stockholm Environment Institute, Oxford Centre.
This blog post is part of Urban Africa a news and information source about cities in Africa.
 
Why transforming the material fabric of cities matters
Published: 2013-09-24
Decarbonising cities has become an increasingly important policy and research challenge. Debates usually focus on the role of cities as producers and reducers of CO2; city-level policy responses to decarbonisation; and the strengths and weaknesses of these responses. Mike Hodson and Alex Wharton summarise these issues and the role of policy, practice and research in enhancing city responses in Greater Manchester; and set out future work to enhance responses.
Cities: producing and reducing CO2 emissions
Cities are frequently portrayed as significant producers of carbon emissions. Calculating carbon emissions is notoriously problematic. But given the concentrations of buildings and populations in cities, it is estimated that in cities such as London buildings account for nearly 80% of carbon emissions (1). It follows from this that reducing carbon emissions is seen to require policy interventions that re-think and re-shape the ways in which energy flows into, through and out of buildings in the city.
For city authorities, what needs to be done in existing buildings, through new forms of energy generation, insulation and building materials is relatively well understood. This is often characterised as the retrofitting agenda. This includes the retrofitting of existing buildings, developments and the energy that flows through them. This agenda is often understood at a city level (local authority or metropolitan) and involves a combination of long-term carbon reduction targets and the kinds of technologies, buildings and projects that will contribute to achieving such targets. How retrofitting will effectively be undertaken at the scale of the city is less clear.
City interventions: business as usual or transformation?
Whether this results in a continuation of business as usual, piecemeal retrofit approaches or something more transformational is key. Cities are constantly being worked on and made anew. The dynamism of cities is bound up in the organisation of their populations, buildings, political structures, business activities and historical legacies. So change and the re-making of cities is an inherent part of what cities are.
Yet, the re-making of cities can also be seen as something which is less about the accretion of ongoing piecemeal activities in the city and more about purposive attempts to re-think and re-shape the city. This view is concerned not with the ongoing remaking of the city but with transformation of the city.
Disconnected knowledge and resources
There are significant issues that mean that transformation of the material fabric of cities, to meet the challenge of decarbonisation, is not being addressed effectively. The broader context in which transformation needs to be understood includes financial restrictions and austerity and also the environmental, demographic and social challenges facing government.
The challenge both for national government and for city authorities and agencies is to effectively integrate knowledge and resources in delivering policy around the built environment and provision of energy. Yet, for both national government and for city authorities the capacity to identify, absorb and make use of knowledge in this area varies across departments and agencies.
Building collaboration in Greater Manchester
There is a critical role for research in contributing to not only what retrofit might look like but also how, through bringing disparate interest, expertise and resources together, it will be achieved. This role is not one that prioritises conventional research but which promotes an action-based approach to research where partners co-produce research.
Bridging both the national level and producing more effective local responses is the EPSRC-funded Retrofit 2050 project. The project, a 42 month collaboration between universities, policymakers, industry and other social interests, has worked to build a series of generic visions of what the retrofitted city of the future will look like in 2050 and to develop pathways for how this will be achieved.
The visions were developed through integrating academic knowledge with a scenarios process. Workshops with policymakers, industrialists, community organisations and academics, developed and detailed three visions of the retrofitted city of the future: the self-reliant city; the networked city and the compact city.
A further process of working with city-level interests has sought to make these visions and pathways relevant to city-regional contexts in Greater Manchester and Cardiff. This is important because there are specific as well as general challenges for effectively developing retrofit in Greater Manchester and Cardiff.
Themes for future work: expanding, engaging, connecting
One of the important findings from both the Retrofit 2050 project and work on retrofit in Greater Manchester as part of the first year of the Greater Manchester Local Interaction Platform (GMLIP) was the centrality of retrofitting the physical fabric, the built environment and the infrastructure networks of Greater Manchester policy debates. This agenda focussed largely, though not exclusively, on the urban core and was promoted as an economic development agenda.
Yet, beyond this dominant agenda there are very many experiments, examples and exemplars of retrofit in Greater Manchester which are not well understood. How the dominant approach to retrofit in Greater Manchester relates to 'alternative' approaches is also not well understood despite it potentially offering a basis for more effective approaches to retrofit in the city-region.
It is critical, therefore, to understand the many ways in which the material fabric of Greater Manchester is being re-made through retrofit projects.
•To understand, engage with and assess the projects remaking the material fabric of GM;
•To understand how these are organised and what this tell us about the relationship between the way that economic activity and environmental responses are organised in Greater Manchester;
•To identify practical and fruitful points of connection between dominant approaches to retrofit and these alternatives.
In 2013 in the Greater Manchester LIP with the Remaking the Material Fabric of the City project aims to address these issues. It does this to contribute to rethinking the relationship between mainstream approaches and a whole range of alternatives; and to provide a basis for working through how knowledge and resources across these approaches can be effectively integrated.
By Mike Hodson.
Mike is the Deputy Director of the Greater Manchester Local Interaction Platform and a Senior Research Fellow and Associate Director at the Centre for Sustainable Urban and Regional Futures (SURF), University of Salford. He is interested in urban, regional and community transitions to low-carbon economies and societies; particularly the ways in which this may or may not happen and the lessons to be learned from such processes.
This blog post is a part of Platform an online news source and information portal for sharing knowledge and intelligence on sustainability across Greater Manchester.
Establishing a fair and viable renewable energy feed-in-tariff in Cape Town
Published: 2013-09-09
The City of Cape Town has recently published a two part tariff for small scale embedded generation. On this tariff customers are paid 52 cents for each unit (kWh) of energy fed into the grid, are charged R1.01 for each unit consumed and are required to pay a daily service charge of R12.08 for the service. This tariff has caused controversy and dispute between local government and the private sector.
On the one side, the solar photovoltaic industry made the following arguments: That the set daily service charge is too high, where in fact there should be no service charge. Customers would have to install large systems to benefit from the tariff and the daily charge would result in excessively long payback periods. That system owners are entitled to be paid the same amount for energy fed into the grid as they are charged for electricity consumed (also known as net metering). Net metering is used in cities in the global North and should thus be applied in Cape Town. That the PV industry is playing its role in pursuing low carbon development and is assisting local government in achieving these objectives. As such local government should create an incentive to solar PV deployment which entails a reasonable pay-back period and an attractive return on investment. In short, industry argued that the current tariff creates a disincentive to invest in solar PV systems.
On the other side, the City of Cape Town made the following arguments: That a tariff has to reflect the cost of delivering a service. During the time-of-day solar PV generates local government buys electricity from Eskom at a cheap rate; paying PV owners R1.42 (the domestic consumption tariff) per unit (when it is bought for only 46 cents per unit) is not cost reflective. Conversely, during peak times (when solar PV does not generate) the City of Cape Town buys from Eskom at an expensive rate (approximately R2.50 per unit). Net metering would not promote load shifting and charging solar PV owners R1.42 per unit consumed during peaks would likewise not be cost reflective. Furthermore, local governments raise significant revenue from electricity sales to mid-high income households. This revenue is used to cross-subsidise electricity for poor households and other general municipal services. Net metering would create an overwhelming incentive for mid-high income households to invest in solar PV which would threaten the revenue model of local government and its capacity to subsidise the poor. In short, local government argued that net metering would threaten entrenched tariff principles such as cost reflectivity, financial sustainability and cross-subsidies. The City concedes that existing tariffs such as the Inclining Block Tariff do contravene some tariff principles, but that this is to achieve social and economic goals.
The establishment of a feed in tariff in Cape Town brings a number of critical questions to the fore. Is it viable and justifiable for cities in the global South, where transfers from the rich to the poor are necessary for a fair and just society, to follow developed city models for facilitating renewable energy uptake? Is it fair to re-allocate electricity subsidies targeted to the poor as a subsidy to mid-high income households for renewable energy uptake? Is it possible for local government to promote renewable energy if their financial sustainability depends on the continued sale of electricity? Is the national government level more appropriate for provision of funding for small scale embedded generation? Can government and private sector rationales and interests be aligned or in the very least can they understand each other's priorities? Finally, is it possible for local governments to balance pro-poor and low carbon interests or are certain trade-offs inescapable?
By: Saul Roux.
Saul holds a Bachelor of Laws (LLB) and a Master of Environmental Studies (MEnv). He is part of Mistra Urban Futures Platform in Cape Town and his research area is local government energy governance. He is embedded in the City of Cape Town's Energy and Climate Change Unit where he is assisting with the development of various sustainable energy policies.
This blogpost is part of Urban Africa a news and information source about cities in Africa.
Wescape - Privatising the Profits and Socialising the Risks?
Published: 2013-09-02
The City of Cape Town recently approved an application to move the approved urban edge to accommodate a 200 000 residential and commercial development commonly known as "Wescape".  The application, and the City's approval, has generated enormous debate and numerous parties have opposed the proposal on various planning and economic-related grounds.
Notwithstanding these objections, the question that needs to be asked is who bears the risk if the project is a failure?  Research by the International Property Databank shows that very few developments achieve the required rates of return that are predicted in feasibility studies.  This is usually due to the difficulty of predicting future conditions and market take-up rates.  Developments are therefore by definition risky and a level of risk taking is required to get anything off the ground.  However, what level of risk is acceptable and who carries the downside risk are critical questions that need to be answered.
Large developments like Wescape are highly prone to failure because firstly, they require large upfront costs [especially infrastructure] and secondly, there are long lead times involved that result in a high degree of uncertainty relating to key variables (costs, prices, state of the market etc.).  Therefore, even experienced developers can easily fail.  Examples of such failures include Canal Walk, Melrose Arch and the London Docklands where the first developer failed before the second developer/investor was successful.  The second developer/investor in a scheme is usually successful because a lot of the delivery risk has been taken out the equation and market conditions are better known at the time of the second purchase.  This allows the second developer/investor to more accurately price the risk of the project and to pay a commensurate amount for the property.
If Wescape type projects have a high propensity to fail, who is left carrying the cost when it does?  What happens if the proposed outcomes of the Wescape Development do not materialise?  What happens if the market does not respond to the development after the City has committed significant upfront capital costs to infrastructure provision that it can't recoup through development charges?  Who carries these holding costs?  What other city expenditure is compromised as a result?  What happens when the development fails when it is partially built and the proposed jobs and services don't materialise, who is left to live in these environments?  What are the chances of there being a "second" developer/investor who would be willing to take over the failed development?  Considering the state of the market and the remote location of the development, the chances would appear slim.  And even if a second developer/investor is found, what prevents the new rights associated with the land from being used to achieve less developmental outcomes to those proposed?
An initial reading of the landscape suggests that the costs of failure will be borne by the City [and its ratepayers] and people on the housing backlog forced to accept a subsidised house in a remotely situated, dormitory town.  To borrow from David Harvey's Enigma of Capital, is this not a case of privatising the profits and socialising the risks?
By: Rob McGaffin.
Rob McGaffin is a town planner and land economist. He has worked as town planner with the City of Cape Town. He was the coordinator for the markets theme at the Urban Land Markets Programme for Southern Africa. He currently lectures in the Department of Construction Economics and Mangement at the University of Cape Town and is a Mistra Urban Futures Researcher at the platform in Cape Town.
This blogpost is part of Urban Africa a news and information source about cities in Africa.
 
Smart Electricity for South Africa – a civil society response
Published: 2013-08-26
South Africa's central electricity planning instrument, the Integrated Resource Plan for Electricity, is due for review in the near future. Many criticisms, both in terms of content and process, have been levelled against this national policy. Although the large renewable electricity generation component in IRP2010 was a welcomed policy shift, the Plan continues to rely on coal-fired power as the dominant fuel mix in South Africa's electricity supply. Critics state that demand projections in IRP2010 far exceed actual anticipated growth in consumption, with insufficient attention paid to the capacity of energy efficiency in managing demand. The Plan has furthermore been criticised for pandering to industrial interests, particularly the mineral-energy complex, and continues to promote a high carbon economy with limited labour absorption potential. In terms of process, the Department of Energy makes use of IRP modelling which is largely undertaken by Eskom, based on industrial and municipal data that over projects demand, locking South Africa into an expensive expansion programme. Critics suggest that modelling and policy making functions should be independent and separated and a range of stakeholders/interest groups should be able to model a variety of scenarios to inform policy decisions.
In response to the content and process of national electricity policy development, a loose network of actors from not-for-profit, local government, academic and community-based institutions (under the umbrella of the Electricity Governance Initiative) developed an alternative electricity plan for South Africa – the Smart Electricity Plan. Data was collected from many different sources and modelled using SNAPP (Sustainable National Accessible Power Planning), a user friendly and accessible national electricity modelling programme developed by the Energy Research Centre. The Smart Plan describes an evidence-based scenario with increased utility scale clean/renewable electricity supply, deployment of distributed, small-scale electricity generation and greater consideration of energy efficiency to reduce demand. The Smart Plan also models the associated costs of such a trajectory and socio-economic and environmental benefits of such an electricity future. The process for developing the Smart Plan was evidence-based, participatory, inclusive, engaged and bottom-up. The future the Smart Plan advocates is reasonable and attainable - it encourages a low carbon, resilient, diverse (in terms of fuel mix and source) and efficient electricity system that creates jobs.
Readers can decide for themselves by comparing the Smart Electricity Plan to the Integrated Resource Plan for Electricity. For background on the stakeholders engaged in the Smart Plan, readers can visit the Electricity Governance Initiative website.
By: Saul Roux.
Saul holds a Bachelor of Laws (LLB) and a Master of Environmental Studies (MEnv). He is part of  Mistra Urban Futures Platform in Cape Town and his research area is local government energy governance. He is embedded in the City of Cape Town's Energy and Climate Change Unit where he is assisting with the development of various sustainable energy policies.
This blogpost is part of Urban Africa a news  and information source about cities in Africa.
 
Make Sustainable Building Attractive
Published: 2013-07-01
Today, there are convincing arguments that dense cities are sustainable cities. But they cannot be too dense and the challenge is to find the balance between having a dense building mass and a variety of qualities. We know that 90 percent of the global population is expected to live in cities within a few decades leading to the importance of developing sustainable long-term living environments, not only effectively pack people and activities in a limited area.
Consider that: 90 percent of the world's population. When that is a fact, urban environments have to be good not only for the fit and able-bodied but for everyone. Children and the elderly can particularly benefit from dense cities. The best environment for those who do not travel far in their everyday life is an environment where most of what they need is within walking distance. An environment that offers service and different activities, but also a variety of open spaces such as housing estates, parks, streets and town squares.
Sustainable development requires us to simultaneously meet environmental, social and economic aspects. Issues of environmental sustainability were driven almost as revolutionary idea thirty years ago. Now it's status to consider the environment in construction projects. Social sustainability is about to make the same trip, again thanks to dedicated pioneers and qualitative research.
In today's urban planning short-term financial targets are considered in favor of long-term benefits for society. It is costly to have public spaces. A big minus for sustainable urban development. And it does not seem to be attractive for developers to focus on less central neighborhoods where there are great opportunities and social benefits to be reached by making the areas denser. An even bigger minus for sustainable urban development. Thus, there must be an incentive where public benefits also become a motivation for developers and the costs of long-term sustainable investment can be shared between society and the construction sector.
More and more voices are now being raised. Economic sustainability needs to be more transparent and more studies are needed which investigate how the short-term business economic perspective can support and interact with social sustainability. We need new ways to both calculate and allocate costs and benefits. Economists, come on! Develop the financial models necessary for future dense cities to be good long-term living environment for all.
By: Anna-Johanna Klasander, architect, White and Mistra Urban Futures