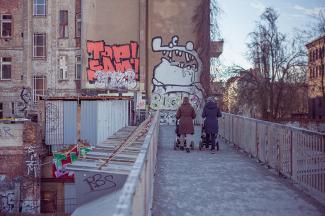 Neighbourhood transformation and housing justice
In terms of substantive knowledge co-creation across the platforms, our plans are to bring together 'professionals' engaging with questions of development/regeneration within concentrated pockets of deprivation across our contexts to examine changing policy trajectories and practice and engage in action learning and exchange visits. We have agreed that our comparative work will begin in early 2018 to give us time to get our local initiatives up and running.
SMLIP, SKLIP and GOLIP are all engaged in projects that consider the challenges of achieving socially sustainable neighbourhoods or the measurement of social sustainability – whether in relation to how low-income neighbourhoods organise against poverty, the social sustainability of neighbourhoods, or the challenges of achieving regeneration that works for existing residents instead of triggering processes of gentrification. Our work is joined together concretely by concerns about socio-spatial urban justice and by a focus on the neighbourhood level while holding the potential to bring diverse project-level experiences into play for comparative analysis and outputs. This learning exchange series aims to create space for building relationships, sharing experiences, and engaging in joint reflection in pursuit of comparative policy, practitioner and academic outputs.
Following discussions during the March LIP Directors meeting in Gothenburg, Sophie King at SMLIP was nominated to take the lead in drawing together ideas for a collaborative project around neighbourhood development and socio-spatial urban justice. A collaborative proposal was developed involving SKLIP, GOLIP, and SMLIP has been approved for financial support. The first planning meeting will take place at the Kisumu conference in November 2017. The proposal is grounded in peer-to-peer learning exchanges across our three city-regions with the aim of producing policy and academic outputs on comparative learning about the dynamics of, and current responses to, socio-spatial inequality across our different urban contexts by the end of 2019.
Usefulness
This learning exchange series will engage a range of stakeholders from city administrators and private sector developers to civil society activists. The ideas, experiences and evidence gained regarding the dynamics of poverty, regeneration and gentrification in low-income neighbourhoods will inform the future practice of participating delegates while generating comparative insights that can deepen policy and practice-based and academic understanding of these issues