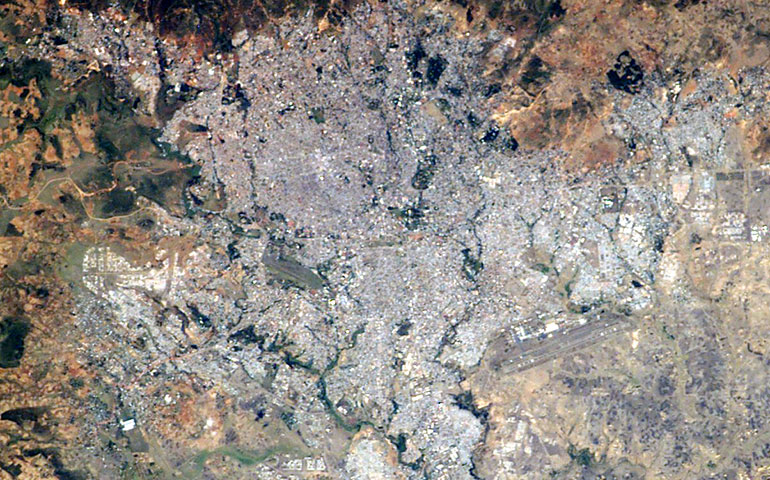 Addis Abeba as seen from a satellite. Photo NASA
Finding a Vision for African Cities
The urban growth rate in Africa is the highest in the world; almost a billion more people are expected to move into the urban areas within a few decades. This week (22-26 February), African leaders will meet in Nigeria to discuss a common position for the upcoming Habitat III meeting in Quito in October. The commentary, Finding a Truly Common Vision for African Cities, is written by Fernando Casado, co-director of Towards the Human City, Maria-Alexandra Kurth and Lisa Reudenbach are both at the Cities Alliance Secretariat in Brussels.
Another commentary, written by Isabel Pascual, communication officer at the Habitat International Coalition, called A Needed Cornerstone for Habitat III: the Right to the City, was pubilshed in mid-February. The Right to the City is a document and a platform advocating the right to a life in dignity in urban areas.
Rethinking Urban Citizenship
The Mannheim Manifesto is the outcome of an Urban Thinkers Campus arranged in Mannheim, Germany, 17-29 February. Based on the unprecedented numbers of migrants and refugees coming to the world's cities, the Manifesto calls for Mayors to have a greater say in these urban issues. The article is written by freelance journalist Gabriele Booth, and the title is Redefining Urban Citizenschop when Refugees and Migrants are the Norm.