On the 31st January, the Whose Knowledge Matters project held a workshop to focus on citizens experiences of engaging plans, proposals and consultations in greater Manchester. The 2016 Greater Manchester Spatial Framework (GMSF) generated debate in many sectors as to what the future of planning in greater Manchester should be.
With the recent release of the newly released rewritten GMSF Jan (2019), there was an impetus to discuss citizens involvement in planning decisions.
The workshop was a chance to share and review experiences of engaging with planners and officials, at neighbourhood, district or Greater Manchester level. Different experiences were shared, over plans for existing green spaces, for the redevelopment of sites, and infrastructure such as new roads and cycle ways. There was a wide variety of experiences, knowledge and expertise of dealing with formal planning processes, and the impacts of consultation.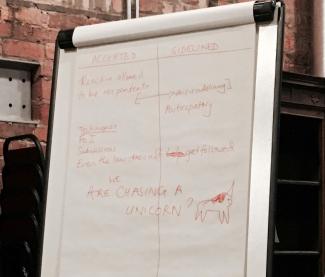 This workshop gave an insight into the views and opinions of citizens, which are often excluded from the formal planning process. It offered the opportunity to reflect on the formal planning process as well as discussing knowledge, expertise and values that are usually excluded from this process. In order to make better and more inclusive urban decision making, it is essential that different types of knowledge about our urban regions are valued and prioritised. This would mean challenging a model where citizen participation is only as a reaction to agendas set by planning or governmental authorities.
For more information on the workshop click here
 
Photo by: Clem Onojeghuo/Unsplash.com