Board of Directors 2016-2017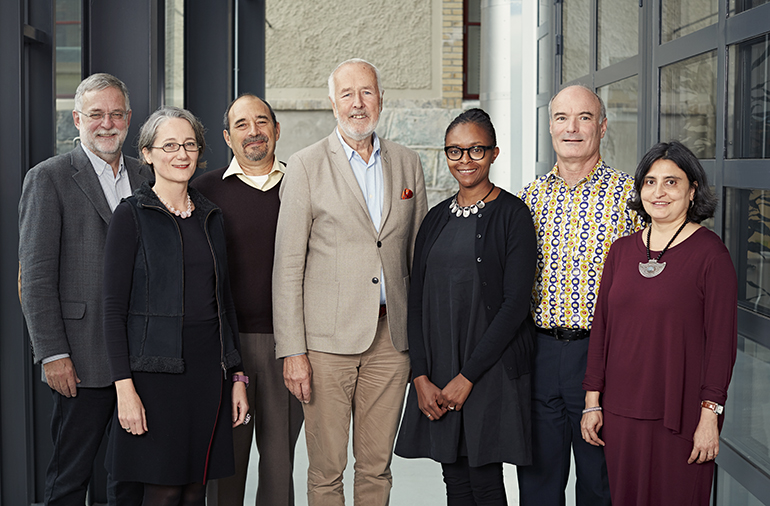 From left: John Robinson, Olivia Bina, Roberto Sánchez-Rodríguez, Thomas Rosswall, Caroline Wanjiku Kihato, David Simon and Lyla Mehta. Missing in the picture; Katarina Pelin and Hans Ristner. Photo by: Henrik Sandsjö
Olivia Bina. Principal researcher and Deputy Director at the Institute of Social Sciences at the University of Lisbon, and adjunct assistant professor at the Dept of Geography and Resource Management at the Chinese University in Hong Kong
Lyla Mehta. Professorial Research Fellow at the Institute of Development Studies at the University of Sussex, UK, and a Visiting Professor at Noragric, Norwegian University of Life Sciences.
Katarina Pelin, Director, VA SYD, Malmö
Hans Ristner, Senior Vice President for Business Development within Corporate Strategy at the Volvo Group.
John Robinson. Professor at the Munk School of Global Affairs and the School of Environment at the University of Toronto, an Honorary Professor with the Institute for Resources, Environment & Sustainability at the University of British Columbia, and an Adjunct Professor with the Copenhagen Business School.
Thomas Rosswall, Chair. Former Executive Director, International Council for Science, and former Rector, Swedish University of Agricultural Sciences (SLU)
Roberto Sánchez-Rodríguez, Vice Chair. Professor at the Department of Urban and Environmental Studies, El Colegio de la Frontera Norte
Caroline Wanjiku Kihato, Visiting Researcher at the School of Architecture and Planning at the University of the Witwatersrand, Johannesburg, and a Global Scholar at the Woodrow Wilson Center for International Scholars, Washington DC.
Ex-officio members include representatives of funders, Chalmers as host of the Centre and the Directors of the Local Interaction Platforms:
Johan Edman, Mistra
Anna Ledin, City of Gothenburg
Fredrik Nilsson, Chalmers 
David Simon, Director, Mistra Urban Futures
Nayoka Martinez-Bäckström, Sida 
LIP Directors:
Stephen G Agong, Kisumu
Margareta Forsberg, Gothenburg
Beth Perry, Sheffield Manchester
Warren Smit, Cape Town
Magnus Johansson, Skåne
Secretary:
Viveka Blomgren, Head of Administration, Mistra Urban Futures
Minutes Board meetings
Here you can download minutes from the board meetings from 2014 and onwards.