Katarina Pelin
Katarina works as CEO at the Municipality of Båstad, a municipality on the west coast of Sweden. Prior to that Katarina was the Director of Environment at the City of Malmö. She has a Bachelor of Law and was a Doctoral candidate in environmental law, at the Faculty of Law University of Lund.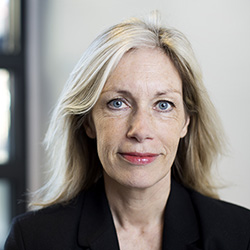 During the nineties she was an Agenda 21-coordinator and public health coordinator in Sjöbo Municipality. This resulted in Katarina being appointed by the Swedish Government as one of the experts in the National Committee of Agenda 21 and Habitat. Agenda 21 is a voluntarily implemented action plan of the United Nations with regard to sustainable development.
Katarina has also worked as Project developer, Staff of regional development and as Head of department, Regional development, both at Region Skåne, a region in the south of Sweden.
From 2008-2012 Katarina was one of fifteen members in the Swedish Delegation for Sustainable cities, appointed by the Swedish government. She is a member of the Board for several organizations among others Sustainable Business Hub, Sweden Green Building Council and Resilient Cities International.
During Katarina's time as Director of Environment at the City of Malmö, the city received several prestigious awards for is ambitious sustainability efforts. The World Habitat recognition awarded by the UN in 2010 is just one of many.