Hans Ristner
Hans Ristner is Senior Vice President - Business Development at Volvo Group. He is responsible for the Volvo Group Business Development and a board member of several Volvo Group companies. He is also the program leader of Volvo Groups City Mobility program.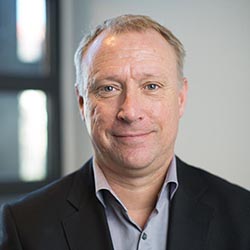 Hans has more than 20 years' experience as a leader within Information Technology and Transport Solution leading analysis and development of solutions supporting sustainability in several regions of the world. Based out of Volvo Group Headquarters in Gothenburg he manages several project teams working with cities developing solutions to meet the city's challenges.
In the past Hans has been co-creator of several Nordic based technology startups as well as working as a leader within the field of Information technology solutions abroad. Hans is also a member of the Volvo group core team driving strategic analysis and formulation and as such program leader for several Volvo group transformation initiatives.